How to Draw a Manga Character
In this drawing lesson, you will learn how to draw a manga character. This lesson will be simple and useful for you.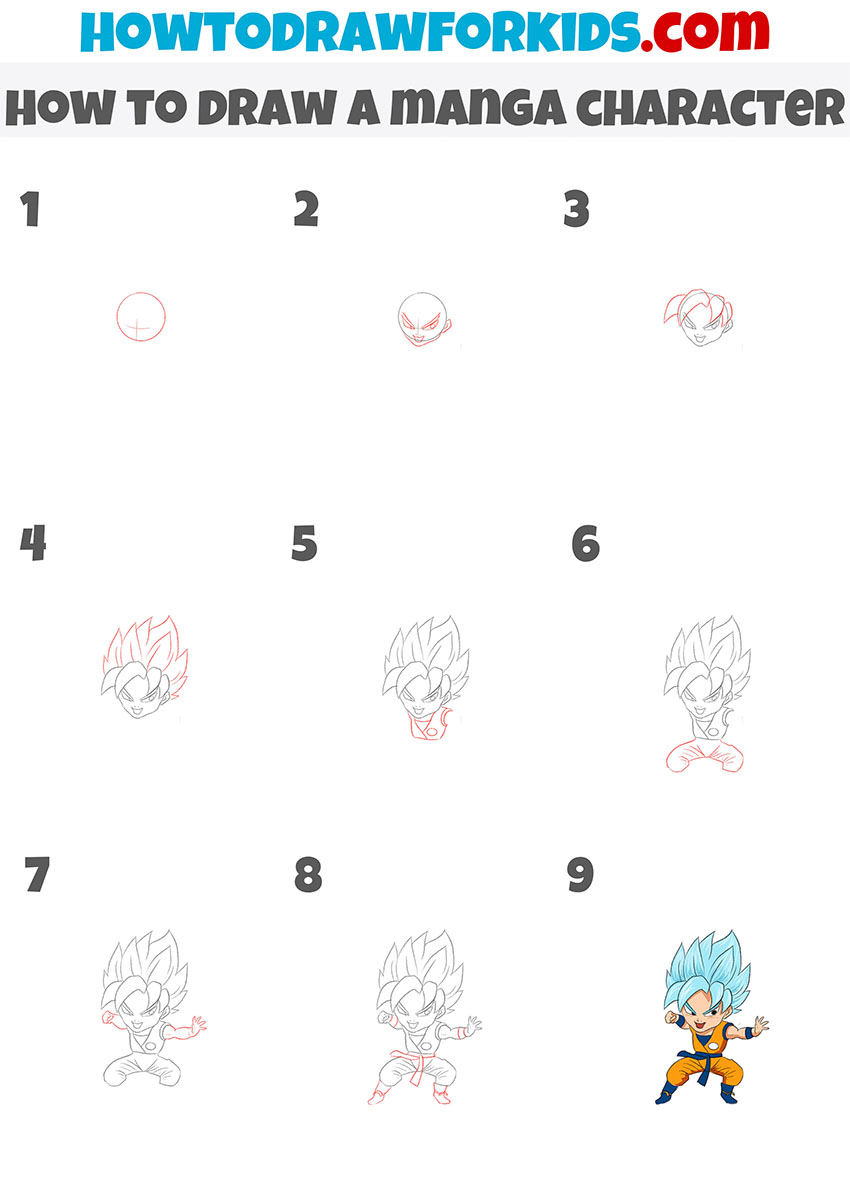 I have prepared for you a wonderful drawing lesson in which you will see how to draw a manga character step by step. Despite the fact that during the implementation of this lesson you will have to draw a lot of small details, this lesson is easy for any aspiring artist or child to handle.
Manga are graphic comics originating from Japan. Much of the manga follows the style developed in Japan in the late 19th century, and the form has a long history in earlier Japanese art. The term manga is used in Japan for both comics and cartoons.
In doing this drawing lesson, you will draw a manga character in the form of a guy with blue hair. Right now you can prepare the art supplies you will need to complete this drawing lesson and then enjoy the creative process.
Materials
Pencil
Paper
Eraser
Coloring supplies
Time needed: 30 minutes
How to Draw a Manga Character
Draw the outline of the head and markup.

Depict the character's head as a circle, and also add two lines inside it.

Add the ear and facial features of the character.

Draw the chin, ear on the right side, as well as the eyes, nose, and mouth using curved lines.

Sketch out the character's hair.

To draw the hairstyle, use curved lines of varying lengths. The hair is divided into strands.

Depict the top part of the hairstyle.

Above the previously drawn elements, depict a lot of built-up strands of hair.

Draw the upper body of the manga characters.

Below the head, add the elements of the costume using an oval, arcs, and curved lines.

Depict the legs of the character.

Below the drawn elements, draw the legs spread apart using curved lines.

Add the character's arms.

Draw the right and left arms as shown in the picture, using curved lines of different lengths.

Draw the lower legs and costume elements.

Depict the legs using curved lines, as well as the belt and stripes on the sleeves.

Color the drawing.

Use shades of blue, shades of orange, beige, red, black, and brown.
I remind you that you can download the PDF file that I have prepared especially for your convenience. This file contains a short version of this lesson and has additional useful training materials. Download this file so as not to lose it and return to this lesson at any time convenient for you.