Hi! I have prepared a new drawing lesson. This drawing tutorial is very simple. However, if you will just repeat the actions from each stage, you will draw a very cute little mouse. So, let's start the instruction on how to draw a mouse!
Step 1
First, we draw a figure that looks like a pear.
Step 2
Then draw the contours of one eye and the contours of the nose.
Step 3
This step consists of two actions. The first action is the painting black of the nose and the eye.
Very important point – don't forget white spots that you can see in the pupils. The second action is drawing the contours of the ears.
Step 4
We will have a very simple step. Just draw one smooth line for the torso.
Step 5
Add two lines for the contours of the front paws of our mouse.
Step 6
Let's draw the back paws that must be a little bigger than the front paws.
Step 7
Draw out the long and curved tail of our nice mouse.
Step 8
Erase all additional lines to get such a nice picture of the mouse.
Step 9
Mice are usually gray or white. So take crayons, markers, or paints, and let's paint our mouse!
By the way, you can paint the mouse in the traditional gray color, or leave it white and paint the eyes red, then you get a very unusual and cool drawing of the mouse. If you liked the lesson on how to draw a mouse, then you will like the lesson about how to draw a cat. And of course, the traditional shortened drawing in which I collected all the steps from this lesson.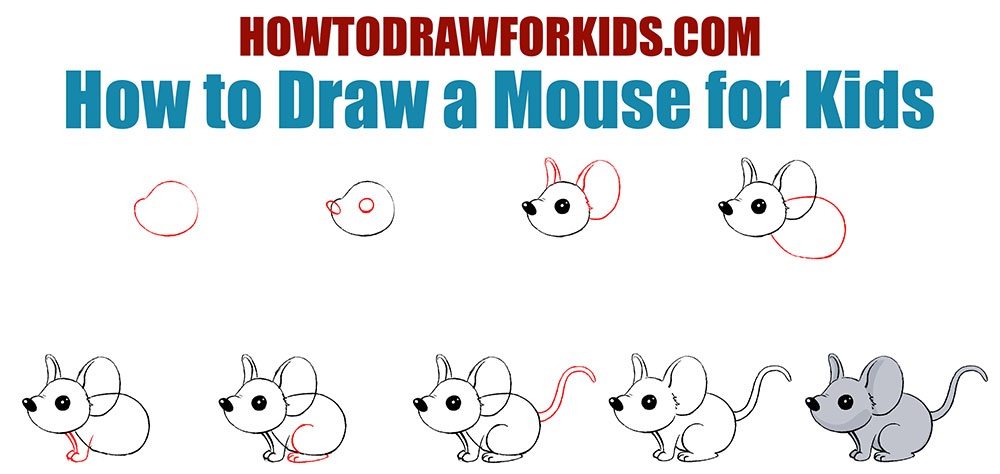 Use this shortened drawing, share it (and our lesson about this cute mouse) with your friends, and those who want to learn how to draw easily and quickly.