Discover the joy of drawing nature! My how to draw a shrub tutorial is designed for young artists to create their own leafy masterpiece in just a few easy steps.
Drawing a shrub is easier than you think with my straightforward tutorial for kids. I'll help you understand every leaf and petal, transforming a simple doodle into a detailed shrub drawing. Perfect for young learners, this guide is designed to make drawing nature simple and fun.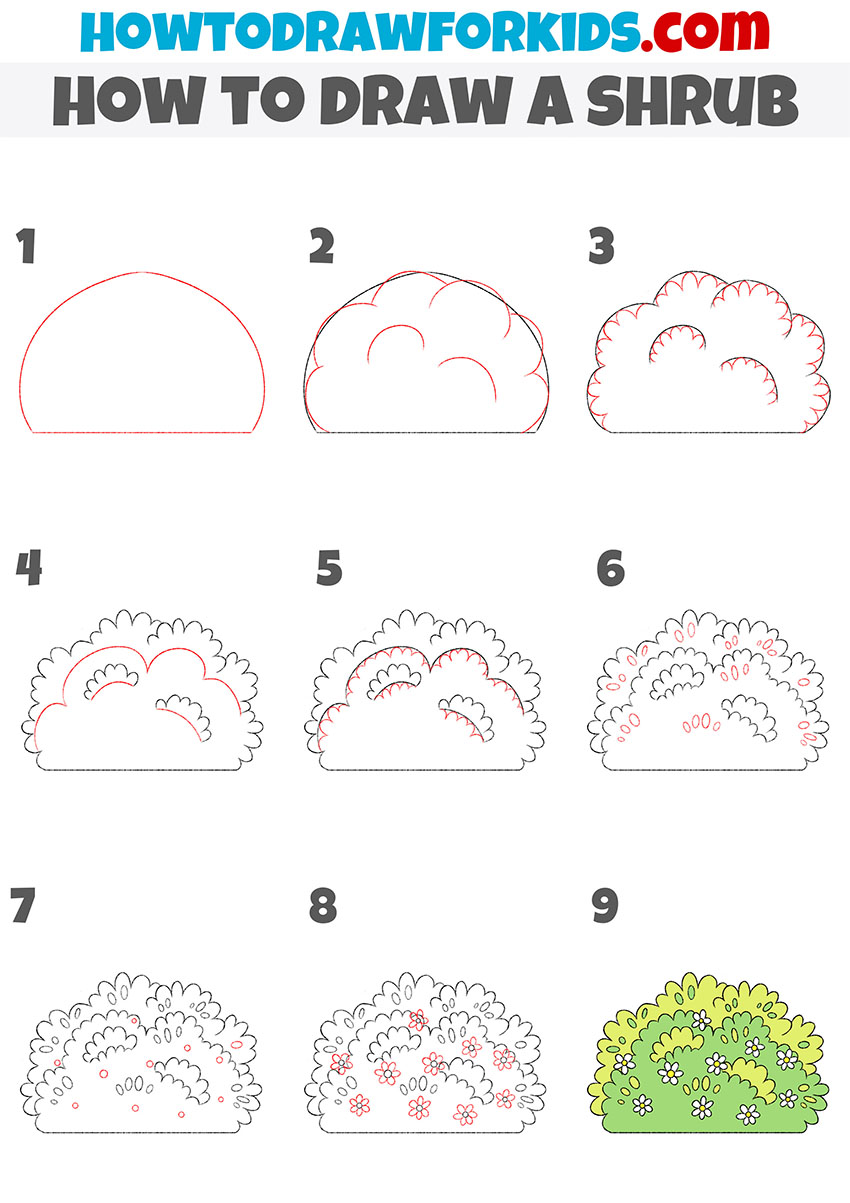 Table of Contents
Basic Information on How to Draw a Shrub
In today's lesson on how to draw a shrub, I'll guide you through the steps to create a charming, simplified shrub, perfect for adding a touch of greenery to any scene. This shrub drawing exercise is all about celebrating the basic shapes and playful outlines that come together to form a bushy plant.
Drawing a shrub starts with a simple half-circle, and then we'll add layers of fluffy cloud-like shapes to suggest the foliage. As I lead you through each step, you'll learn to sketch the individual clusters of leaves, giving your shrub drawing character and life, even in its stylized form.
There's no need to worry about realistic details here; it's the overall silhouette and the cheerful presence of the shrub that we're aiming for. So let's pick up our pencils and create a sprightly shrub that looks like it's straight out of a storybook!
Materials
Pencil
Paper
Eraser
Coloring supplies
Steps on How to Draw a Shrub
Time needed: 30 minutes
How to Draw a Shrub
Sketch your future drawing.

Begin by drawing a straight horizontal line to establish the ground. Then, connect a semicircular arc on top of this line, curving it upwards to create the upper contour of your shrub.

Add the outlines of the branches.

Draw various semicircular lines along the outer edge and inside the shrub outline to suggest the irregular texture of the branches and the depth of overlapping leaves.

Detail the branches.

Follow the contours of the branches by drawing curved lines sequentially along each semicircle, creating the illusion of layered leaves and adding dimension to your shrub drawing.

Depict more branches.

Inside the shrub outline, sketch a series of curved lines to draw the branches, giving structure and fullness to your shrub drawing.

Add the outline of the leaves.

Draw more curved lines on each branch to replicate the leafy textures you started earlier, enhancing the fullness and detail of your shrub foliage.

Sketch out the leaves.

Scatter numerous small oval shapes throughout the foliage to represent leaves, varying their size and orientation to mimic the natural randomness of a shrub leaf distribution.

Depict the centers of the flowers.

Draw several small circles on the shrub to represent the centers of the flowers, carefully placing them among the leaves to imitate the natural appearance of the flowers within the foliage.

Add the flower petals.

Around each circle, carefully draw five-six petals in a circular pattern to form flowers, ensuring they are evenly spaced to create a harmonious and natural look on your shrub illustration.

Color the shrub drawing.

Select a palette of various green shades to add depth and dimension to the leaves of your shrub. For the flowers, feel free to choose any colors that appeal to you, bringing vibrancy to the blossoms.
Additional Content
I've prepared a free PDF file with a concise version of this shrub drawing lesson for you. Moreover, downloading this file means you can enjoy drawing anytime, even when you're offline.
Additionally, this convenient access ensures that you can practice your drawing skills whenever inspiration strikes, without the need for internet connectivity. Furthermore, this PDF is designed to be easily printable, so you can have a physical copy to refer to as you draw. Enjoy this resource and happy drawing!
Improve Your Shrub Drawing
In our journey to enhance our shrub drawing, let's consider adding elements that bring our artwork to life. A good illustration interacts with its environment, and with a few touches, we can elevate your shrub to a new level of artistic detail.
Firstly, make your drawing part of a larger landscape. I can offer you my lesson on how to draw a field. Your shrub will look beautiful in the foreground.
Secondly, draw a variety of flowers around the shrub to create a diverse ecosystem and to add a pop of color to your scenery. The site already has a lesson on drawing a rose bush. Or you can choose any flower drawing lessons.
Additionally, include a background such as a fence or a distant tree line to give depth to your shrub drawing.
Moreover, consider adding small animals like butterflies or birds to interact with the shrub, infusing life into your composition.
As we draw a shrub, it's not just about the main subject but the world it inhabits. These extra details can turn a simple shrub drawing into a vibrant scene bustling with activity.
To add variety to your shrub drawing, make use of my tutorials on this website about how to draw the objects listed above.
Conclusion
In concluding this shrub drawing, I've shown you how a few simple lines can evolve into a lush, leafy shrub. Furthermore, the addition of color and texture has transformed our drawing from a concept to a vibrant piece of art. Moreover, as we've layered in details, your shrub has come to life on the page.
Consequently, these newfound abilities are not just limited to drawing shrubs. They're the seeds from which your broader artistic talent will continue to grow and flourish. Moreover, as you apply these techniques to future artworks, you'll notice a profound enrichment in your creative expression.
Thus, continue your artistic journey with me—there's a whole garden of lessons waiting to be discovered. Through each tutorial, we can grow together, branching out into new realms of creativity. To ensure you don't miss any of these tutorials, follow me on social media!