In this drawing lesson, you will learn how to draw a tractor. This lesson is designed specifically for children and beginner artists.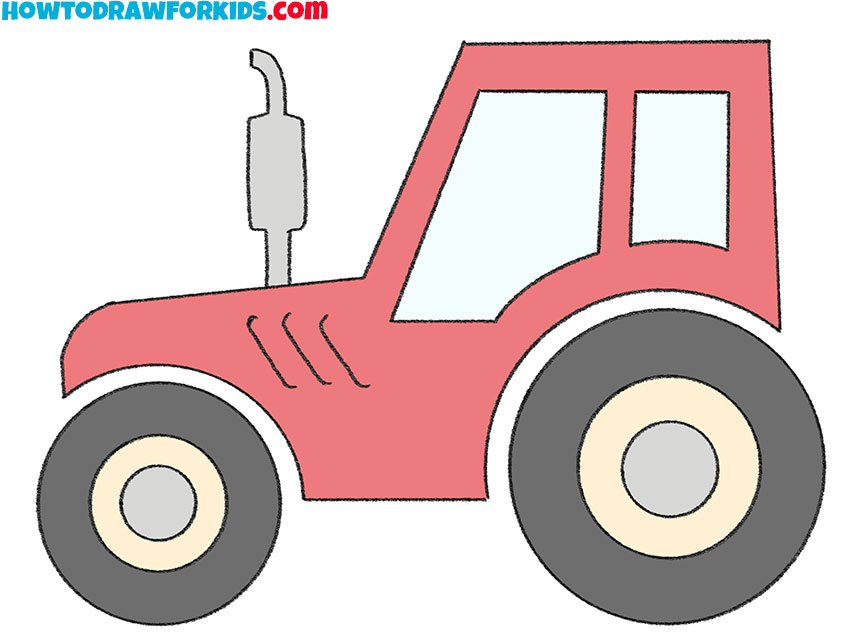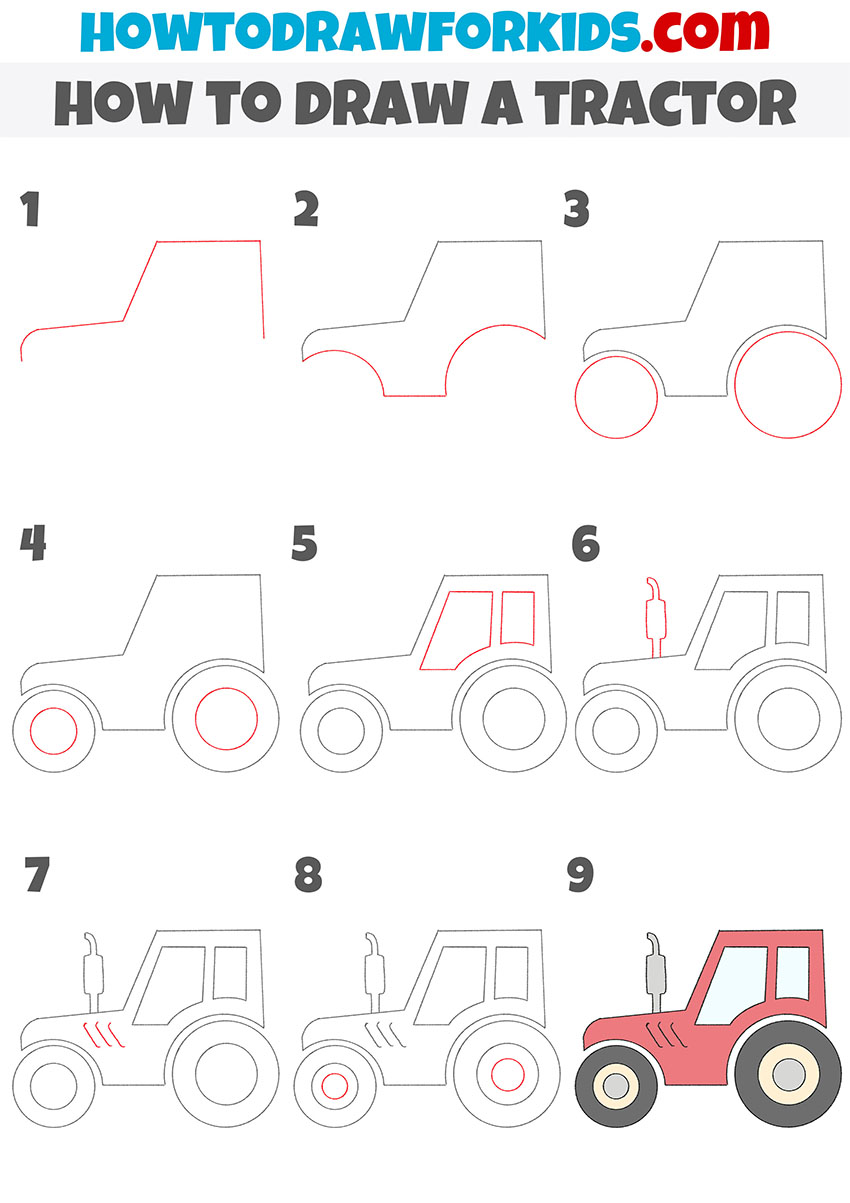 I am glad to offer you another useful drawing lesson that will help you learn how to draw a tractor step by step. This drawing lesson is dedicated to the image of vehicles.
A tractor is a self-propelled machine that performs agricultural, road construction, earth moving, transport or other types of work.
A vehicle such as a tractor is characterized by low speed and high traction. You could see tractors many times live, as well as in various films, cartoons, or books.
When completing this lesson, you will need to draw straight lines and circles with high quality. To make your drawing more perfect, you can use a ruler to draw some lines of the tractor.
Materials
Pencil
Paper
Eraser
Coloring supplies
Time needed: 30 minutes
How to Draw a Tractor
Start drawing the cab and the front of the tractor.

Depict one small curved line as well as several straight lines as shown.

Add the bottom of the tractor.

Draw incomplete circles from the ends of the drawn lines and connect them with a straight line.

Depict the contours of the tractor wheels.

Below the previously drawn elements, add two circles of different diameters.

Sketch out the inside of the tractor wheels.

Inside the previously drawn circles, add two more circles of smaller diameter.

Draw the windows on the tractor cab.

At the top of the tractor, draw two windows using straight and curved lines.

Depict the exhaust pipe.

At the front of the tractor, add the exhaust pipe using straight and curved lines.

Add details.

Below the exhaust pipe, add three identical elements using straight and rounded lines.

Finish drawing the tractor wheels.

Now add a circle of small diameter inside each wheel.

Color the drawing.

To color the tractor, I recommend you use red, beige, blue, and shades of gray.
Download this file right now in order not to lose this lesson and return to it at any time convenient for you, even if you are not connected to the Internet.
Alternative Drawing Technique
Here are a few more ways to draw a tractor. You can choose whichever one is most suitable for your skill level or whichever one you just like best.
How to Draw an Easy Tractor
With the help of clear and accessible instructions, you can draw an easy tractor. The figure shows a tractor that has a driver's cab, main control body, and large wheels. I hope that you can easily draw these elements and get a great result.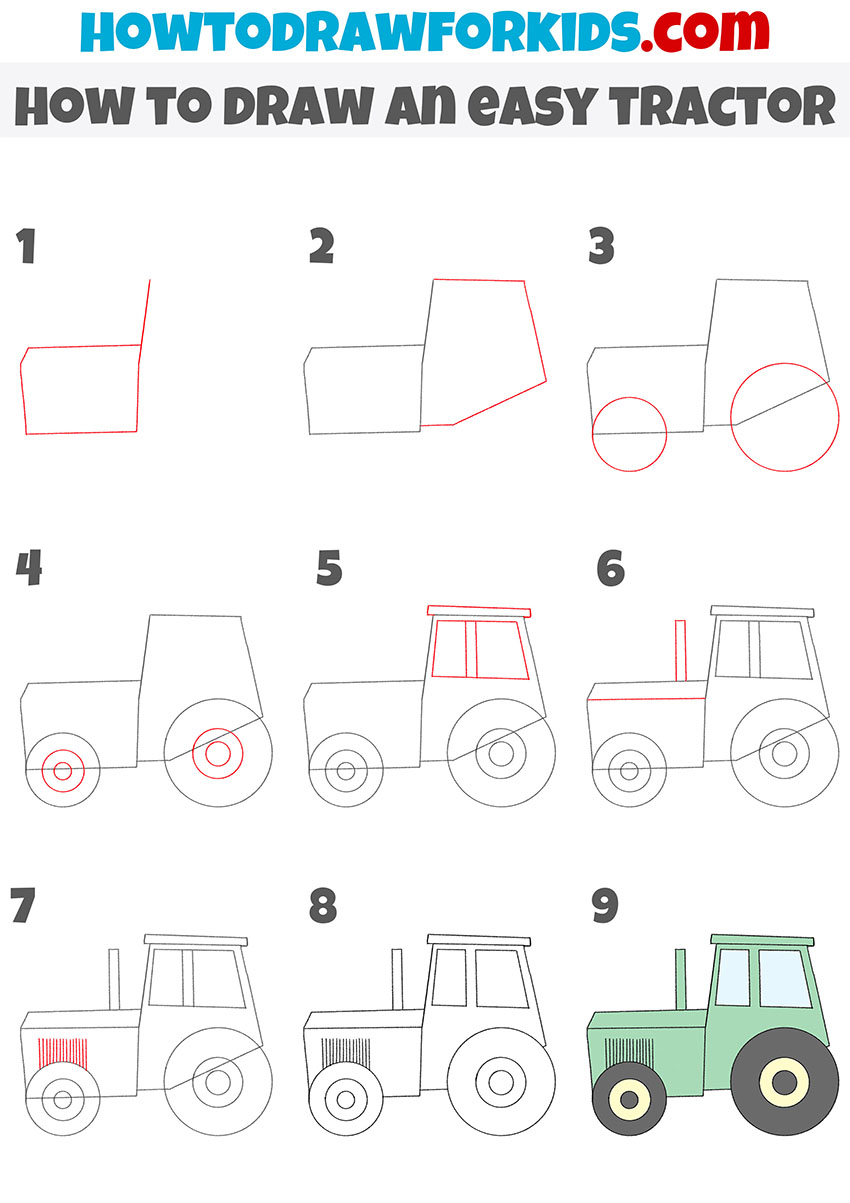 How to Draw a Tractor for Kindergarten
This is the simplest drawing lesson in our entire article today. The wheels also look much simpler and are closer together.