In this lesson, I will tell you how to draw a tulip step by step. I am sure that this lesson will help you improve your skills as an artist.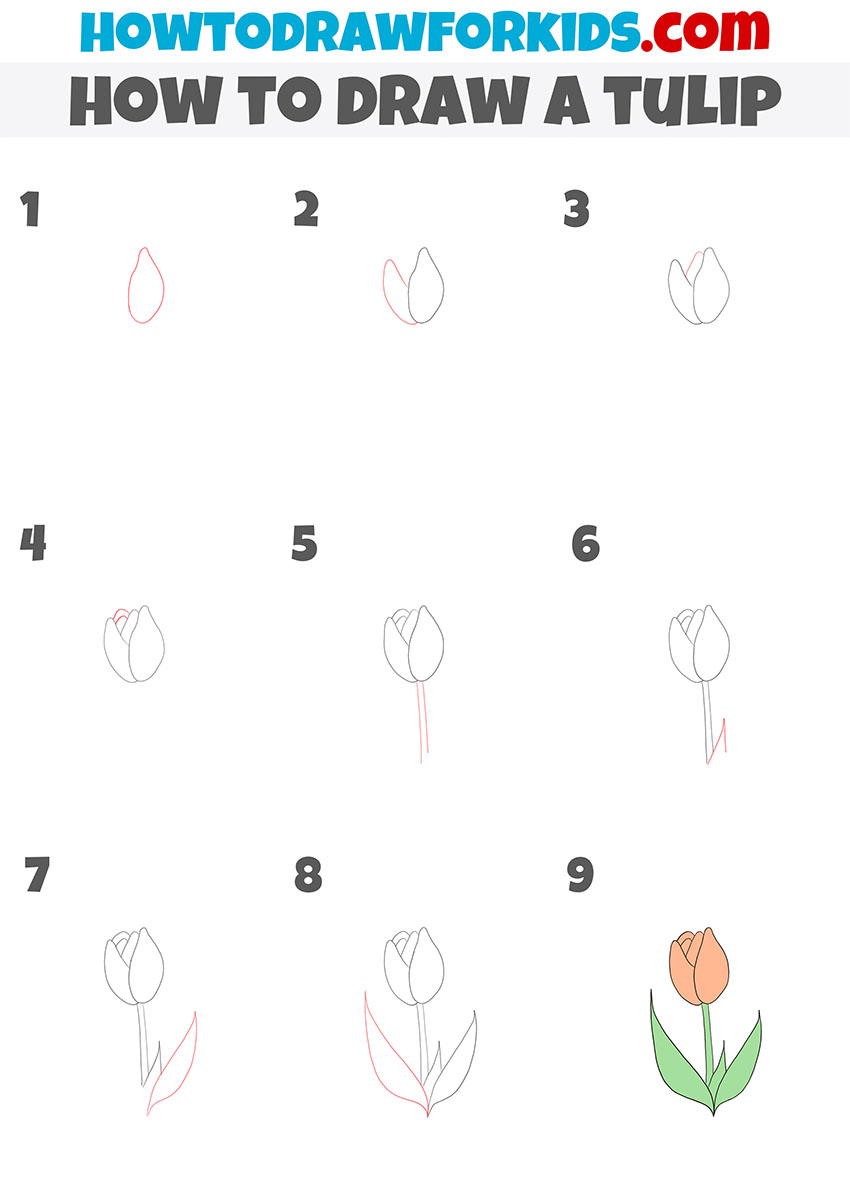 I suggest you complete this fascinating drawing lesson, in which you will learn how to draw a tulip step by step. This step-by-step instruction for drawing a tulip consists of nine simple steps, each of which is accompanied by a detailed description.
This lesson can easily be done by a beginner artist who does not have much drawing experience, as well as a child. As a result, you will get a wonderful bright drawing of a tulip, and then you can apply these skills in the future.
Tulips are beautiful flowers that are probably the favorite plants of many of you. These flowers are very bright and have a light scent. The shape of a tulip bud usually looks like an oval or a bowl.
Tulips come in a variety of colors such as white, pink, yellow, red, orange, or purple. There are also rarer varieties of tulips that include a variety of other colors and shades.
Materials
Pencil
Paper
Eraser
Coloring supplies
Time needed: 30 minutes.
How to Draw a Tulip Step by Step
Start drawing the tulip petals.

To draw the first petal, draw a free-form figure, as shown in the figure.

Add another tulip petal.

To the left of the previously drawn petal, add another petal using a curved line.

Depict the third petal.

Draw the petal in the background by adding a line between the previously drawn elements.

Sketch out the rest of the petals.

Now you should draw two curved lines near the previously drawn elements.

Draw the stem of the tulip.

Below the previously drawn tulip bud, draw two lines of different lengths.

Depict the tulip leaf.

At the bottom of the tulip stem, draw curved lines to represent the leaf.

Add another tulip leaf.

On the right side of the previously drawn leaf, depict another leaf using curved lines.

Sketch out the third tulip leaf.

On the left side of the previously drawn elements, draw the larger tulip leaf.

Color the drawing.

To color this tulip, use orange and green.
I will be glad to read your feedback and ideas for new drawing lessons. Don't forget to download the PDF file, which contains a short version of this lesson, as well as additional practice materials to help you complete it.