Simple Guide on How to Draw a Volcano for Kindergarten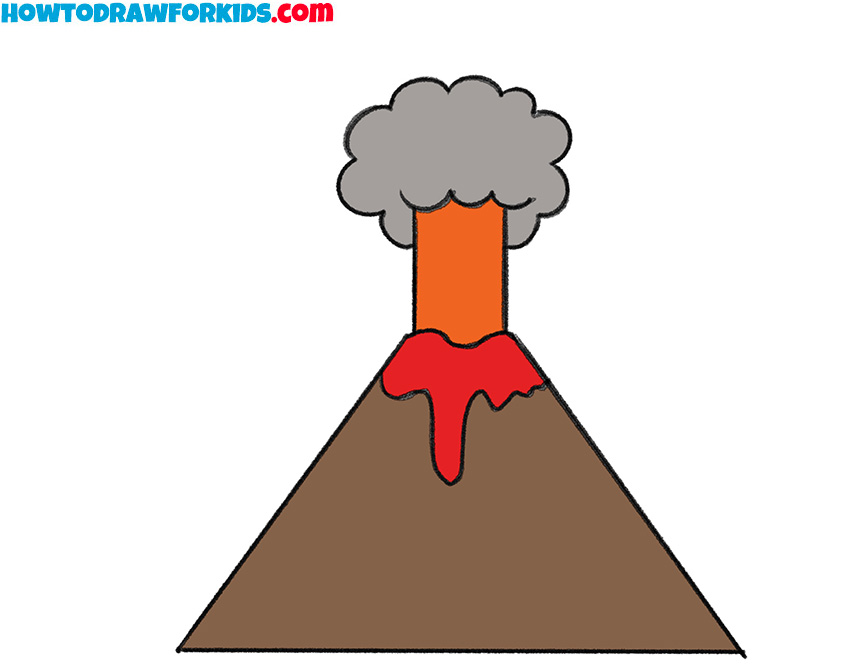 The lesson on how to draw a volcano for kindergarten will be very entertaining. A volcano is a tall mountain that has a crater at its summit. Through this crater, fire, lava, and ash are erupting from the bowels of the earth.
The volcanic eruption is an amazing sight. This natural element is mesmerizing, at the same time it carries a huge danger, as the red-hot lava burns everything in its path. Despite the complexity of this natural phenomenon, it will not be difficult to draw a volcano, because the basic figure is presented here.
First, you need to draw a mountain, note that it has the shape of a triangle. Then you need to draw a pillar of fire, at the top of which there will be a cloud of ash, and at the bottom, there will be flows of lava. You need to paint the mountain brown, fire and lava red, and the ash cloud dark gray.
Materials
Pencil
Paper
Eraser
Coloring supplies
Time needed: 10 minutes
How to Draw a Volcano for Kindergarten
Start drawing the outline of the volcano.

Using a triangle sketch out the mountain.

Draw magma.

Depict a pillar of fire and lava formed from magma.

Add details.

In the penultimate step, draw steam from the volcano.

Color the drawing.

Coloring a volcano drawing will not take much of your time.
Sometimes it may seem to you that you will not be able to draw something because it has a very complex shape or a lot of details. I want you to forget about such thoughts, so I am creating lessons for you with the simplest drawing technique and quick steps. Traditionally, I have created a free PDF file for you with additional materials for this tutorial.