Lesson on How to Draw Grinch in Santa Claus Costume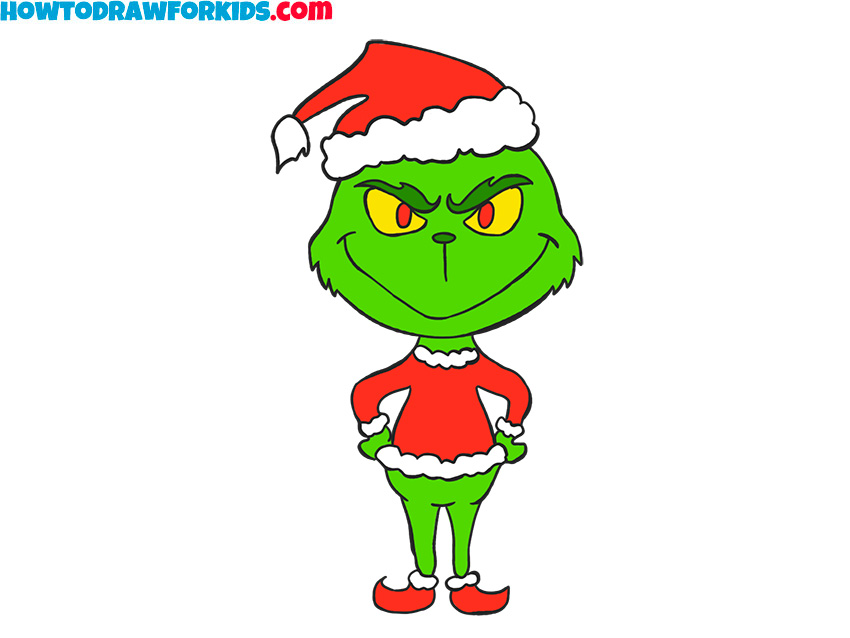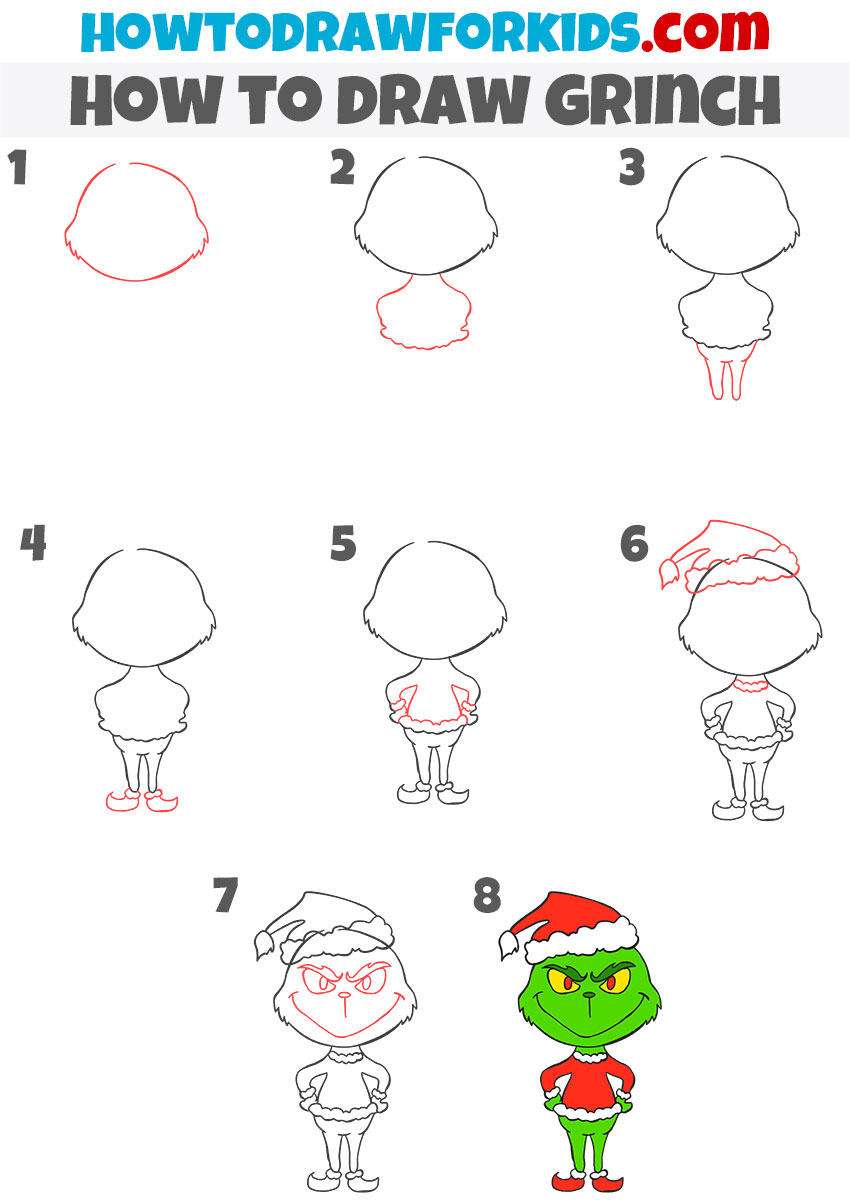 In this tutorial, I invite you to plunge into the holiday atmosphere and draw a popular, funny character. Here you will learn how to draw Grinch easily and quickly. This is an unusual green creature that lives on a mountain and leads a solitary life.
Grinch is very cunning, proud, and selfish. This character hates holidays, songs, and fun, so he stole Christmas decorations and gifts. Grinch is dressed in a Santa Claus costume. In this form, Grinch sneaks into people's homes and picks up gifts.
This character may seem difficult to draw, but in fact, you will not have any difficulties if you follow all the steps carefully. Follow the tips from this Grinch drawing tutorial and you will see that you can quickly and easily draw Grinch.
Materials
Pencil
Paper
Eraser
Coloring supplies
Time needed: 14 minutes
How to Draw Grinch
Draw the head.

Depict the oval and pay special attention to the sides, where you can see a little fuzz.

Draw the outline of the torso.

The body has a complex shape, try to repeat it the same as in the example

Add the legs.

Draw the legs in one smooth line, and make small folds at the base of the legs.

Portray the shoes.

The Grinch's feet are turned in opposite directions. Make sure that the shoes are the same shape.

Draw the inner contour of the body.

Use a smooth line to outline the arms, sleeves, sides, and bottom of the suit.

Add the cap and collar.

Draw the pom-pom at the tip of the cap, the fluffy white trim on the cap and collar.

Portray the face.

Draw the eyes, eyebrows, nose, and mouth. Respect the proportions.

Color the Grinch drawing.

Use bright colors – red, yellow, green, and dark green.
Now you can evaluate the finished work. I think this evil character looks very funny. Hope you enjoyed this tutorial and reminisced about Christmas as you work. Write about your impressions and results of work in the comments.
In order to complete this Grinch drawing tutorial without the Internet, you can use the PDF file that I have prepared for you. Download the file and improve your drawing skills anytime.