How to Draw an Easter Bunny
I have prepared for you a tutorial on how to draw an Easter Bunny. This drawing lesson is very simple and consists of only nine easy steps.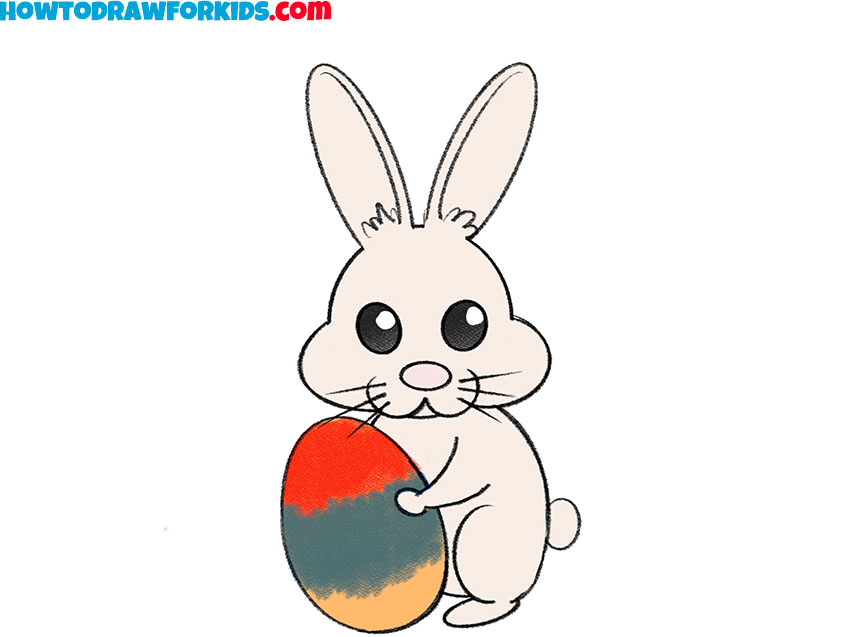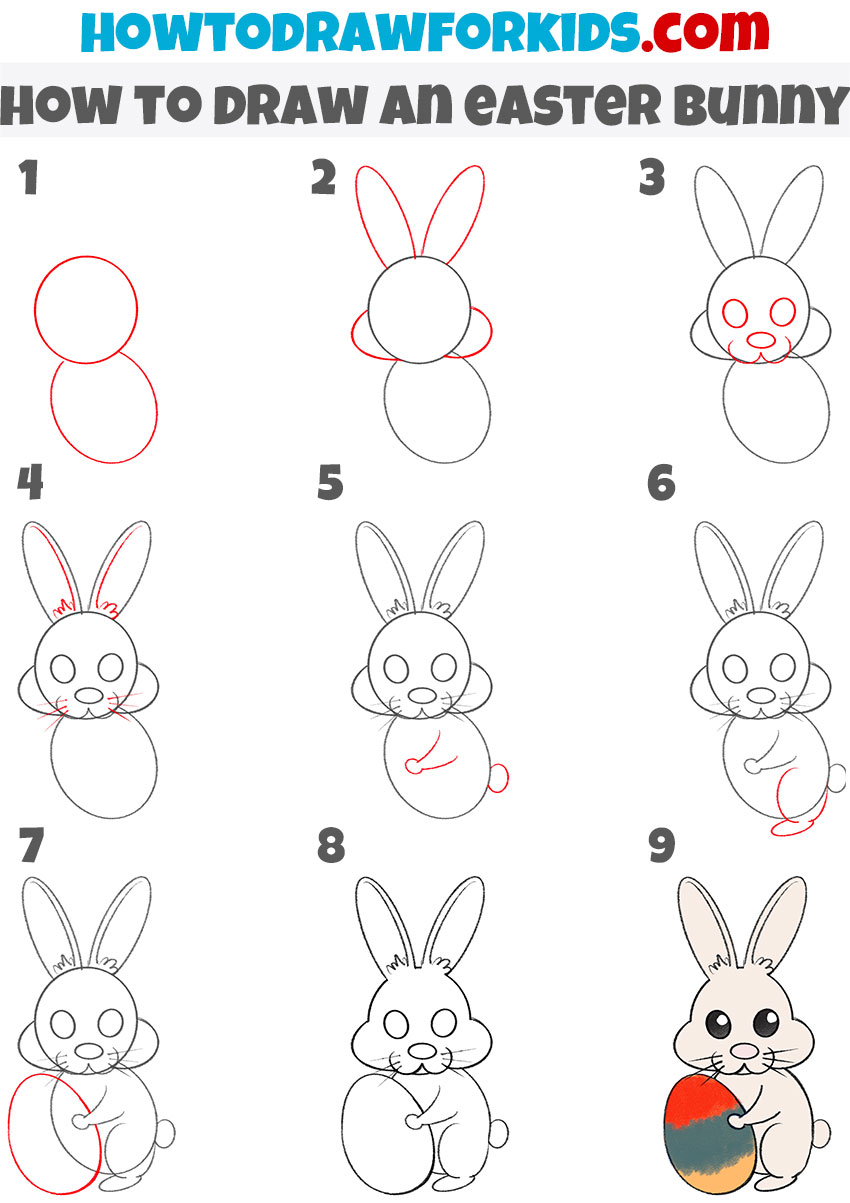 In this drawing lesson, you will be able to learn how to draw an Easter Bunny step by step. I promise that this lesson will be useful to you.
The Easter Bunny is a folkloric figure and symbol of Easter, depicted as a rabbit bringing Easter eggs. As part of the legend, the creature carries colored eggs in its basket, as well as candy, and sometimes toys, to the homes of children.
You will definitely be able to do this job, as I have developed this lesson especially for kids and aspiring artists. Let's get to drawing!
Materials
Pencil
Paper
Eraser
Coloring supplies
Time needed: 20 minutes
How to Draw an Easter Bunny
Draw the outline of the Easter Bunny's head and torso.

Draw the rabbit's head as an oval and use a slightly larger oval to draw its body.

Add details to the Bunny's head.

Draw the cheeks and ears of the Easter Bunny on its head using curved lines.

Draw the features of the Easter Bunny's face.

Add eyes and nose as ovals, and mark the area under the nose with curved lines.

Outline the inside of the ears and the whiskers.

To add elements on the inside of the ears, use curved lines, and draw the whiskers straight.

Add the Easter Bunny's front paw and tail.

Add these details to the torso of the drawn animal. Draw an oval and a curved line.

Draw another paw of the Easter Bunny.

Depict this part of the body slightly below the bunny's tail.

Draw the outline of an Easter egg.

The Easter egg is shaped a bit like an oval. Draw this element in the paws of the Easter Bunny.

Erase the auxiliary lines.

Use an eraser to remove excess accessories from the Easter Bunny's body and head.

Color the drawing.

Use grey, black, red, blue, and beige to color this picture.
Did you enjoy this drawing lesson? Subscribe to our social networks and do not forget to comment on drawing lessons. Traditionally, I have prepared a PDF file, which contains a short version of this lesson. If you save this file, you can use this lesson at any time, even if there is no Internet connection.
The figure shows the main attributes of a bright holiday. Here you see an egg, which is decorated with an ornament. The cute bunny peeks out from behind the egg. You can easily draw these elements if you consistently follow all the steps in this instruction.
In this tutorial, arbitrary lines are allowed and the ornament on the egg may differ slightly from my example. Check if you have all the art supplies at hand and start this lesson.