How to Draw an Easy Bunny
Today I have prepared for you a lesson on how to draw an easy bunny in just nine easy steps and get useful drawing skills.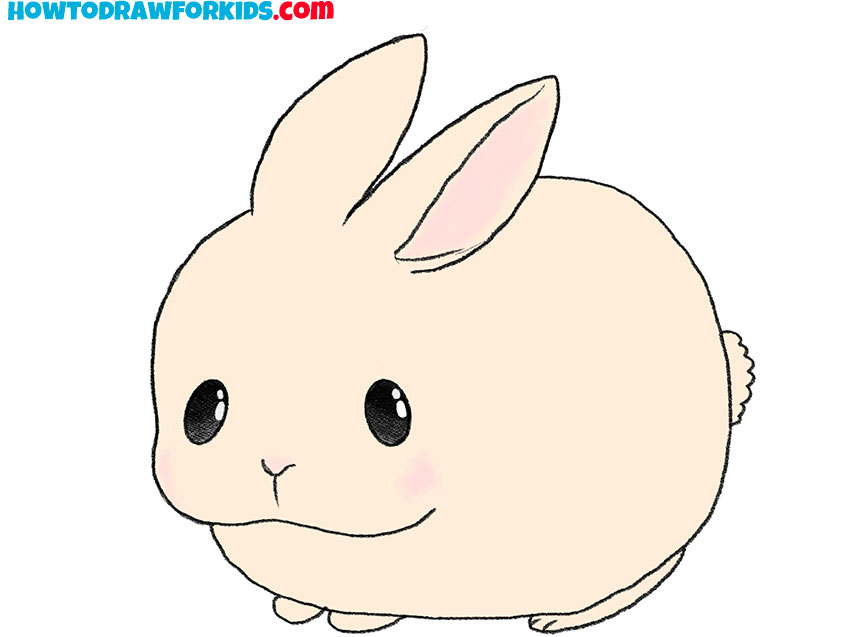 In this tutorial, I will show you how to draw an easy bunny step by step. The lesson is designed for beginners and consists of nine simple steps.
I suggest you complete another fascinating lesson in which I will show in detail how to draw an easy bunny. Bunnies are gentle and sweet creatures. Bunnies have soft fur. This animal is pleasant to hold and stroke.
In the picture, you see a small bunny, which has a rounded shape. The head smoothly merges into the body. Ears are small, paws are short. For coloring the easy bunny, you can choose any light shade or color it in any other color, for example, gray.
Materials
Pencil
Paper
Eraser
Coloring supplies
Time needed: 25 minutes
How to Draw an Easy Bunny
Draw the outline of the front of the head.

Depict a smooth curved line of the same shape as in the example.

Sketch out the ears.

Draw smooth lines from the head to depict two ears.

Add the inside of the ear.

Draw a smooth line from the base of the ear to the top edge.

Depict the torso.

Draw a rounded line from the middle of the ear to the bottom of the head.

Draw the eyes.

Sketch out two small ovals some distance apart.

Sketch out the nose, mouth, and tail.

Using short strokes draw the nose and mouth. Depict the short tail with a wavy line.

Depict the front legs.

Draw two rounded lines at the bottom of the torso.

Add the hind leg.

Draw a smooth line and depict fingers with short strokes.

Color the easy bunny.

Use a light pink to color the wool. Color the eyes black and add highlights.
For your convenience, I have prepared a PDF file with a short version of the lesson. Download the file so you can return to the lesson at any time, even if there is no Internet access.