In this drawing lesson I want to show you how to draw an easy cake. I promise that an interesting and useful pastime awaits you ahead.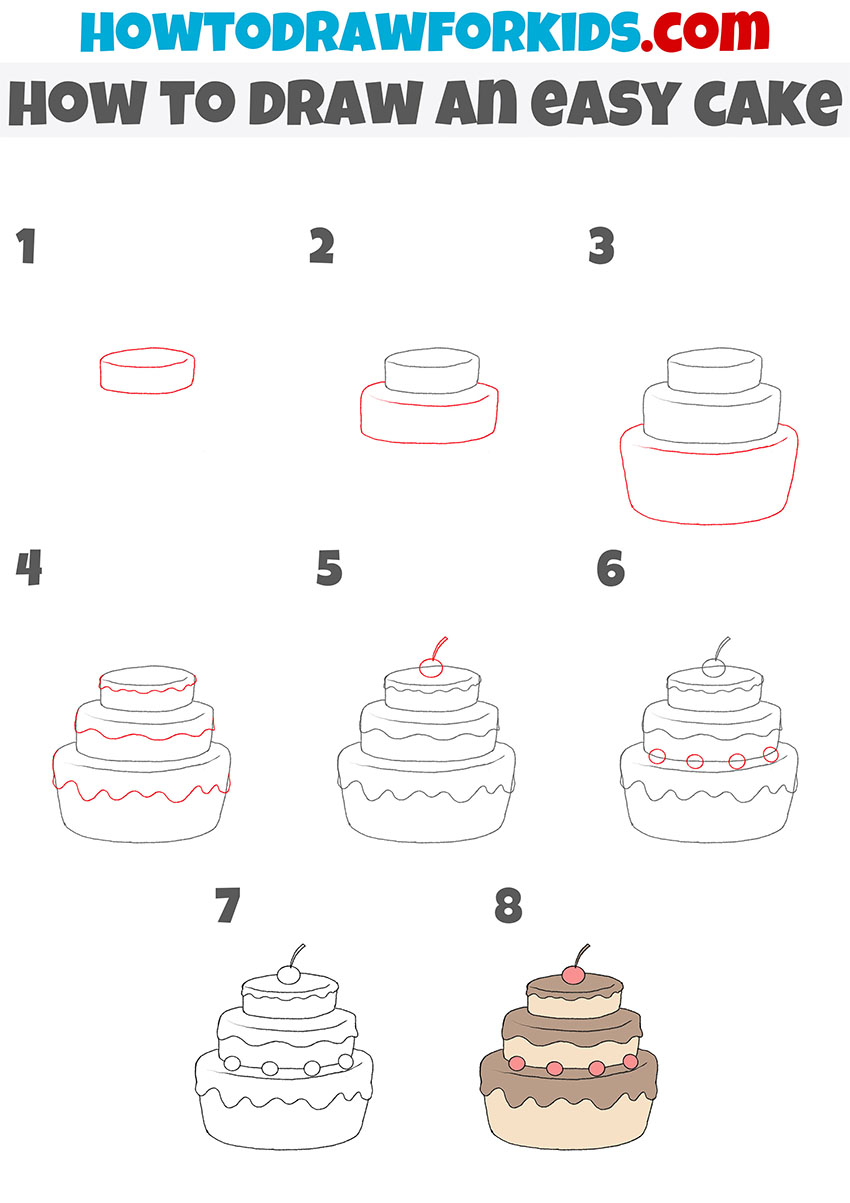 I decided to dedicate this lesson to drawing a delicious dessert, and now you will learn how to draw an easy cake. Furthermore, I am sure that you will be happy to complete this lesson, because it is always a pleasure to draw delicious and beautiful dishes. With the help of my simple instructions, you will quickly complete all the steps of drawing and get an excellent result.
The picture shows a beautiful cake, which consists of several tiers in the form of cylinders. Each tier is covered with chocolate. Cherries are used as a decoration. This cake looks very appetizing and evokes pleasant associations.
With the help of a simple instruction, you can easily draw all the elements of the cake and get a great result. So, take all the necessary art supplies and consistently follow all the steps in this instruction. I wish you creative success.
Materials
Pencil
Paper
Eraser
Coloring supplies
Time needed: 30 minutes
How to Draw an Easy Cake
Draw the top tier.

Determine the size of your drawing and draw the flat, cylindrical figure.

Add the middle tier.

Repeat the previous step and draw another cylinder, but slightly larger.

Depict the bottom tier.

The lower tier is the largest and has the shape of a trapezoid.

Sketch out the chocolate.

At the top of each tier, draw an arbitrary wavy line.

Draw one cherry.

On the top of the cake, draw the round cherry with the thin stem.

Add the rest of the cherries.

On the lower tier, successively depict many cherries in the form of small circles.

Correct inaccuracies.

Take the eraser and carefully remove all the extra lines in your drawing.

Color the drawing.

For coloring, you will need beige, brown, and red.
The next lesson has come to an end, and now you can evaluate the result of your work. I hope that you tried your best at each stage of drawing and the cake looks exactly the way you wanted. For your convenience, I have previously created a PDF file that contains a brief instruction and additional training materials. Rather, download the file so that you can return to the lesson at any convenient time.