Dogs are cool. Therefore, I created another lesson in which we will analyze in detail another way of drawing a dog – how to draw an easy dog.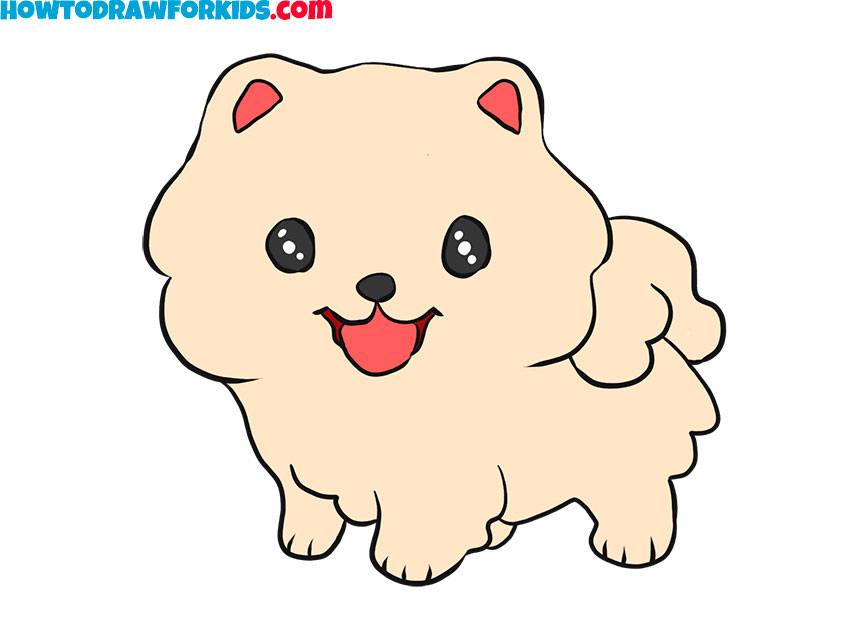 Welcome to another drawing lesson. In this lesson, you will draw a dog again. You know that there are many varieties of dogs in the world, and you also know that you can draw dogs in different ways. I suggest you master the following method and in this lesson, I will show you how to draw an easy dog. This is one of the small varieties of dogs that belongs to decorative breeds.
The picture shows a cartoon dog and it looks very cute. The dog is very fluffy and at the same time has smooth body contours. The dog has small ears and a short fluffy tail. You can easily draw it, and drawing will give you pleasure.
Pay attention to the proportions of the body. The head is much larger than the body and the legs are very short. It is these proportions that give the dog a funny cartoon look.
I hope you find this tutorial interesting. I have prepared a simple step-by-step guide. Follow all the steps consistently, use my tips, and then you will get a good result.
Materials
Pencil
Paper
Eraser
Coloring supplies
Time needed: 14 minutes
How to Draw an Easy Dog
Draw the head.

Depict a wavy line in the same shape as in the example.

Draw the torso and legs.

The body is small and uneven because the dog is very fluffy. Paws are short.

Add additional elements.

Define the outline of the tail, chest, and toes.

Draw the muzzle and the inside of the ear.

Add the eyes, nose, mouth, tongue. Maintain proportions.

Color the dog.

Use a delicate pink color for the entire torso. Paint the mouth and the inside of the ears red.
Now you have mastered another dog drawing tutorial. I suggest you add a background or some additional elements. Get creative and make this drawing bright and meaningful. Then show the drawing to your friends and rate it together.
Did you like this drawing lesson? Are you happy with the result? Share your impressions in the comments. Write what new characters you would like to see on the site pages. I will try to take into account your wishes and prepare new exciting lessons.
For your convenience, I have prepared a PDF file. Download the file and use the step-by-step guide whenever you want.