I invite you to a fascinating lesson in which I will show you how to draw an easy tractor. Here is a very simple way to draw.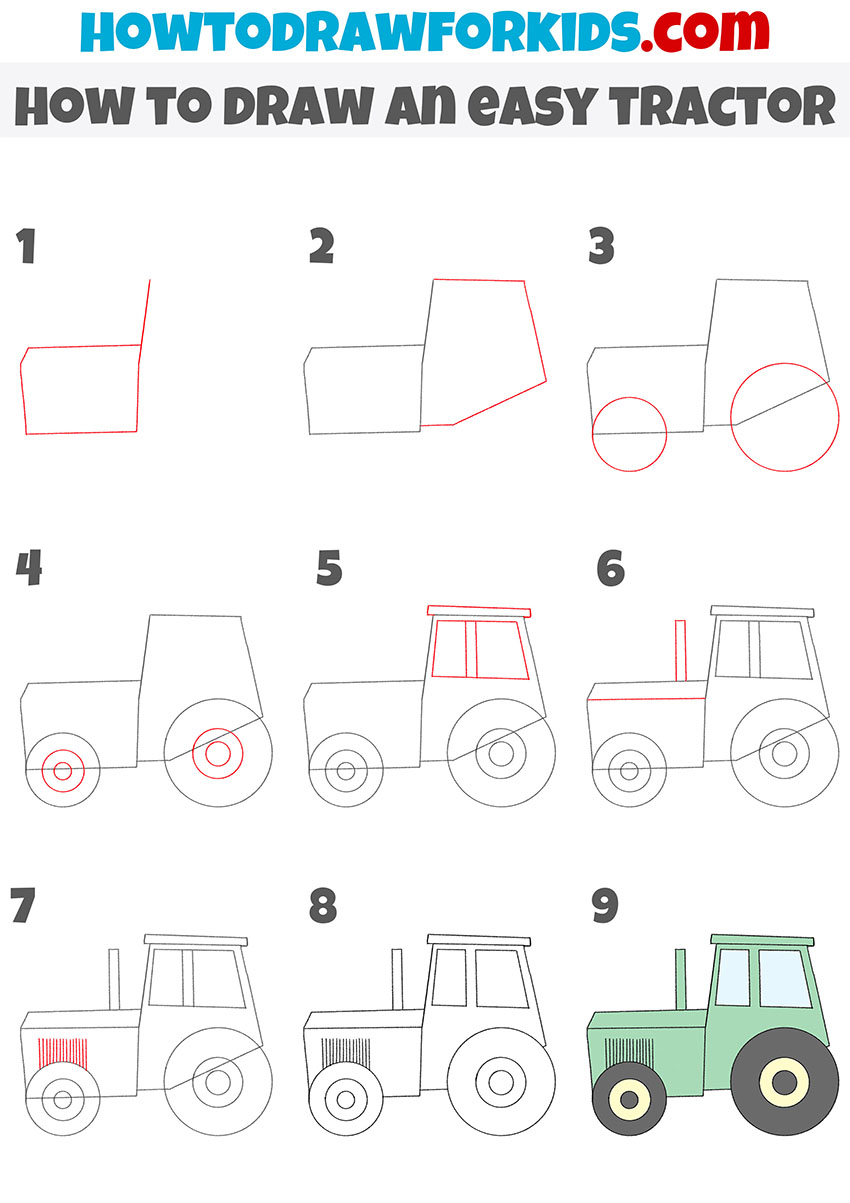 With the help of clear and accessible instructions, you will learn how to draw an easy tractor. The figure shows a tractor that has a driver's cab, main control body and large wheels. I hope that you can easily draw these elements and get a great result.
Here you will practice drawing straight lines and circles. In the process of work, you can use any tools at hand.
But I recommend that you draw all the lines yourself and train your creativity so that in the future you can easily draw other more complex objects.
Materials
Pencil
Paper
Eraser
Coloring supplies
Time needed: 30 minutes
How to Draw an Easy Tractor
Draw the tractor body.

With the help of several straight lines draw a figure in the shape of a rectangle.

Depict the driver's cab.

Draw the driver's cab with straight lines, which looks like an irregular polygon.

Sketch out the wheels.

Draw two even circles of different diameters.

Detail the wheels.

In the center of each wheel, add small even circles.

Add the roof and window.

Draw the roof on the cabin in the form of an elongated rectangle and draw the window.

Draw the elements on the tractor body.

Sketch out a straight horizontal line and add the pipe.

Depict the rest of the elements.

On the body of the tractor, consistently draw a lot of even vertical lines.

Correct inaccuracies.

Carefully remove any extra lines from your drawing to prepare it for coloring.

Color the drawing.

You will need different shades of green, as well as beige and gray.
Great! Now you know how to draw an easy tractor. Show this drawing to your friends and invite them to complete the lesson together. Organize a pleasant and useful leisure time. I recommend that you download a short version of the lesson in PDF format. Thus, you can always return to the lesson, even if the Internet is not available.