Learn to draw another common vehicle with this simple step-by-step guide on how to draw an easy truck step by step.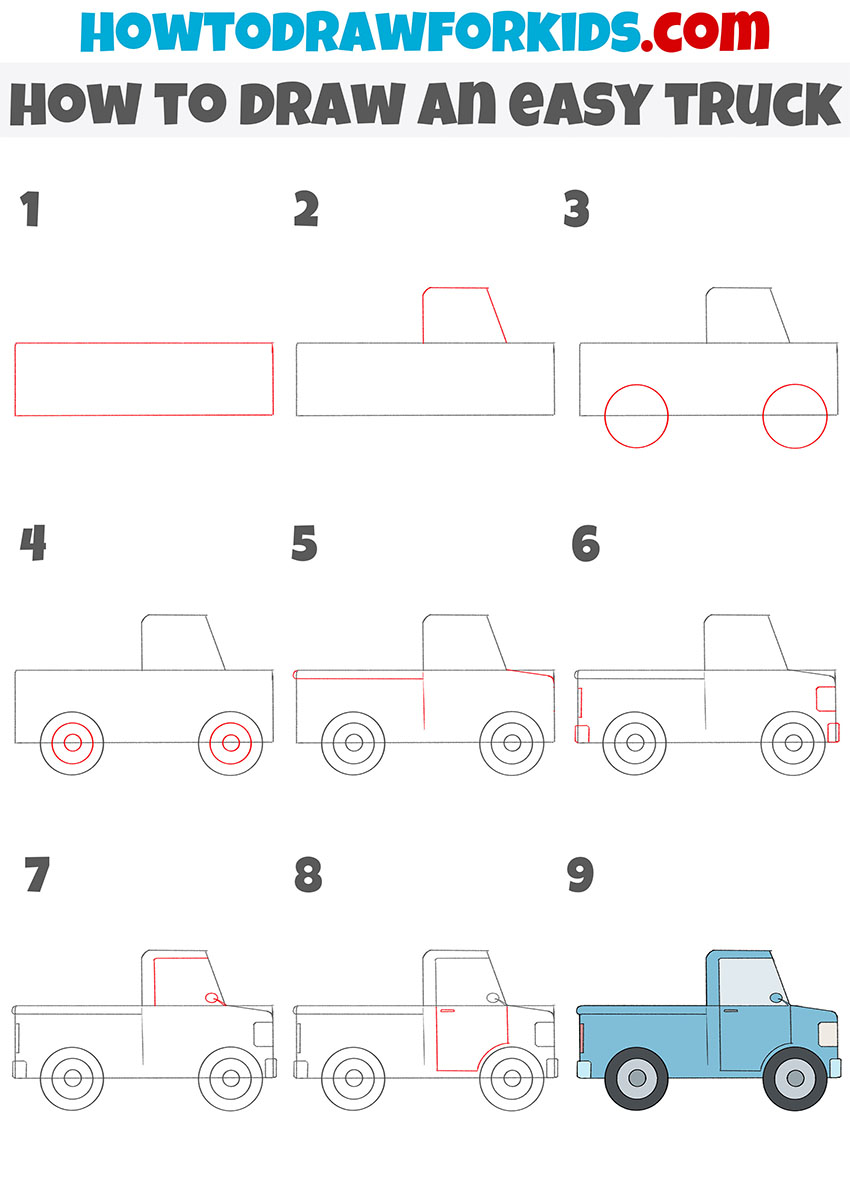 I have prepared for you a useful lesson on how to draw an easy truck step by step. This lesson is very simple and consists of only nine understandable steps with a detailed explanation. I created this lesson especially for children and beginners, so you will surely easily cope with it.
A truck or lorry is a motor vehicle designed to transport cargo, carry specialized payloads, or perform other utilitarian work. Trucks vary greatly in size, power, and configuration. To draw a truck using this guide, you should be able to draw straight lines and various geometric shapes.
Prepare the materials for drawing and draw with joy!
Materials
Pencil
Paper
Eraser
Coloring supplies
Time needed: 20 minutes
How to Draw an Easy Truck
Draw the main part of the truck.

To represent this element you should draw one big rectangle using straight lines.

Add an outline of the truck cab.

Above the previously drawn rectangle depict a figure similar to a trapezoid without a lower base.

Picture the wheels.

Draw two identical circles at the bottom of the previously drawn rectangle.

Draw the inside of the wheels.

Inside the previously drawn circles add two more circles of smaller diameters inside each wheel.

Improve the outlines of the back and front of the truck.

At the truck's rear, draw a curved line and straight lines and add a line to the front of the truck.

Draw the headlights.

To do this step, draw several figures using straight lines with rounded ends.

Depict the mirror and the outline of the window.

Picture the mirror as an oval and curved line and add straight lines on the cab of the truck.

Add the outline of the door of the truck.

At the truck's rear, draw a door using straight horizontal and vertical lines and one curved line.

Color the drawing.

To color this truck you should use red, black, shades of gray, and shades of blue.
This was a truck drawing lesson. I hope that you are happy with the result of your drawing, and you did not have any difficulties when doing it. I would be glad to get feedback from you. Finally, I suggest you download a short version of the lesson as a PDF file. This makes the lesson available to you at any time.