In this lesson, you will learn how to draw an elephant step by step. This step-by-step guide is designed specifically for beginner artists.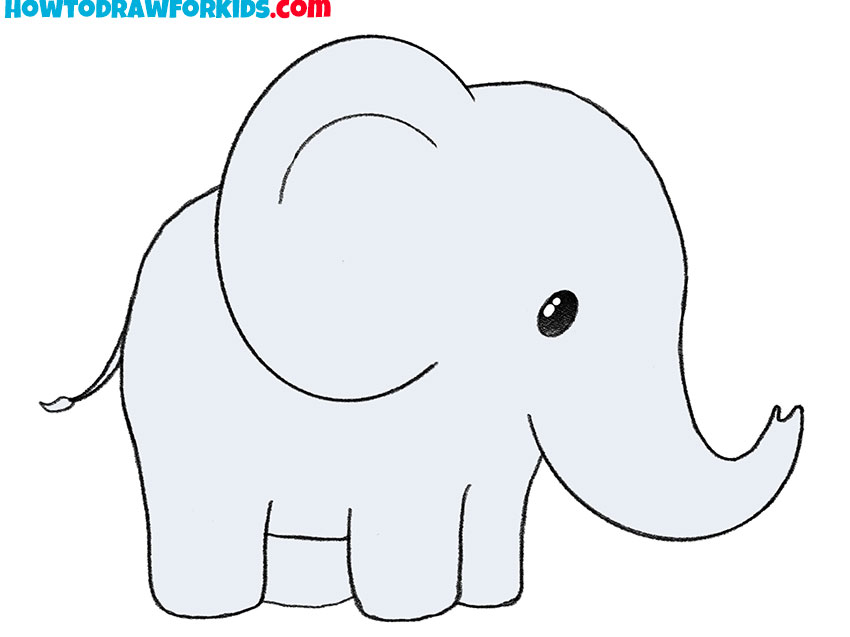 Here is a very easy way how to draw an elephant step by step. It won't take much time and effort, and you'll get a good result quickly, even if you're drawing an elephant for the first time.
The elephant is the largest land animal on our planet. Elephants are very intelligent animals and have a good memory. For the most part, elephants are very friendly and can show aggression only in the most extreme cases.
The picture shows a cute elephant. During the lesson, you will once again practice making smooth, rounded lines. Be careful and careful at every step.
Materials
Pencil
Paper
Eraser
Coloring supplies
Time needed: 25 minutes
How to Draw an Elephant Step by Step
Draw the head.

Determine the size of the elephant and draw an oval.

Depict the torso.

Sketch out a smooth, rounded line on the side of the head.

Add the trunk.

Draw curved lines at the bottom of the head to depict the trunk.

Sketch out the eye and the tail.

The eye is oval. The tail is short and has the brush at the end.

Add the ear.

The elephant has the large, rounded ear.

Draw the front legs.

The front legs are short and located side by side.

Add the hind legs.

In order to draw the hind legs, use the same lines as in the previous step.

Correct inaccuracies.

With the eraser, delete all auxiliary lines in your drawing.

Color the elephant.

You will need a light blue for the body. Color the eye with black and add highlights.
I want to remind you that now you can download a PDF file with a short version of the lesson. Use the file at any convenient time when you want to be creative.