How to Draw an Ice Dragon
In this lesson, you will learn how to draw an ice dragon step by step. This simple lesson consists of eight steps with a detailed description.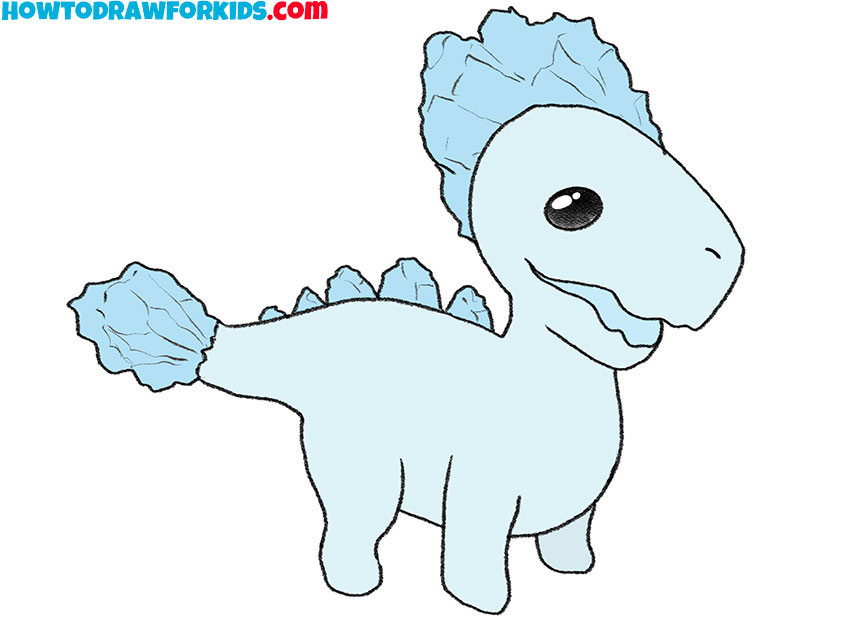 So, I am glad to offer you this simple drawing lesson in which I will tell and show you how to draw an ice dragon step by step. Any novice artist or a child who does not have much experience in drawing can easily cope with the implementation of this lesson.
By learning how to draw an ice dragon with the help of this instruction, you will be able to depict it as the main subject of your drawing, as well as complement any nature landscape or other picture you have drawn with this image. Please note that the ice dragon may be in the background of ice blocks and snowy deserts.
You may have met the ice dragon more than once as a character in a movie, video game or cartoon. Ice dragons are described as huge mythical creatures made of animated ice, with pale blue crystals for eyes.
In this tutorial, you will draw an ice dragon in a cartoon style, so it will look cute enough. If you are ready to start this drawing lesson, you can prepare art supplies right now, and then follow these instructions carefully.
Materials
Pencil
Paper
Eraser
Coloring supplies
Time needed: 30 minutes
How to Draw an Ice Dragon
Draw the outline of the ice dragon's head.

You need to depict the outline of the head with the mouth open using curved lines.

Add the facial features and outlines of the body.

Draw an oval and a curved line inside the drawn outline of the head, add an oval below the head.

Depict the neck and part of the ice dragon's tail.

Using curved lines, connect the drawn shapes, add two lines in the back of the torso.

Add the outlines of the front limbs.

In front of the ice dragon's torso, draw two legs using curved lines of different lengths.

Sketch out the outline of the ice dragon's hind leg.

Between the drawn tail and the front paw of the dragon, draw the hind paw.

Add decorative elements.

At the top of the head, on the back, on the surface and end of the tail, depict ice growths.

Make the drawing more realistic.

To make the ice growths look voluminous, add thin lines, and also delete unnecessary elements.

Color the drawing.

To color the ice dragon, use black and shades of blue, don't forget to add highlights on the eye.
Traditionally, for your convenience, I have prepared a PDF file that contains a short version of this lesson, as well as training materials that will help you complete this lesson. Download this file right now so as not to lose this lesson and return to it at any time convenient for you, even if you are not connected to the Internet.