How to Draw Buzz Lightyear
This very easy nine step guide will teach you how to draw Buzz Lightyear. Start the lesson and learn useful skills.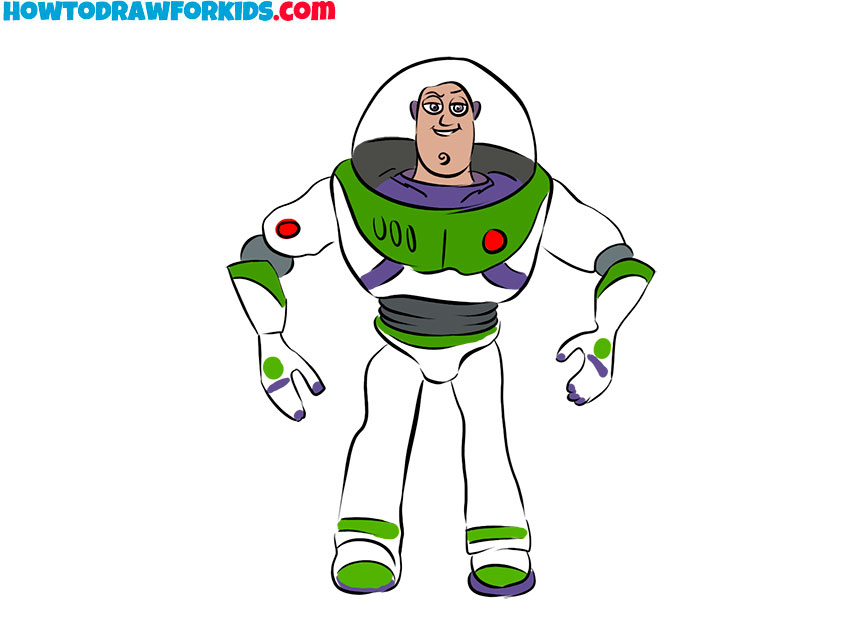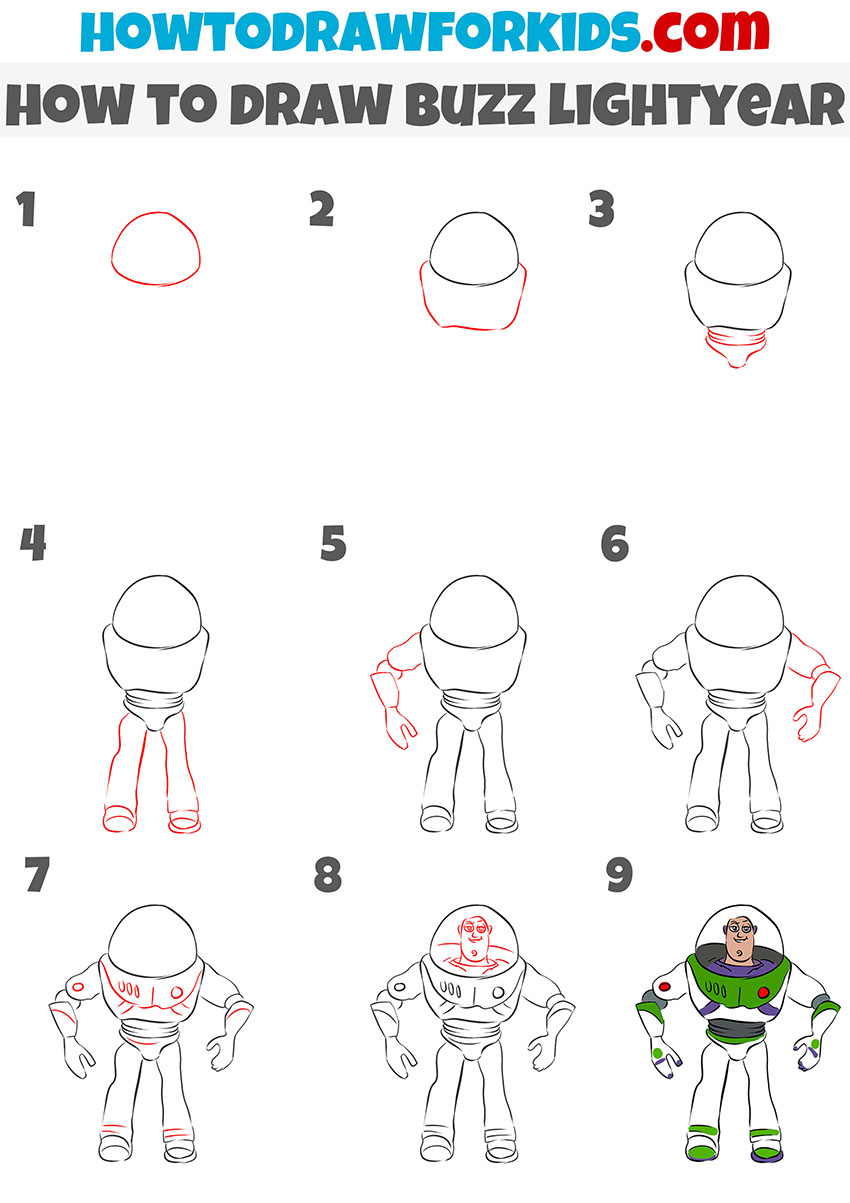 In this tutorial, I will show you how to draw Buzz Lightyear. This is one of the main characters of the cartoon "Toy Story". As you remember, the main characters of the cartoon are toys and Buzz is also a plastic toy in the shape of an astronaut. Buzz is a wise and courageous space police officer who has leadership qualities and instills enthusiasm in those around him. Of the entire toy team, Buzz is the bravest and always ready to help, this is a real hero in outer space.
As you can see, Buzz Lightyear is wearing a special space suit and has a spacesuit on his head. White suit. The helmet has a communication device. Try to carefully draw all the details of the costume.
For your convenience, the lesson is divided into several steps. Each step is one simple action. Draw all the elements in a sequence and use my tips.
Materials
Pencil
Paper
Eraser
Coloring supplies
Time needed: 35 minutes
How to Draw Buzz Lightyear
Draw the helmet.

The helmet has the shape of an irregular circle, where the upper part is more convex.

Depict the torso.

Below the helmet, depict the torso using smooth lines. The upper body is wider.

Draw the lower torso.

Using a few smooth lines sketch out the belt and leg bindings.

Sketch out the legs.

The upper part of the legs is narrow, the lower part is wide. Depict the shoes at the bottom.

Draw one arm.

The hand consists of several elements that are connected in series.

Add the second hand.

Repeat the previous step and draw the second arm with the same shape.

Add details.

Use a few short lines to depict the relief and details of the costume.

Add the head and neck.

Carefully sketch out the head and neck in the same shape as in the example. Add facial features.

Color the drawing.

Use beige, green, purple, red, and gray.
Now you have learned how to draw this character. I hope Buzz Lightyear looks great and you are proud of your work. You can share your impressions in the comments below this tutorial.
Also, at the end of the lesson, you can use the PDF file that I have prepared specially for your convenience. This will help you return to the lesson at any convenient time.