The lesson on how to draw Captain Underpants is ready for you. I have created a very simple guide with just nine easy steps.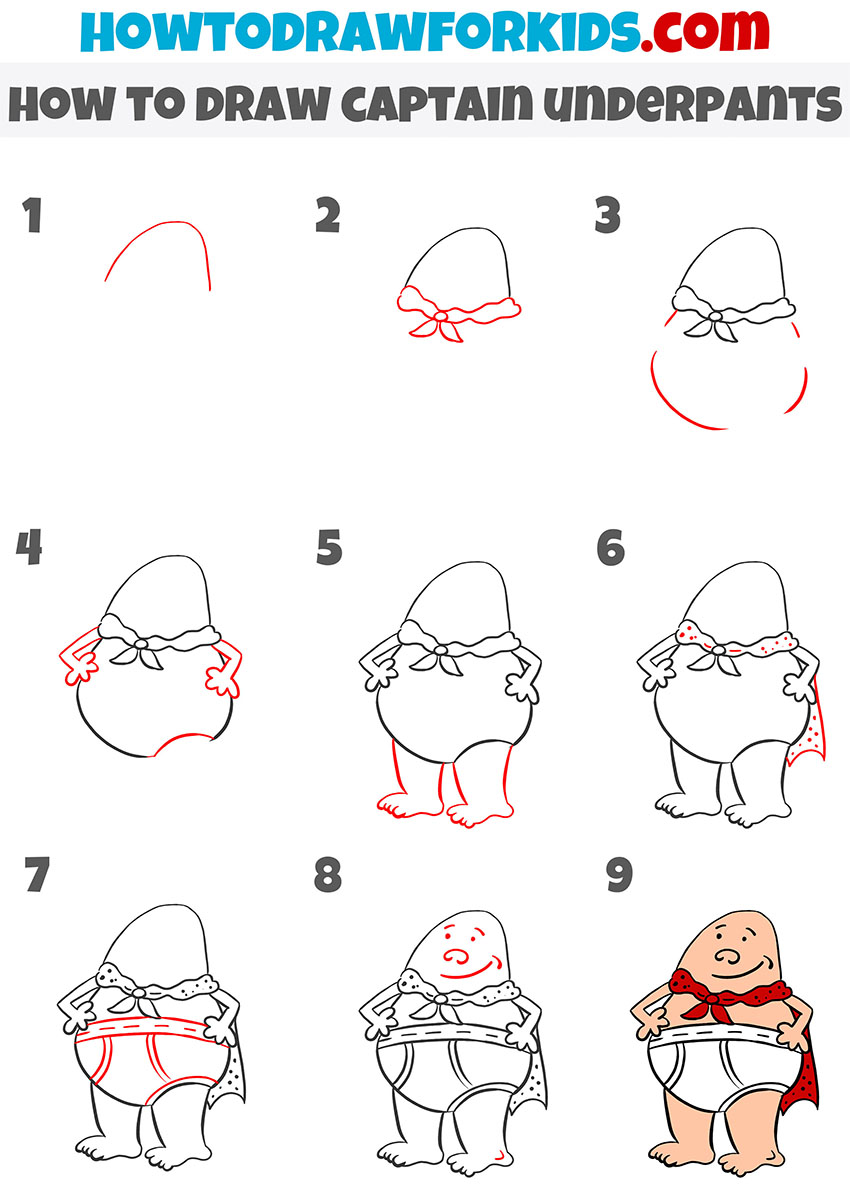 In this tutorial, you will learn how to draw Captain Underpants. This is the main character of the famous cartoon. I think you will enjoy doing this tutorial, because the sight of this character makes you smile.
If you watched this cartoon, then you remember that Captain Underpants walked around the city in only his shorts and a cape. This hero found himself in various ridiculous situations, which caused laughter and bewilderment among local residents.
The picture shows Captain Underpants in his usual guise. This hero has a minimum of clothes, a wide smile on his face and he is ready to defend this world. My tips will help you portray this character. Follow all the steps consistently, be attentive and patient.
Materials
Pencil
Paper
Eraser
Coloring supplies
Time needed: 25 minutes
How to Draw Captain Underpants
Draw the head.

Sketch out a semicircular line.

Depict the bandage around the neck.

Use a wavy line to draw the bandage and the small knot in the middle.

Add the torso.

Draw the outline of the body using a smooth line. Leave gaps for the arms and legs.

Draw the arms and the bottom of the panties.

Depict hands with straight lines and add fingers. Draw a line at the bottom of the panties.

Sketch out the legs.

Draw some straight lines.

Draw the cape.

Add a piece of the cape behind the back and draw dots on it.

Draw the underpants.

Use some smooth lines to draw the underpants.

Depict the facial features.

Draw the eyes, nose, mouth and eyebrows.

Color the Captain Underpants.

Use pink as the main color, and red for the cape.
Captain Underpants are ready! Now you have learned how to draw another popular character. You can share your impressions in the comments. Don't forget to follow us on social networks. You can save and print the PDF version of this tutorial. Thanks to this file, you can have access to the drawing lesson at any convenient time.