In this tutorial, I will show you how to draw a cute anime step by step. The instruction includes nine simple steps.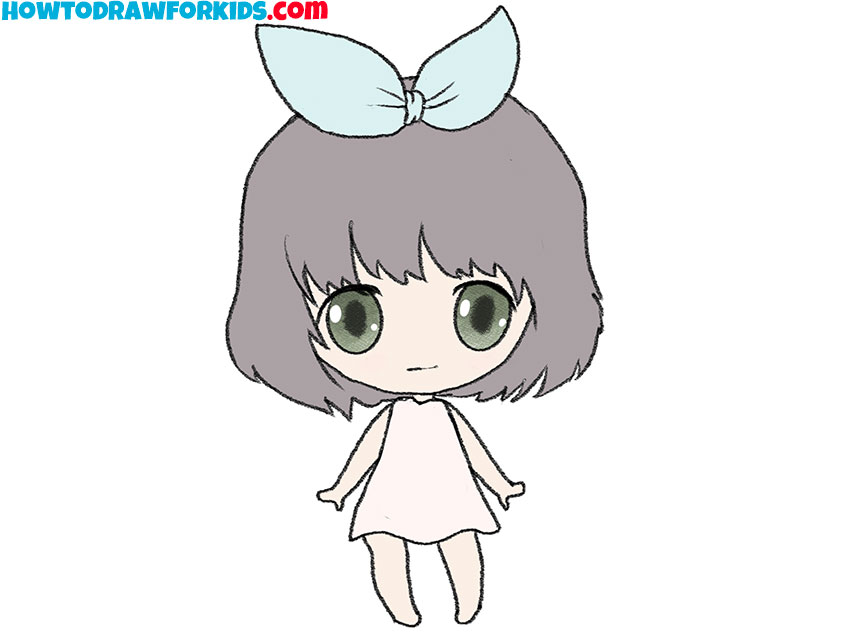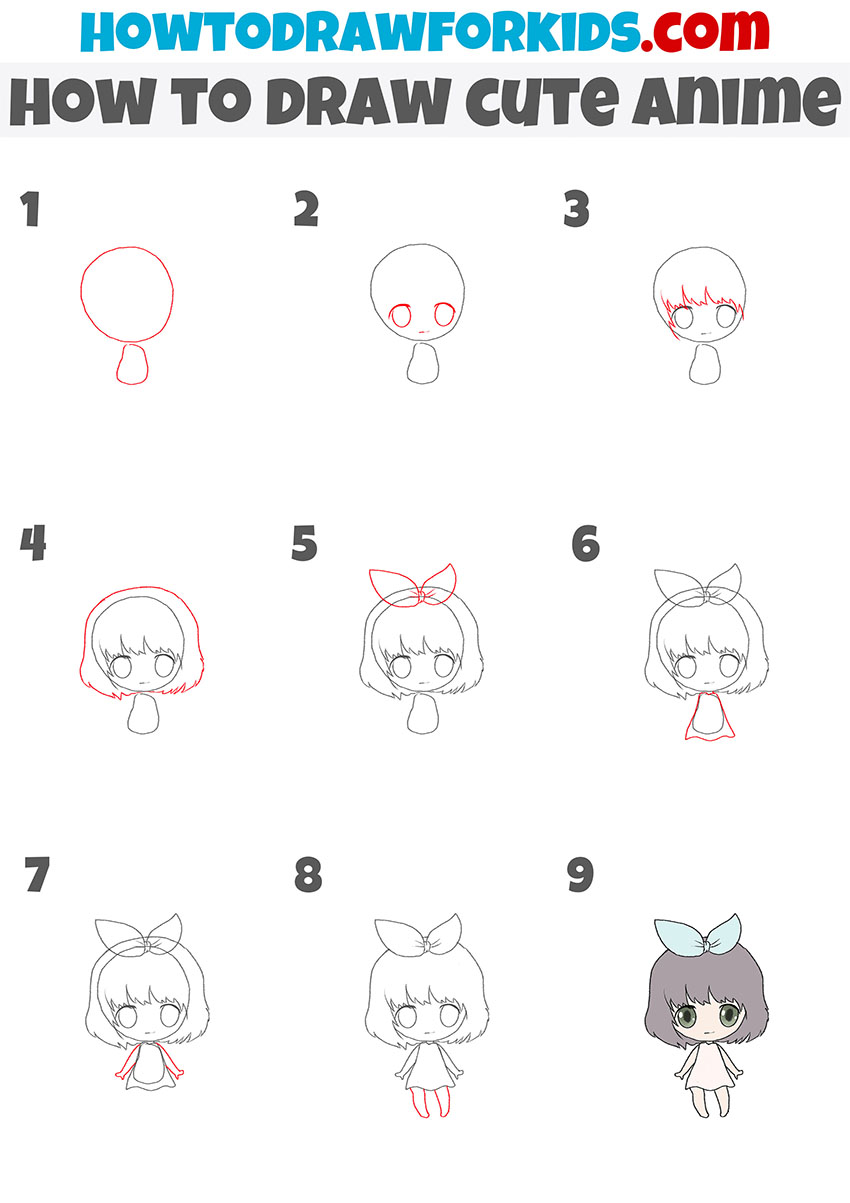 Now you have to complete an exciting creative task, thanks to which you will learn how to draw a cute anime. Japanese animation is very popular all over the world, and anime is loved not only by children, but also by adults. Anime includes many genres and styles. All anime characters are drawn in a certain style and have some features.
As an example of an anime character, I decided to choose a little girl. The girl has unrealistic proportions, but it looks very funny. The girl has a big head, lush hair, expressive eyes, a small torso and short limbs. Try to depict all these features in your drawing. For coloring, you can use the same colors that are suggested in this manual or any other colors of your choice.
Now I will ask you to prepare all the necessary art supplies and proceed with this lesson. Follow my instructions carefully and enjoy the drawing process!
Materials
Pencil
Paper
Eraser
Coloring supplies
Time needed: 30 minutes
How to Draw Cute Anime
Draw the head and torso.

Depict a circle and add the small torso at the bottom.

Add elements of the face.

Draw the big eyes and the small mouth.

Depict part of the hair.

In the upper part of the face, depict individual strands of the hair using jagged lines.

Sketch out the rest of the hair.

Add the outer outline of the hair using smooth and jagged lines.

Draw the bow.

At the crown, depict the bow, which consists of two large elements and one small one.

Add the dress.

The dress has the shape of a trapezoid, draw the lower contour of the dress with a wavy line.

Depict the hands.

Draw the small hands with smooth lines, the hands are slightly raised up.

Sketch out the legs.

At the bottom, draw two short legs using smooth, curved lines.

Color the drawing.

You will need beige, blue, and black.
So this fascinating lesson came to an end, in which you learned how to draw a cute anime. I hope you enjoy the creative process. I'm interested to know your opinion about this tutorial, and I'll be glad if you leave a little feedback. For your convenience, I have prepared a PDF file in advance, which contains a short version of the lesson. Rather, download the file so that you can return to the lesson at any convenient time, even if the Internet is not available.