In this drawing lesson, I will show you how to draw tacos step by step. You can do this easy task, even if you have not much drawing experience.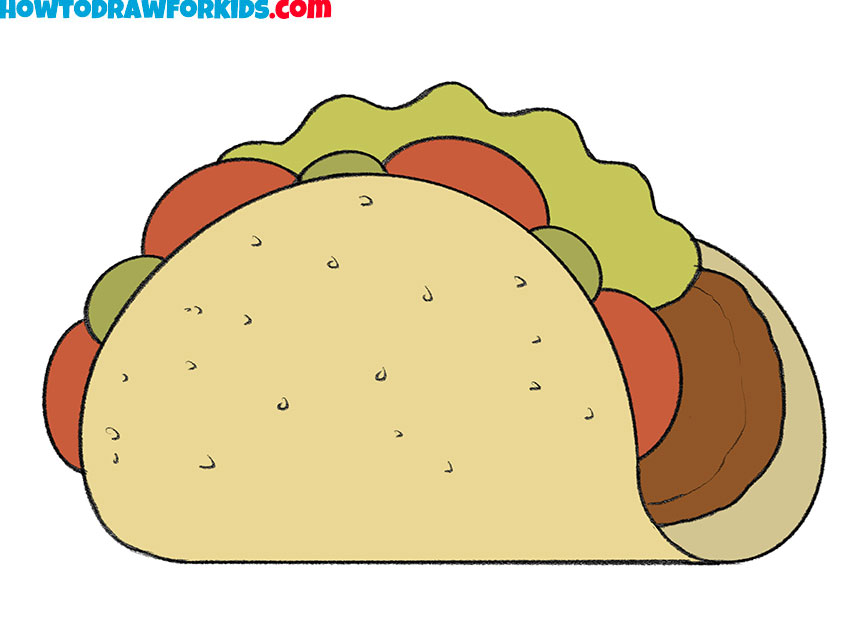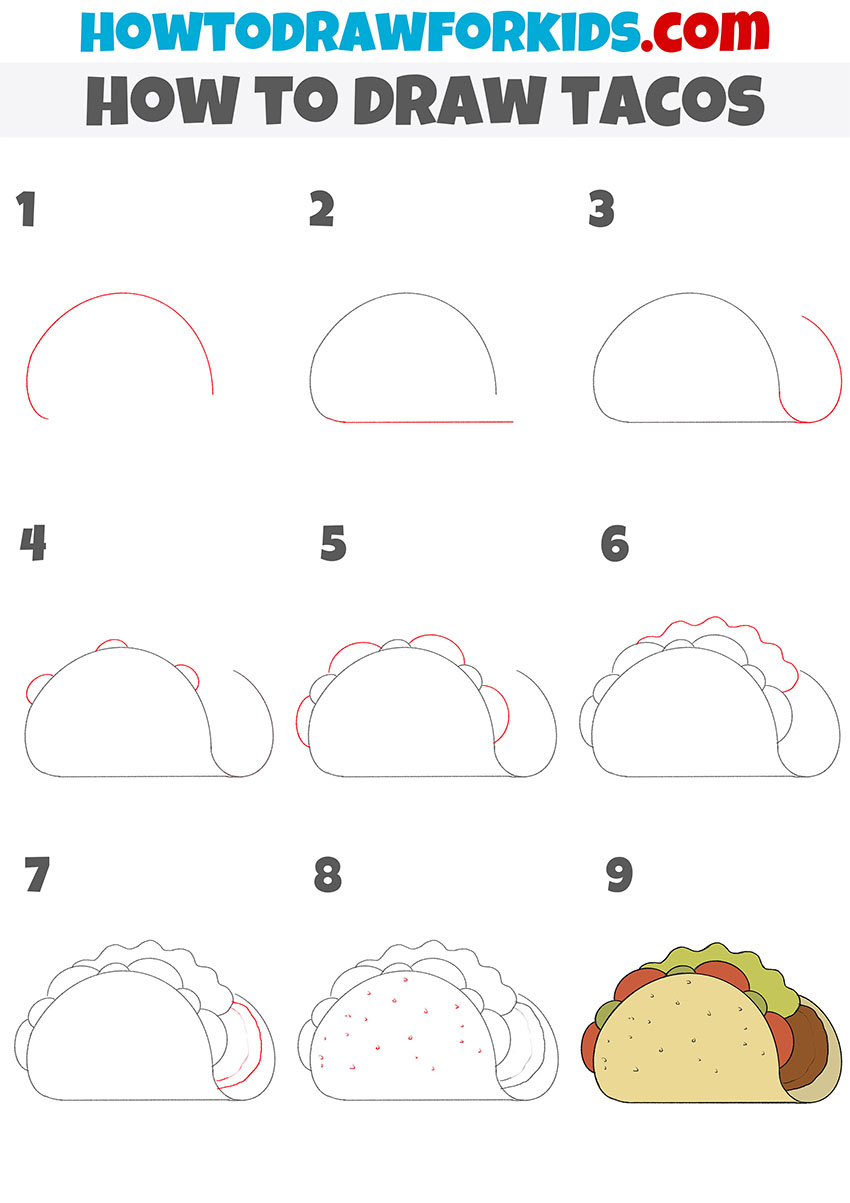 This is another lesson devoted to drawing food and in it, you will learn how to draw tacos step by step. As you probably know, a taco is a traditional Mexican dish consisting of small hand-sized corn or wheat tortilla topped with a filling. The tortilla is then folded around the filling and eaten by hand.
A taco can be made with a variety of fillings, including beef, pork, chicken, seafood, beans, vegetables, and cheese, allowing for great versatility and variety. They are often garnished with various condiments, such as salsa, guacamole, or sour cream, and vegetables, such as lettuce, onion, tomatoes, and chiles.
So, you can use these step-by-step instructions to learn how to draw tacos.
Materials
Pencil
Paper
Eraser
Coloring supplies
Time needed: 20 minutes.
How to Draw Tacos
Draw the front of the taco.

You can represent this element with a curved line.

Add the bottom part of the taco.

Continue the previously drawn curved line with a straight horizontal line.

Draw the side of the taco.

Add a rounded line on the right side of the taco, it should continue the line you drew earlier.

Start drawing the filling.

Begin by drawing three semicircles along the top of the taco.

Draw more filling.

Now add four slightly larger semicircles than the ones you drew earlier.

Outline the lettuce leaf.

Depict this element on top of the filling, using a wavy line.

Complete the drawing of the filling.

To complete the filling drawing, add a curved line and some short thin lines near it.

Add the decorative elements.

Outline a few dots and short rounded lines on the surface of the taco.

Color the drawing.

Use beige, red, brown, and shades of green to color this drawing.
I think you did a great job and you have a beautiful drawing of the yummy taco! Don't forget to download the PDF version of this tutorial. In this PDF file, you will find all the steps above, as well as a coloring page, tracing worksheet, and grid drawing worksheet.