In this step by step tutorial, you will learn how to draw bamboo. This guide is very interesting and simple.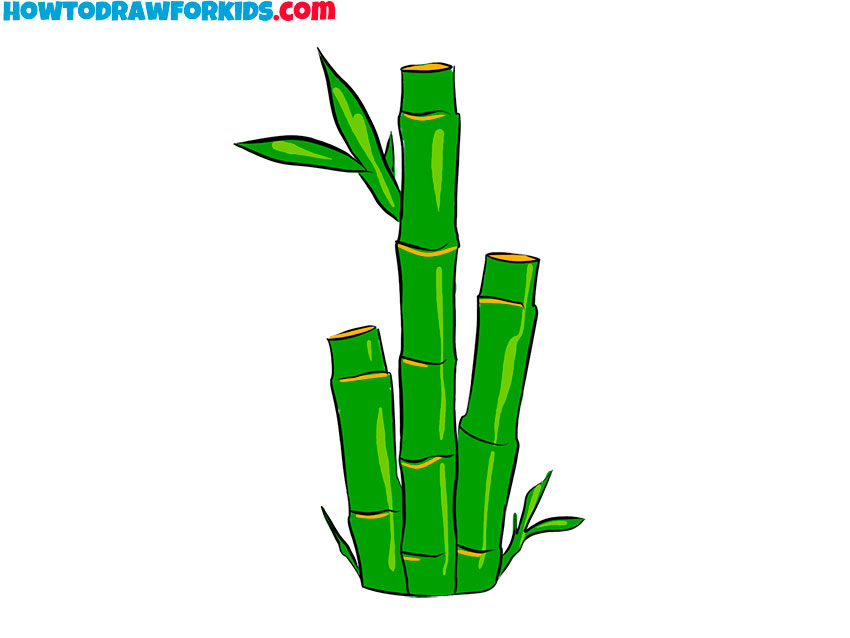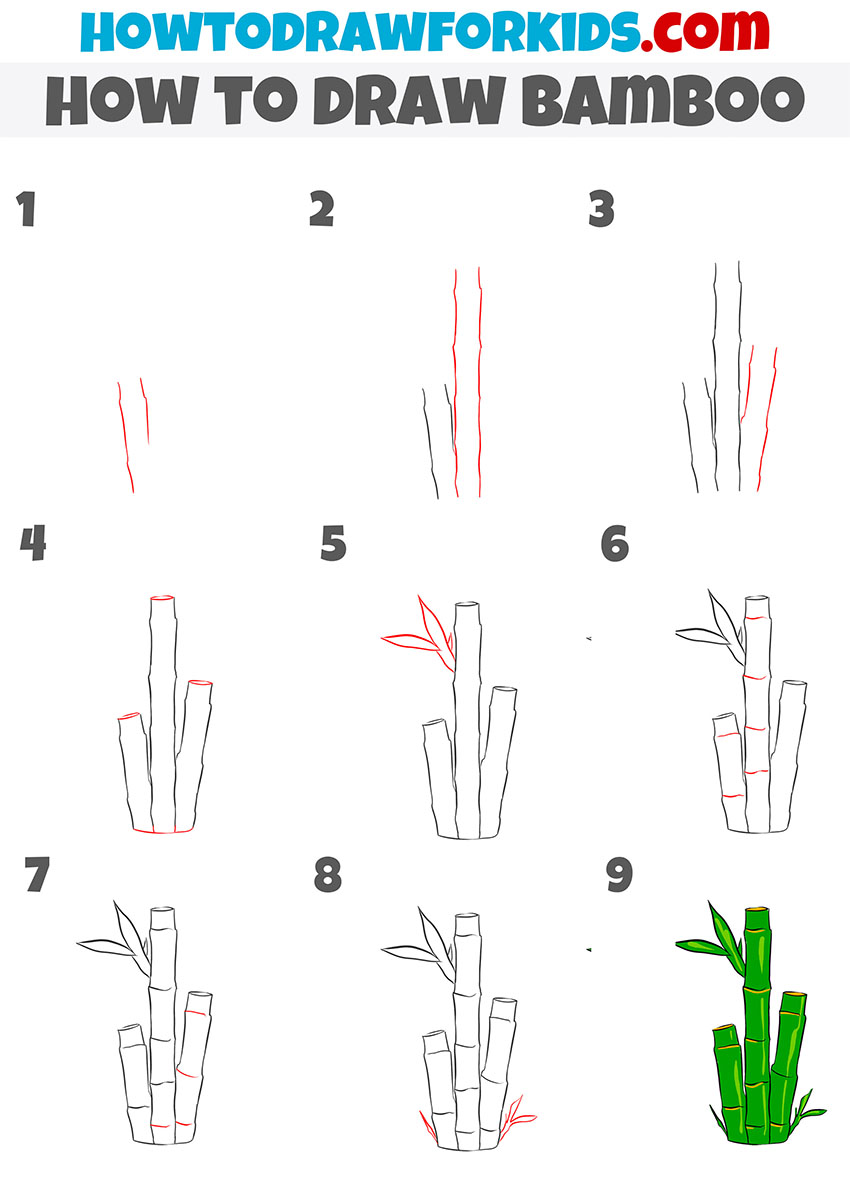 In this tutorial, I will show you how to draw bamboo. This is a tall tropical plant that has found application in various spheres of life. Bamboo has a solid, hollow stem and narrow, dark green leaves. There are various types of this plant, including indoor bamboo. This species is small in size and it is convenient to grow it at home since the plant is unpretentious to care for. It is believed that this plant attracts wealth and good luck.
The image of bamboo can be seen on various objects, for example, it is often used in the interior. The image of bamboo stems and leaves can be found on wallpaper, on curtains, in paintings, and on other objects in the home.
The lesson consists of a few simple steps. At each stage, you will draw different parts of this amazing plant. The stem of the bamboo consists of separate segments, few leaves. If you add shadows and highlights, the plant will look more realistic. You can easily complete this lesson, and the creative process will give you pleasure.
Materials
Pencil
Paper
Eraser
Coloring supplies
Time needed: 25 minutes.
How to Draw Bamboo
Draw the first stem.

Sketch out two parallel, free-form lines.

Add the second stem.

In the center, depict the taller stem using two lines.

Depict the third stem.

Use two lines to draw another stem on the right.

Add details.

At the end of each stem, depict small ovals and mark the bottom border of the stems.

Sketch out the leaves.

Draw some freeform leaves on the tallest stem.

Add more details.

Depict some transverse lines on the surface of the stems.

Sketch out cross lines.

Continue adding cross lines on the other stem.

Add out the leaves.

At the bottom of the stems, add a few more small leaves.

Color the bamboo.

Use several shades of green and orange.
The bamboo is ready! I hope you like the result. In the future, you will need the skills that you learned in this lesson. You can paint beautiful still lifes with bamboo twigs or you can paint a landscape with a bamboo grove.
I suggest you download the PDF version of this guide. In this file, you will find some useful drawing tools and you can repeat the lesson at any time.