The lesson how to draw a house step-by-step ready for you. Start this very simple guide and enjoy the drawing process.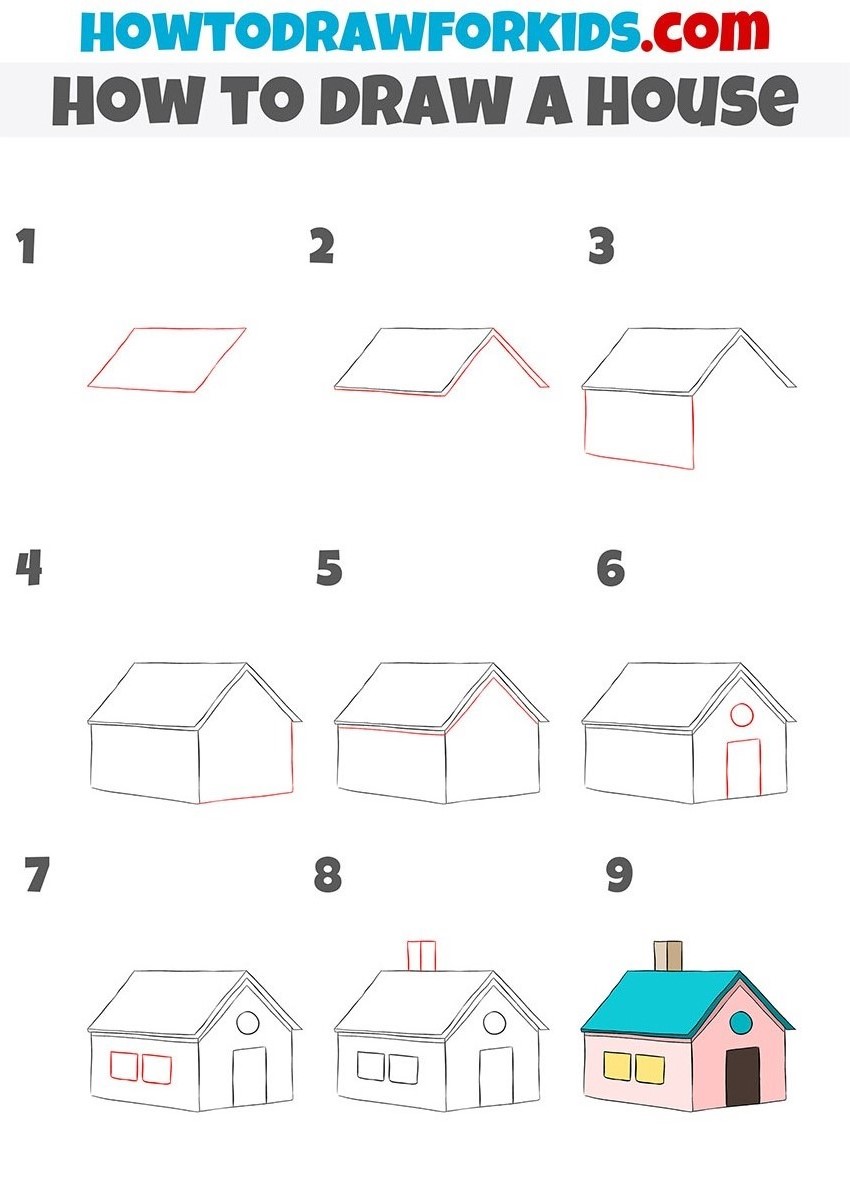 A lesson has been prepared for you on how to draw a house step by step. You don't need to worry if you don't have any drawing experience yet. This lesson was created especially for children and aspiring artists, so I am sure that you will not have any difficulties in completing it.
For each person, his home is very important, because this is the place where most of his life passes. Each owner tries to make his home more comfortable and cozy. Home is a place where we always want to return to recuperate, hide from bad weather and just be with our loved ones.
With this tutorial, you can easily draw a house. The finished drawing will turn out to be very colorful and cute for you, so start drawing soon, following these instructions.
Materials
Pencil
Paper
Eraser
Coloring supplies
Time needed: 20 minutes
How to Draw a House Step by Step
Draw part of the roof.

Use straight lines to draw part of the roof on the left side.

Add the edges of the roof.

Using straight lines to show its volume and also draw the edge of the roof on the right side.

Depict the wall.

The side edges of the wall should be straight, so you should draw straight lines.

Sketch out another wall.

Use one or two straight lines to draw the corner.

Add the shadow for the roof.

To do this, depict straight lines parallel to the bottom edges of the roof.

Draw the attic window and door.

The attic window should be round, and the door should be drawn as a rectangle.

Depict two windows.

The windows should be the same and resemble squares in shape.

Add the flue pipe.

Draw a rectangle at the top of the roof. Add a line in the middle of it to show volume.

Color the drawing.

Use shades of pink, blue, brown and yellow, or choose any other colors.
Subscribe to us on social networks. Don't forget to download the PDF with a short version of this tutorial that I have prepared for you. You can use this file even without an internet connection.