Now I will show you how to draw a cap and gown. In this lesson, you will acquire useful skills that will be useful to you in the future.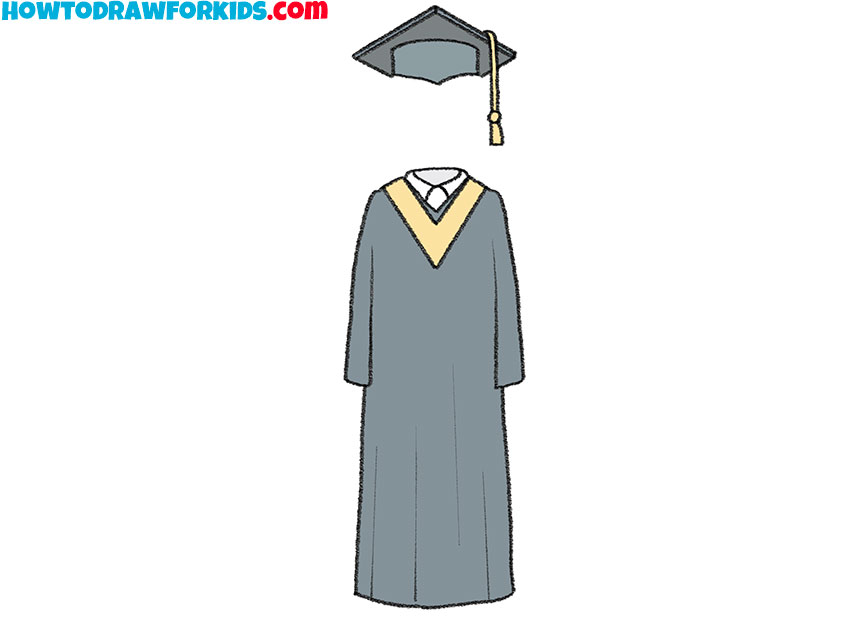 I decided to dedicate this lesson to drawing clothes, and now you will learn how to draw a cap and gown. This is formal wear worn by teachers and students of higher educational institutions.
The headdress consists of two elements. At the top is a square horizontal board, and the bottom is a round base. A small tassel is used as a decoration for the headdress. The gown is a long mantle, in which the collar has a triangular shape.
During the lesson, try to observe all proportions and carefully draw the lines that are marked in red. The acquired skills will come in handy when you want to draw any person in such clothes.
Materials
Pencil
Paper
Eraser
Coloring supplies
Time needed: 30 minutes
How to Draw a Cap and Gown
Draw the base of the cap.

Using a few smooth lines, draw a figure of the same shape as in my example.

Depict the top of the cap.

In this step, use straight lines and draw the top of the cap in the shape of the diamond.

Add the collar.

Step back a little and draw the collar in the form of a triangular shape.

Sketch out the neck.

With the help of a few straight lines, add the neckline, which has a triangular shape.

Draw the sleeves.

Depict smooth lines down from the shoulders, while maintaining symmetry.

Add the rest of the sleeves and the sides of the gown.

With straight lines draw the inner parts of the sleeves and add the side contours of the gown.

Depict the bottom of the gown.

Draw a connecting line at the bottom and add few folds with thin lines.

Sketch out the tassel.

On one side of the cap, add the tassel that hangs down freely.

Color the drawing.

For coloring, you will need different shades of gray, as well as beige.
The lesson is over, and now you know how to draw a cap and gown. I would be interested to know your opinion about this tutorial, and I will ask you to leave a little feedback in the comments. Download the PDF file, which contains a brief instruction and training materials. This way you can always return to this lesson, regardless of the Internet connection.