In this tutorial, you will learn how to draw a cornucopia. This guide consists of just nine very easy steps.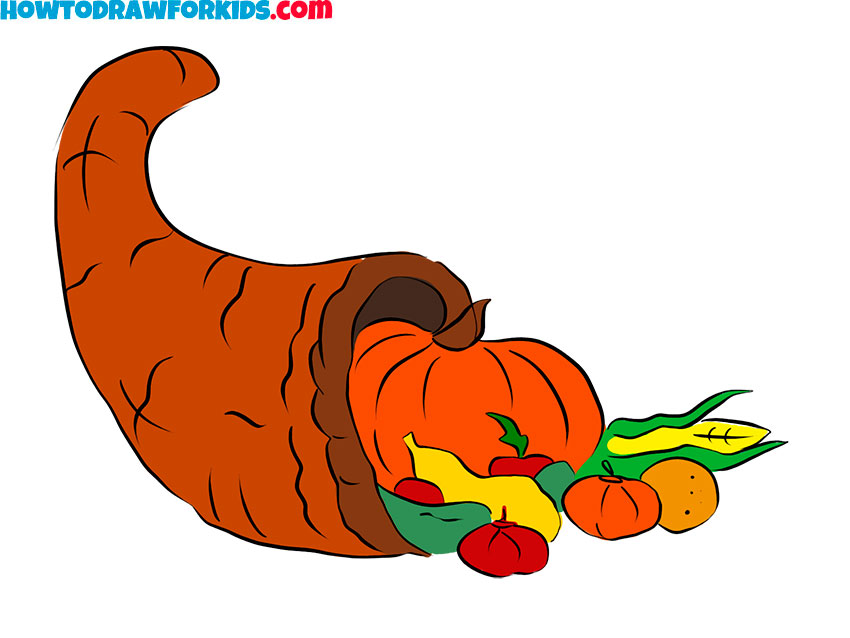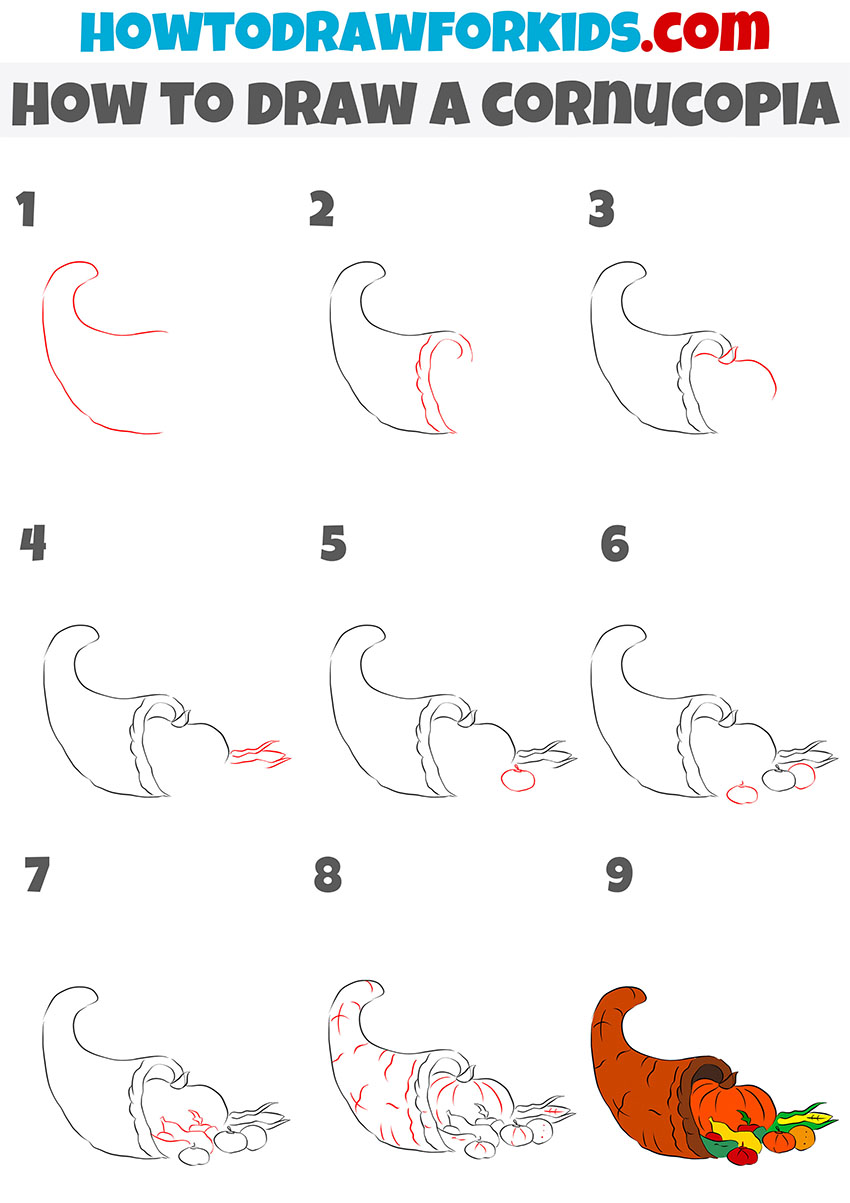 In this tutorial, I will show you how to draw a cornucopia. This object is sometimes referred to colloquially. This expression comes from ancient Greek mythology.
This object is a curved horn with its wide part turned down. Various fruits and vegetables emanate from this horn, sometimes there may be beautiful flowers or gold coins. The cornucopia symbolizes fertility, prosperity, and wealth.
In the picture, you can see a wicker basket in the shape of a horn and some fruits of different colors. The picture looks very voluminous and saturated, but you can easily draw it because the lesson consists of several very simple steps. There will be a little hint at every step. Follow all the steps in sequence and be careful at each step.
I recommend that you choose the brightest colors for your cornucopia. As a result, you should have a bright, beautiful drawing. So, prepare all the necessary supplies. Get in the mood for creative work and start drawing a cornucopia.
Materials
Pencil
Paper
Eraser
Coloring supplies
Time needed: 30 minutes.
How to Draw a Cornucopia
Draw the basket.

Depict the wicker basket in the shape of the horn.

Depict the edge of the horn.

Use a few short, freeform lines to draw the edge of the horn.

Sketch out the pumpkin.

Draw the top of the pumpkin with a smooth line and add the small pod.

Add the corn.

Depict an ear of corn to the right of the pumpkin.

Depict the small pumpkin.

Below the large pumpkin and corn, add a small oval.

Add two more round vegetables.

At this point, sketch out two more ovals.

Draw the rest of the fruit.

Depict some more fruits near the large pumpkin.

Add details.

Use short, freeform lines to depict the relief on the wicker basket and on the fruit.

Color the drawing.

Use two shades of brown for the antlers and some bright colors for the vegetables and fruits.
Now you have learned how to draw a cornucopia. I hope that you enjoyed this tutorial and that you experienced pleasant emotions while working. I suggest you download the PDF version of this tutorial. This will help you complete the lesson at any time.