In this lesson, you will learn how to draw a bass guitar. With a simple step-by-step guide, you will train your artistic skills.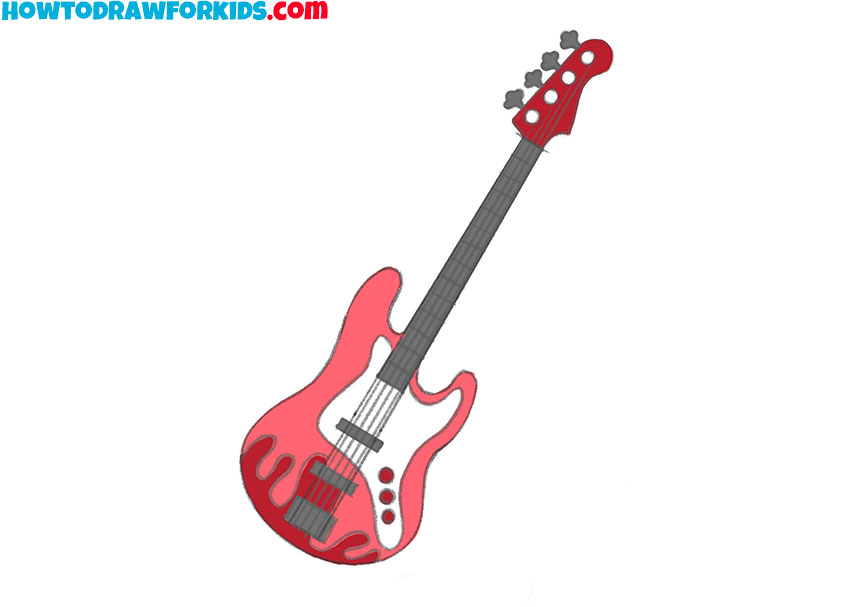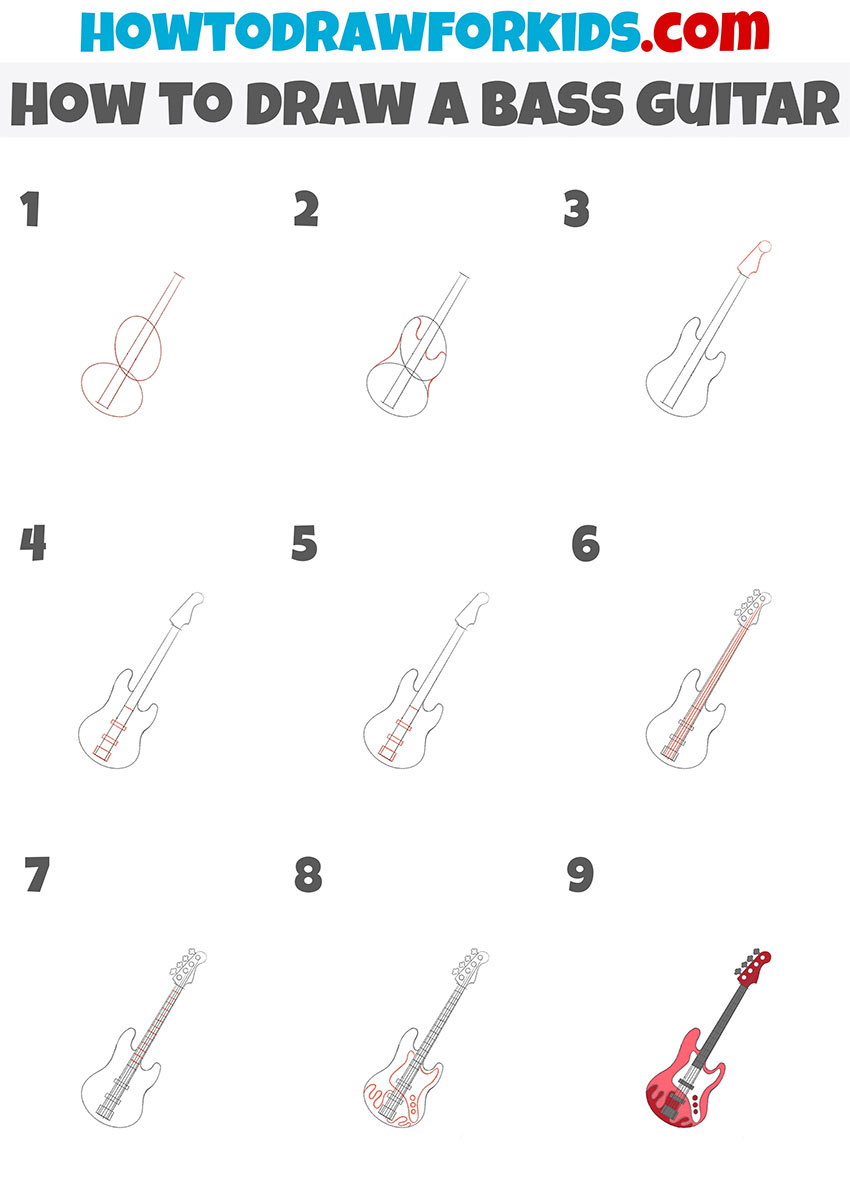 I invite all beginner artists to a new lesson, in which I will show you how to draw a bass guitar. The bass guitar is very similar to the electric guitar, the difference is only in the number of strings and sound. The bass guitar is used very often and is an important element in many modern musical genres.
You can see that the bass guitar consists of a body and neck, on which the strings are stretched. In this lesson, you will once again train your ability to draw straight and smooth curved lines, so the lesson will be very useful for you.
During the lesson, take your time and try to draw the same lines as shown in the example. Each new line is marked in red. For your convenience, there are small tips in each step, this will help you correctly depict the next element.
Materials
Pencil
Paper
Eraser
Coloring supplies
Time needed: 30 minutes.
How to Draw a Bass Guitar
Draw the base.

Depict two circles and draw a neck with straight lines.

Detail the outer outline.

Use curved lines to give the bass the shape you want.

Add the headstock.

At the end of the neck, draw a figure of the same shape as in the example.

Sketch out the pickups.

On the surface of the neck, add several rectangular shapes.

Draw the pegs.

On the headstock, depict a few small circles and a few curly elements.

Add the strings.

Sequentially, draw several straight lines.

Depict the frets.

On the surface of the neck, sketch out transverse lines.

Detail the body surface.

Use smooth, curved lines to create the beautiful design on the surface of the case.

Color the bass guitar.

You will need gray and any shades of red.
Bass guitar is ready! Hope you get a great drawing. But if something didn't work the first time, then you can try again and you will see that the result will be better. For your convenience, I have prepared a PDF file in advance, which contains a short version of the lesson. Rather, download the file to always have access to the lesson.