Now you will learn how to draw a cake step by step. Here you will draw geometric shapes and train your spatial imagination.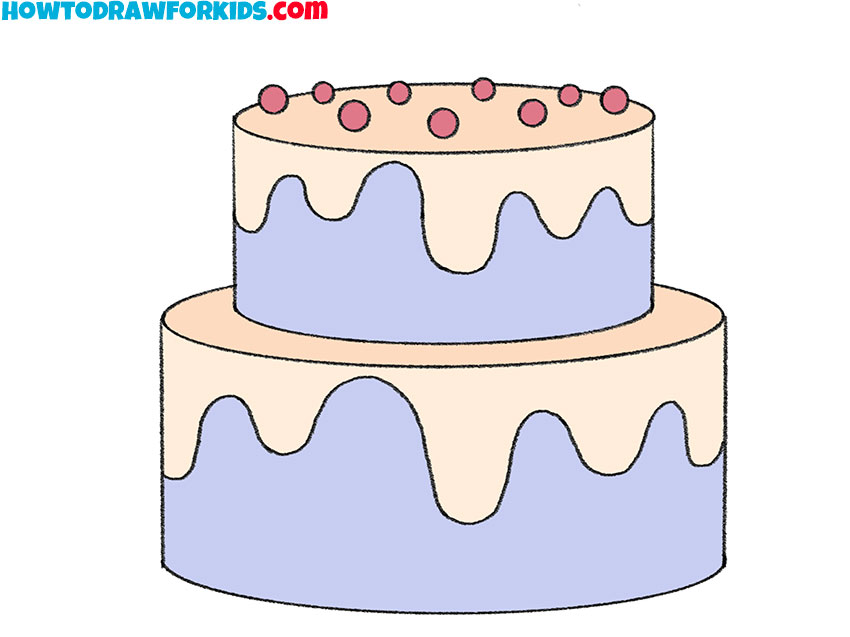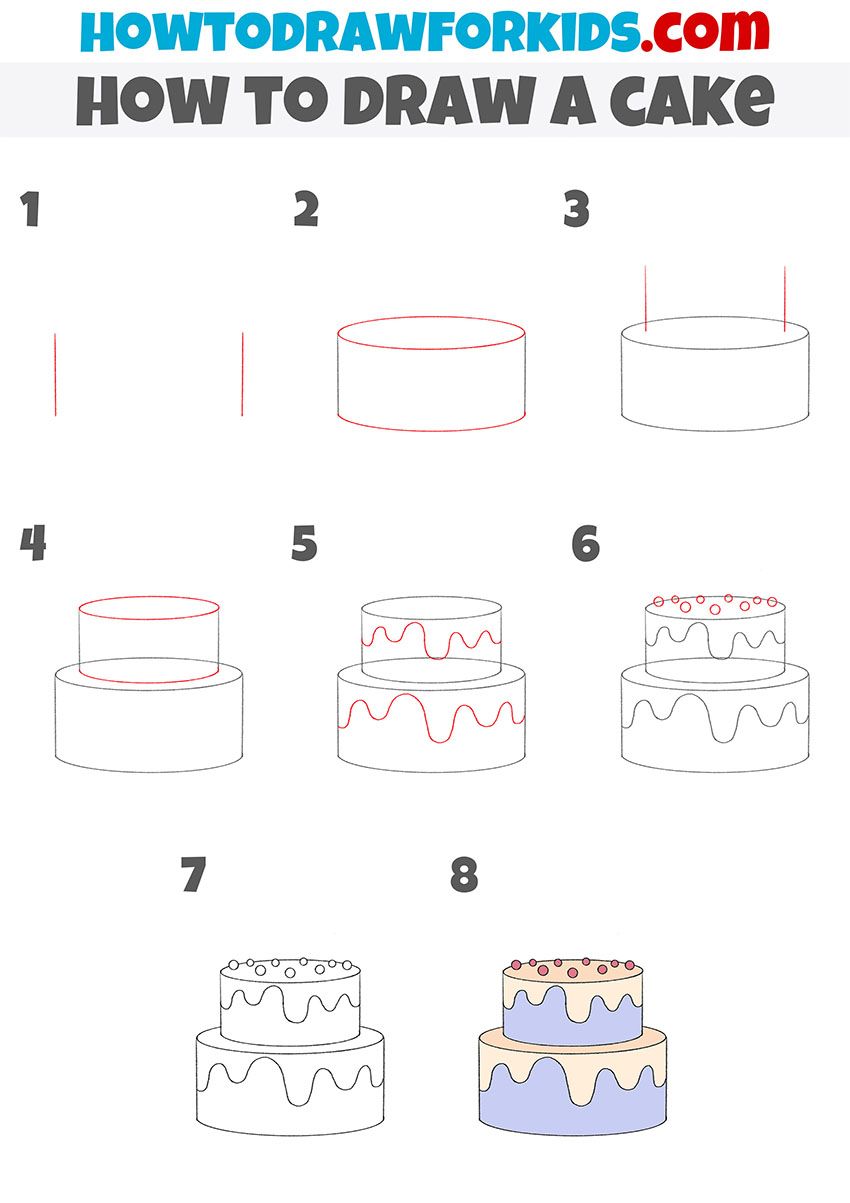 Here is a simple instruction that shows in detail how to draw a cake step by step. I am sure that you will really enjoy this lesson, because drawing delicious desserts is always interesting. The cake is a sweet confection made from pastry. The cake consists of several layers, which are soaked in cream or jam, on top of the cake is decorated with cream, icing, or fruit.
The cake can be round, square, or rectangular. Sometimes the cake may have an unusual shape and original decoration. Experienced craftsmen are able to create real masterpieces of confectionery art, which consist of several tiers and have a surprisingly beautiful design of cream, chocolate or sweet mastic. Traditionally, cake accompanies almost any holiday.
In this lesson you will draw a round cake, which consists of two tiers, the cake is poured with icing on top and decorated with berries. The elements of the cake are in the form of cylinders. Try to draw these geometric shapes correctly so that you get a beautiful cake. Take your time and carefully follow each step in this manual.
Materials
Pencil
Paper
Eraser
Coloring supplies
Time needed: 30 minutes.
How to Draw a Cake Step by Step
Draw the sides.

Depict two straight vertical lines at some distance from each other.

Add the bottom and top.

Depict a smooth connecting line at the bottom and draw the ellipse at the top.

Start drawing the top of the cake.

Draw two vertical lines, while maintaining proportions.

Depict the rest of the cake.

Draw a connecting smooth line and draw the ellipse at the top, just as you drew it earlier.

Sketch out the frosting.

Draw smooth wavy lines on the top and bottom of the cake.

Draw the berries.

Add small circles to the top of the cake.

Correct inaccuracies.

Use the eraser to remove extra lines in your drawing.

Color the drawing.

You will need light blue, pink and red.
Excellent! Now you have completed all the steps in this instruction, and you can evaluate the result of your work. I hope that you have a beautiful drawing, and you are proud of yourself. Share your impressions in the comments, and write what other desserts you like and want to learn how to draw. I will definitely take into account your wishes when compiling new exciting lessons. Finally, I suggest you download a PDF file that contains a short version of the lesson. Thus, you can always return to the lesson even if the Internet is not available.