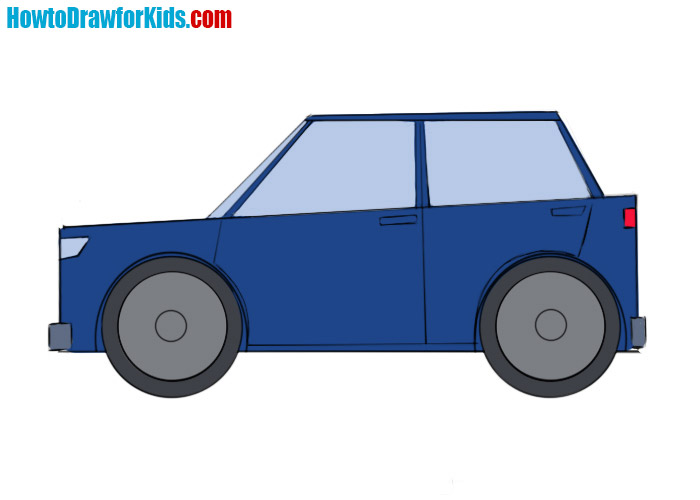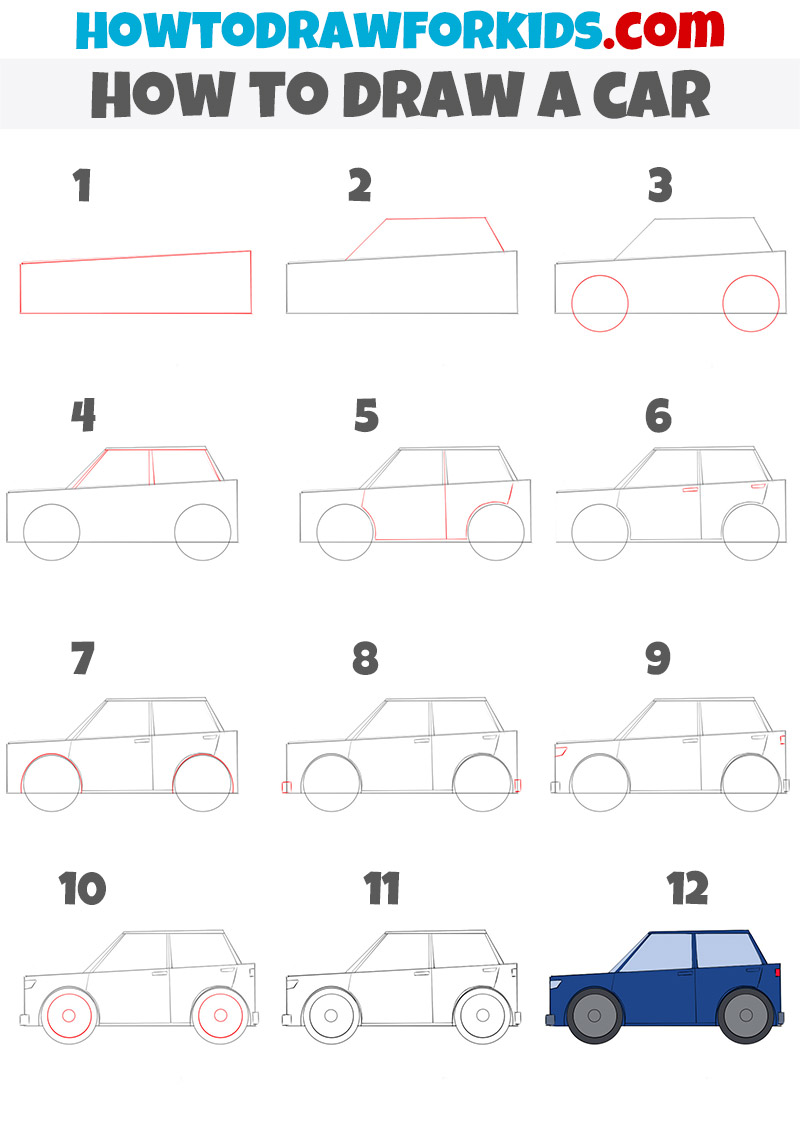 In this super simple drawing instruction, I will show you how to draw a cartoon car easily.
Earlier, I have already described repeatedly how to draw a car. And those instructions were very simple. But this guide will be even easier. Here, with the help of twelve literally elementary stages, you can learn how to draw a cartoon car without any difficulty.
Step 1
Start by drawing the lower part of the body using straight and simple lines.
Step 2
Now, using three straight lines, depict the roof of the car in the form of a diamond-shaped geometric figure.
Step 3
Now go to the bottom of the rectangle and depict the wheels as circles.
Step 4
Make the car more detailed, depict the windows and frames as in the example below.
Step 5
Now depict the front and back doors as shown in my example.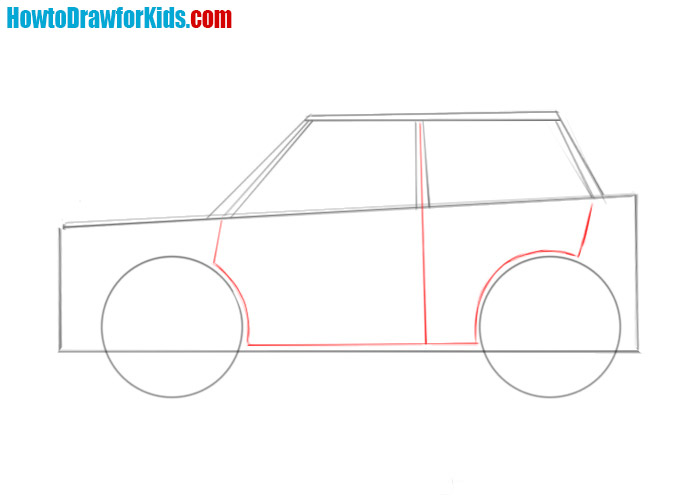 Step 6
A car cannot exist without handles, so depict them as rectangles.
Step 7
Correct the arches to match the top edges of the wheels.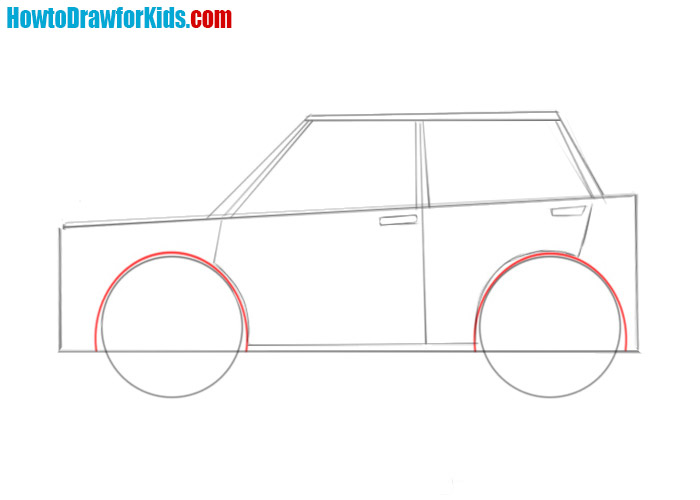 Step 8
Bumpers are just as important parts of a car as handles, so depict them as squares.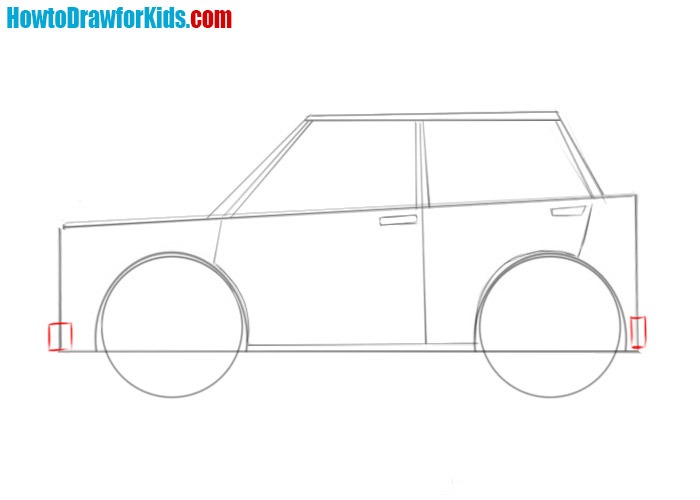 Step 9
An even more important part of the car is the headlights and tail lamps. Depict them above the bumpers.
Step 10
Depict the rims and central parts of the rims as circles inside the tire edges. Delete construction lines as in the example below.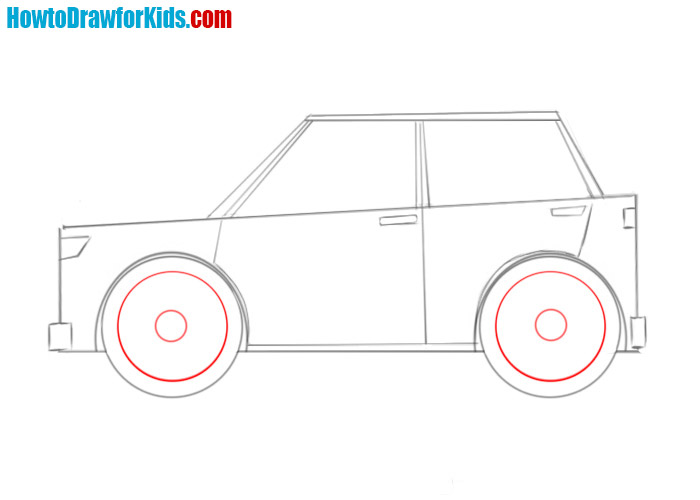 Step 11
To give the car drawing a more complete look, darken the necessary lines.
Step 12
I decided to paint the body of the car in dark blue, glasses and headlight in light blue, taillight in red, bumpers and wheels in different shades of gray.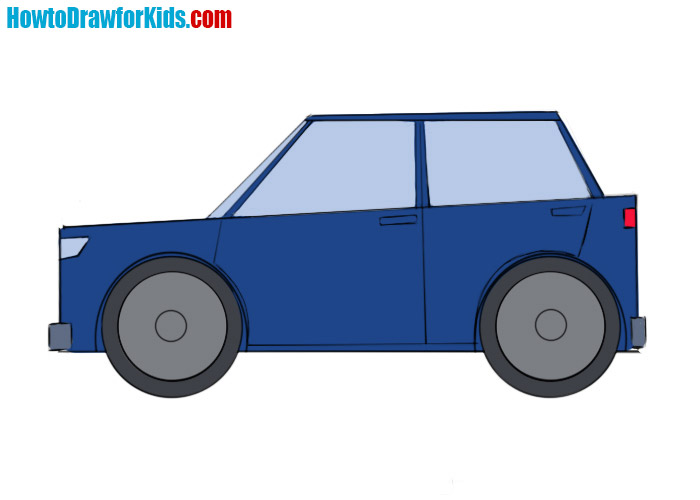 You can make your cartoon car drawing more cool and interesting. Add some details. For example, you can depict the passengers inside the car and details such as the steering wheel and seats.
If this instruction on how to draw a cartoon car was interesting and useful for you, subscribe to Howtodrawforkids.com on Pinterest and visit my other articles from the Car section.