In this tutorial you will learn how to draw Peter Griffin. This simple instruction consists of nine steps with a detailed description.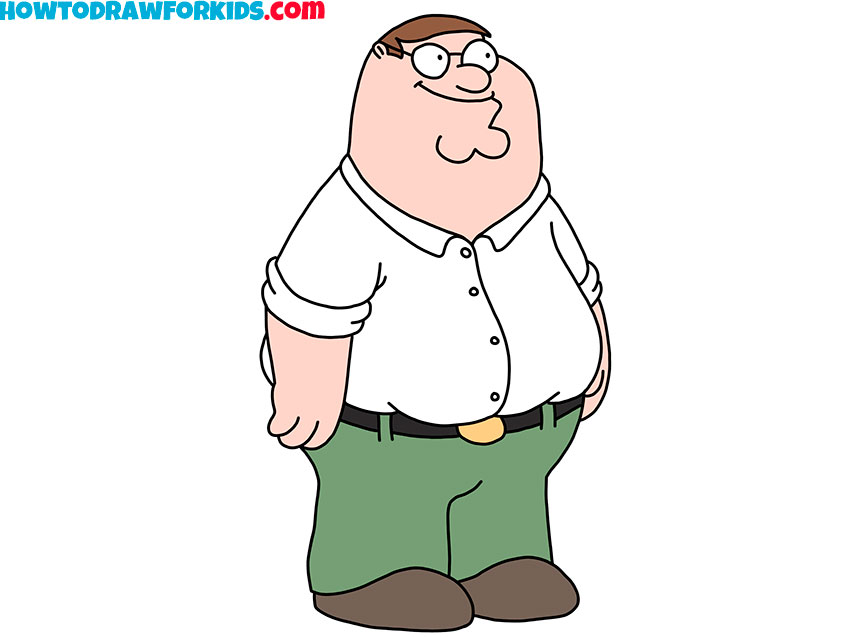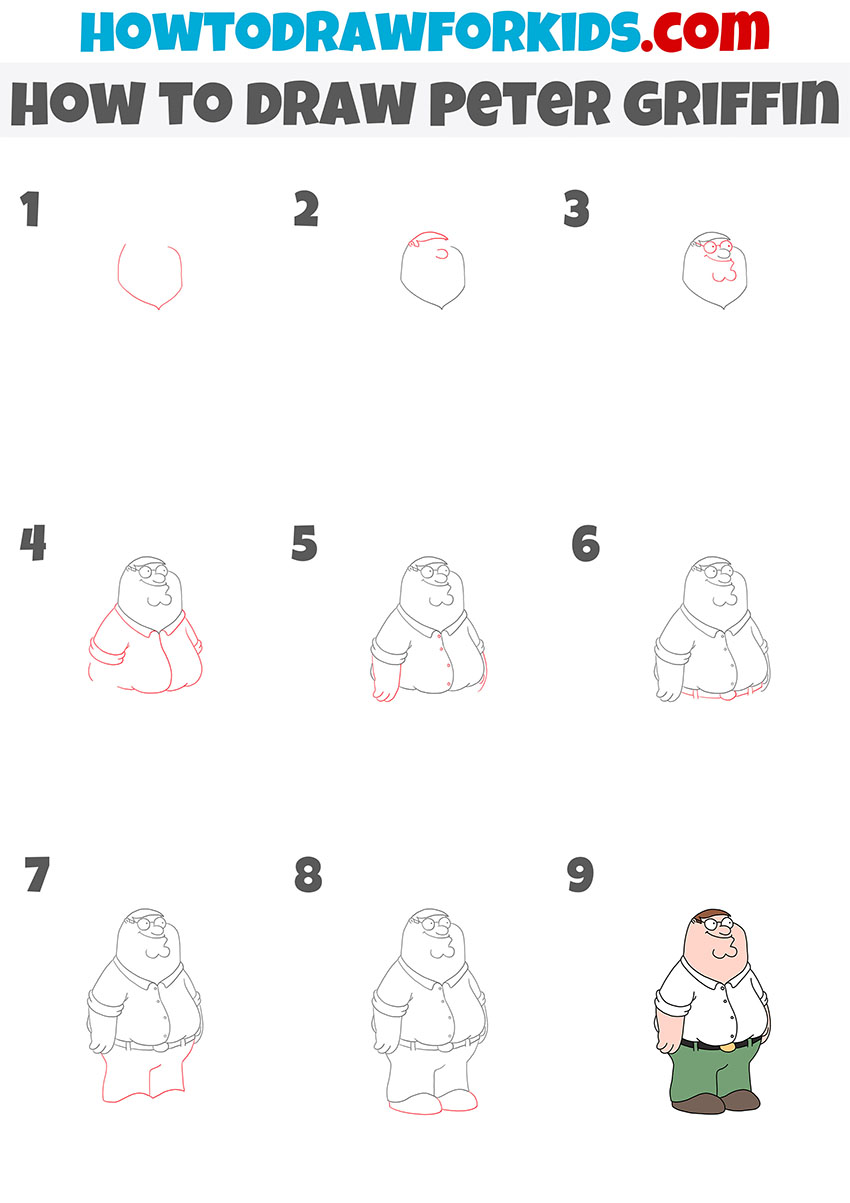 I am glad to bring to your attention a fascinating and very useful drawing lesson in which I will tell and show you how to draw Peter Griffin step by step. This is another simple instruction dedicated to drawing famous characters.
Peter Griffin is one of the main characters in the animated series Family Guy. The animated series "Family Guy" describes the life of a family from the American province. Peter Griffin looks like a fat middle-aged man, hulking, with glasses on his full face.
You can prepare all the necessary art supplies right now, and then enjoy the creative process and carefully follow my instructions. I wish you good luck and hope that you get a great result of your work.
Materials
Pencil
Paper
Eraser
Coloring supplies
Time needed: 30 minutes
How to Draw Peter Griffin
Sketch out the outlines of the Peter Griffin's head.

Use curved lines of varying lengths to depict the right and left sides of the character's head.

Add the hair, ear, and nose of the character.

At the top of the previously drawn outline of the head, draw a few curved lines and arcs.

Draw the facial features of the Peter Griffin.

Inside the outline of the head, add the eyes, mouth, chin, and glasses.

Depict the upper body and costume elements.

Below the head, add the outline of the collared shirt with rolled up sleeves using curved lines.

Finish the shirt and add the outlines of the Peter Griffin's arms.

On the shirts, add four buttons in the form of circles, using curved lines to draw the arms.

Depict the Peter Griffin's trouser belt.

Below the character's shirt, draw an incomplete oval, as well as several straight and curved lines.

Add the outlines of the character's trousers.

Now you need to draw some smooth curved lines in the lower part of the character's torso.

Sketch out the Peter Griffin's shoes.

At the bottom of the drawn trousers draw rounded lines to draw the character's boots.

Color the drawing.

To color the Peter Griffin, use shades of brown, black, beige, yellow, and green.
Now you know how to draw Peter Griffin. I hope that each of you liked this lesson, and now you want to visit other useful drawing lessons on our website, with which you can practice drawing other characters. Give your feedback in the comments, I will be glad to read your feedback and ideas for new drawing lessons. Don't forget to download the PDF file which contains a short version of this tutorial.