Now I will show you how to draw a cartoon unicorn step by step. This tutorial was created specifically for beginners.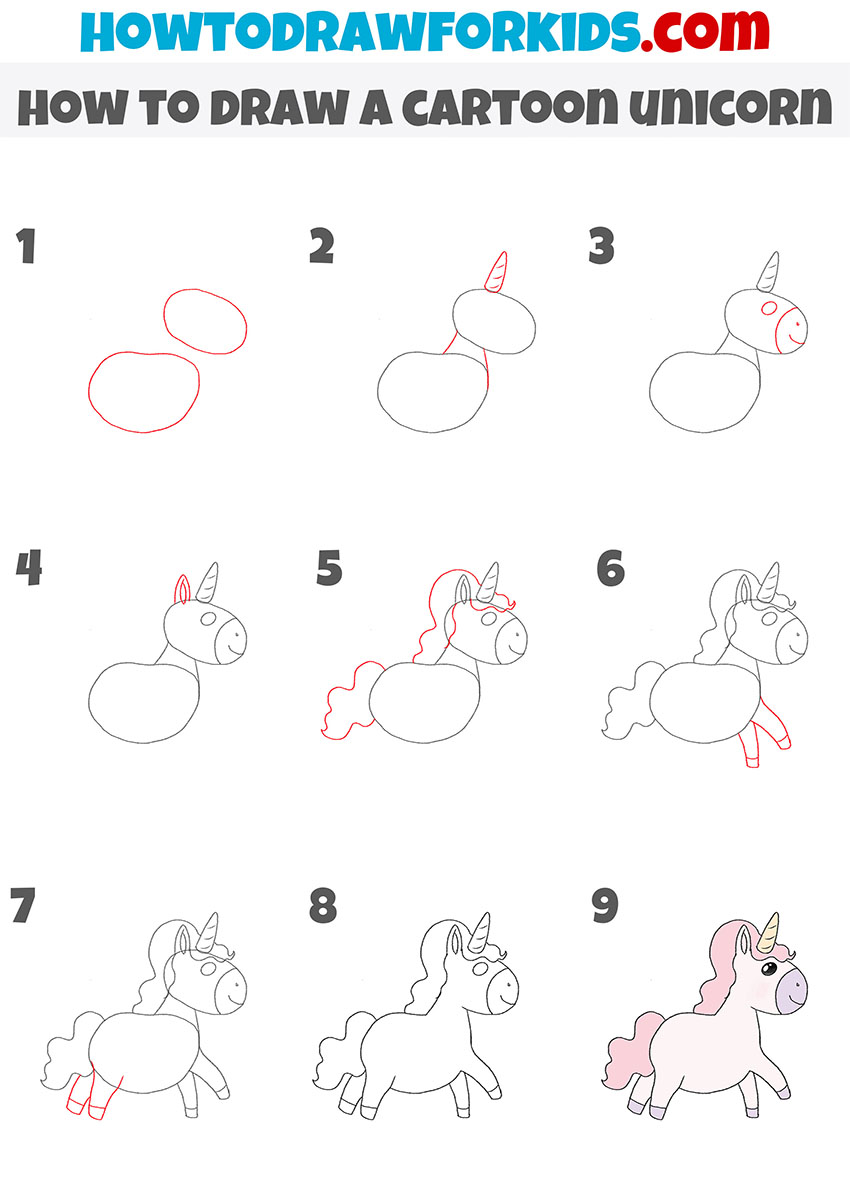 I decided to dedicate this lesson to drawing a popular mythical character, and now you will learn how to draw a cartoon unicorn step by step. I tried to make this step-by-step guide very simple and clear, so that you get a great result the first time.
This unusual creature is a horse that has a large pointed spiral horn on its forehead. The unicorn is considered a symbol of purity, prudence, freedom, and knowledge.
With the help of my simple instructions, you can easily draw a unicorn and gain useful skills. Now take your art supplies and start drawing the same lines as shown in the instructions. Use small hints as you work to achieve the best results.
Materials
Pencil
Paper
Eraser
Coloring supplies
Time needed: 30 minutes
How to Draw a Cartoon Unicorn Step by Step
Draw the head and torso.

Depict two oval-shaped figures that are located at some distance from each other.

Depict the horn and neck.

Draw the cone-shaped horn on the head and add connecting lines between the head and torso.

Add the elements of the muzzle.

With a smooth curved line, depict the front of the muzzle, draw the eye, nose, and mouth.

Sketch out the ear.

Near the horn, draw the pointed ear and immediately add the inner part of the ear.

Draw the mane and tail.

With the help of jagged wavy lines depict the lush mane and tail.

Depict the front legs.

Draw two legs in front of the torso and draw the hooves at the bottom.

Add the hind legs.

Draw the hind legs in the same way as the front ones.

Correct inaccuracies.

Take the eraser and carefully remove all the extra lines in your drawing.

Color the drawing.

You will need light pink, purple and yellow.
It was a simple lesson on how to draw a cartoon unicorn step by step. By tradition, I prepared a short version of the lesson in PDF format in advance. Save the file so that the lesson is available to you at any convenient time.