Now you will learn how to draw a tooth fairy. I promise that you will find an interesting and useful pastime.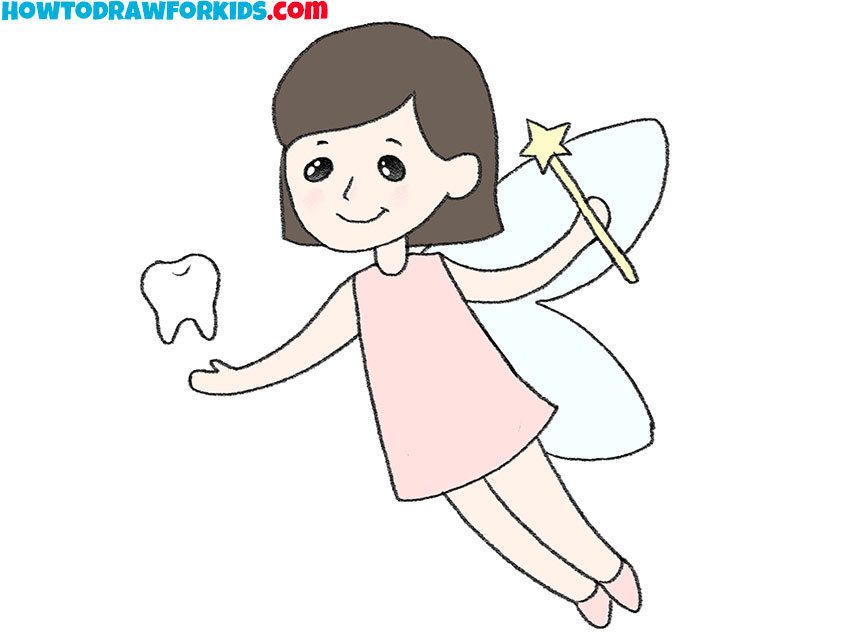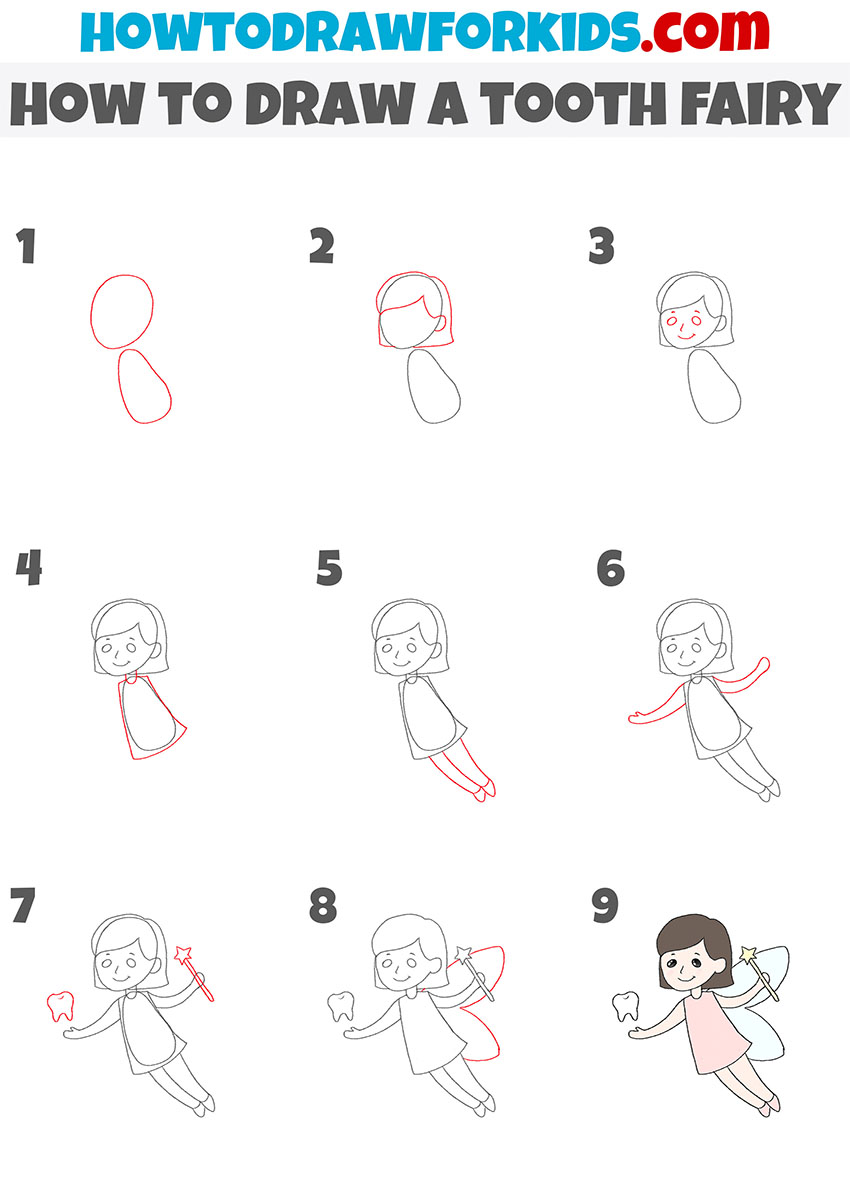 Now you have to draw an unusual character and with the help of my simple instructions you will learn how to draw a tooth fairy. This is one of the favorite fairy tale characters in many countries.
According to legend, the tooth fairy gives the child a gift instead of a lost baby tooth. All children really like this character, so children calmly perceive the loss of a tooth and endure pain, waiting for their gift.
The picture shows a little tooth fairy with wings. In one hand she holds a magic wand, and the other hand the fairy brings the fallen tooth. With a simple instruction, you can easily draw these elements and get an excellent result.
Materials
Pencil
Paper
Eraser
Coloring supplies
Time needed: 30 minutes
How to Draw a Tooth Fairy
Draw the head and torso.

Depict two figures of the same shape as in my example, while maintaining proportions.

Detail the head.

With smooth lines draw the outline of the hair and draw the ear on the side.

Depict the elements of the face.

Draw the eyes in the form of two ovals. Using small lines draw the eyebrows, nose, and mouth.

Add the neck and clothes.

Draw connecting lines between the head and torso and add the outline of the clothes.

Sketch out the legs.

With the help of smooth lines depict the legs that are located together.

Draw the arms.

With smooth lines, depict the arms that are raised and directed to the sides.

Depict the magic wand and the tooth.

Draw the magic wand which consists of two elements and add the tooth on the other side.

Sketch out the wings.

Draw the visible part of the wings with smooth curved lines.

Color the drawing.

Color the skin beige, hair brown, you will also need pink, blue, and yellow.
The tooth fairy is ready! Now you have mastered this fascinating lesson and learned how to quickly and easily draw a fairy-tale character. If you liked this tutorial, then leave a little feedback in the comments. I want to remind you that now you can download a short version of the lesson in PDF format. If you save this file, the lesson will be available to you at any time, regardless of the Internet connection.