With this tutorial you will learn how to draw a cat leg. The lesson consists of only eight steps, which any novice artist can easily repeat.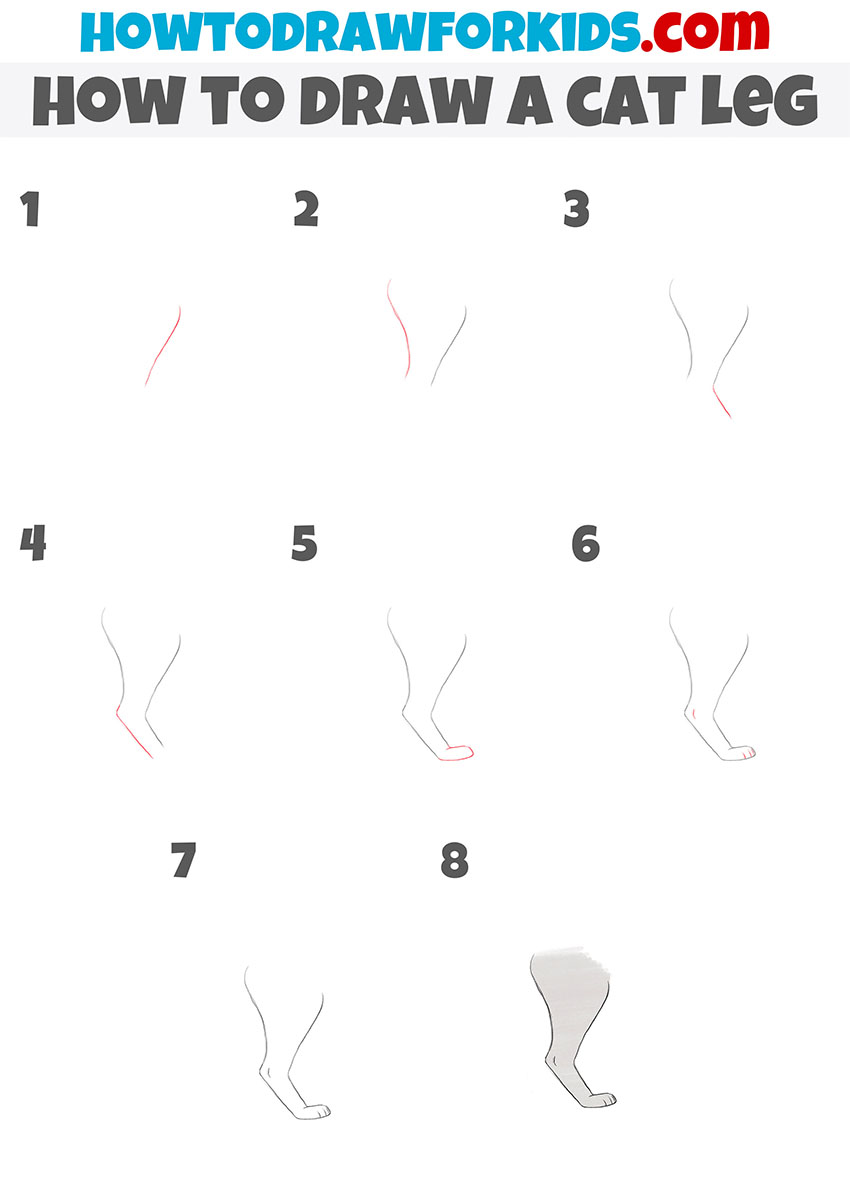 You will find an interesting and useful lesson in which you will learn how to draw a cat leg. Cats are the most popular pets that have been living with humans for a long time.
The image of cats can be seen in many printed and electronic sources, and artists often depict cats in their work. If you want to draw a cat correctly, then this lesson will help you.
Follow this lesson carefully and remember all the drawing steps in order to depict the cat leg without errors in the future.
Materials
Pencil
Paper
Eraser
Coloring supplies
Time needed: 20 minutes.
How to Draw a Cat Leg
Draw the outline of the front of the thigh.

Sketch out a smooth line as shown in the example.

Add the outline of the back of the thigh.

At this stage, above draw a smooth curved line.

Depict the bend of the leg in front.

Continue the line and depict a slight bend of the leg towards the front.

Draw the protrusion of the calcaneus.

With a smooth line, depict the bend of the leg on the other side.

Sketch out the bottom of the leg.

Depict the foot with a rounded line.

Add elements on the leg.

Draw the fingers and the small hollow on the bend.

Make the outline clearer.

Carefully trace the outline of the leg.

Color the cat leg.

Use light gray or any color of your choice.
Now you can download the PDF file that I have prepared specially for your convenience. In this file, you will find a short version of this drawing lesson and some more useful additional materials. You can use this file at any time, even if you do not have Internet access.