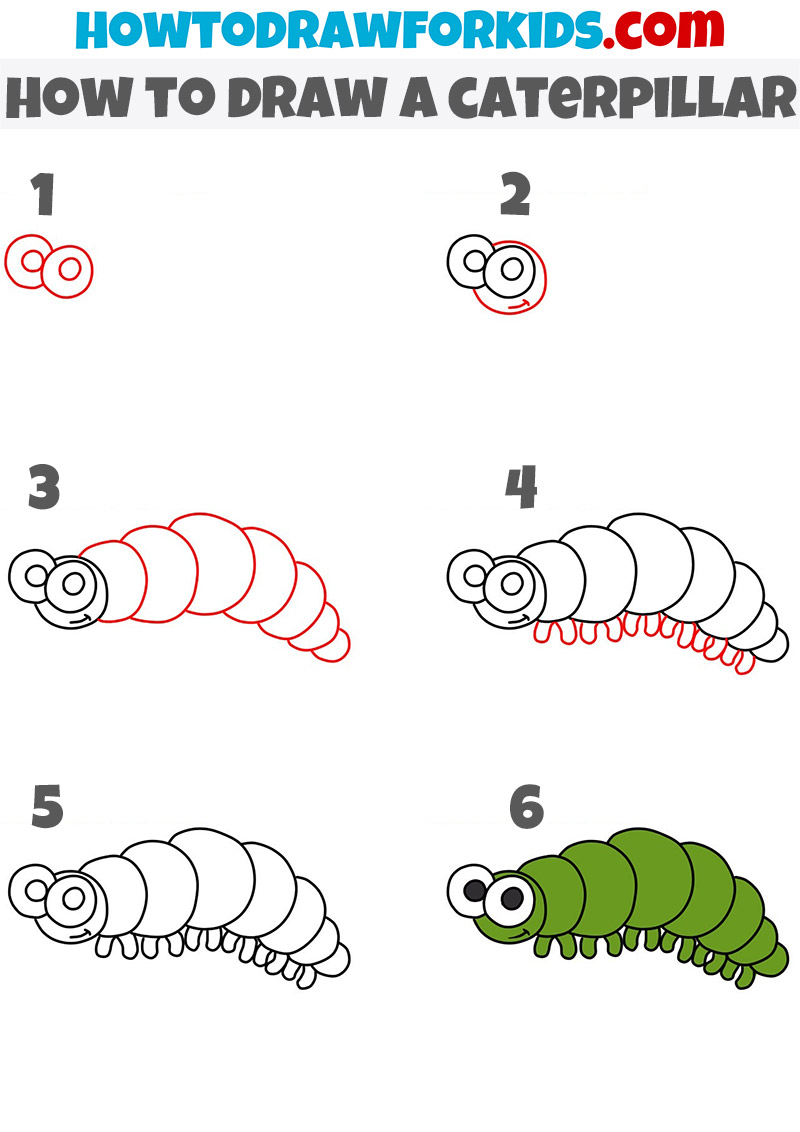 Hello young artists. In this drawing tutorial, I will show you how to draw a caterpillar for kids step by step. So, let's start!
Like the absolute majority of instructions on Howtodrawforkids.com, this lesson is made for the youngest artists and for those who recently embarked on the path of the artist.
Step 1
Let's start with the eyes. First, draw outlines of the eyes in the form of circles. Inside the eyes, we draw pupils.
Step 2
Now draw the shape of the face in the form of a circle. Under the eyes draw the mouth of the caterpillar using a simple curved line.
Step 3
Now draw the body of our small animal, that consists of a number of circles. Circles should decrease closer to the rear of the caterpillar.
Step 4
In the lower part, depict the legs of our small animal. Try to make all the legs about the same size.
Step 5
If you did it right, then you will get a cute sketch like in the picture below. Using an eraser, clean the drawing, making it beautiful and cute.
Step 6
We have only to color our picture green (or leave it black and white). The caterpillars are mostly green, but you can come across the most multicolored caterpillars, so try painting your picture in any beautiful color.
The drawing lesson on how to draw a caterpillar for kids came to an end. Share this lesson with your friends and subscribe to us on social networks. And also do not forget to look at our other sketching and painting lessons.
By the way, here is my traditional simplified and shortened version of the guide, which will be useful if you want to learn how to draw quickly and can do it without text.
So, if this lesson was useful for you, then go to my page on Pinterest, where I publish shortened versions of my drawing lessons.