According to the rules of dog etiquette, pets needs two containers – for water and food. I would like to show you how to draw a dog bowl.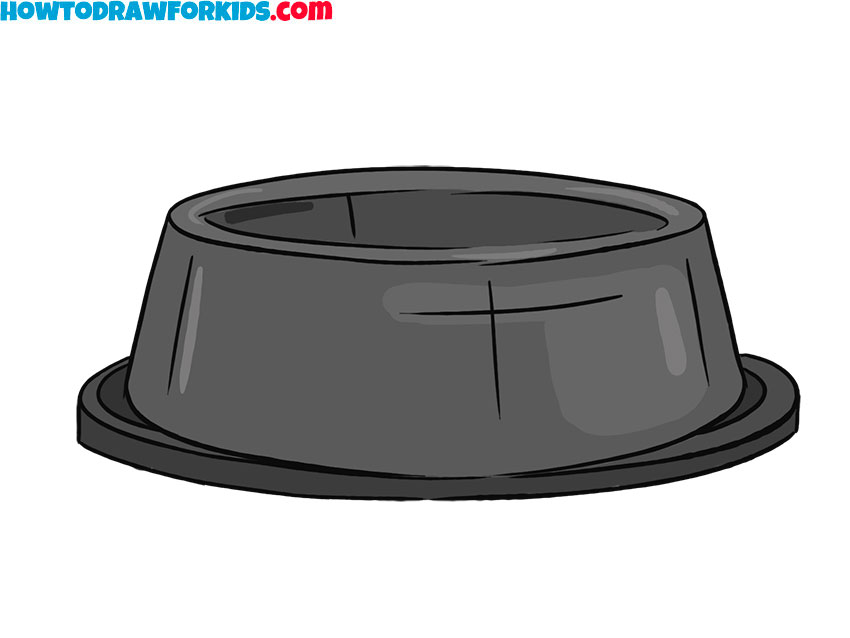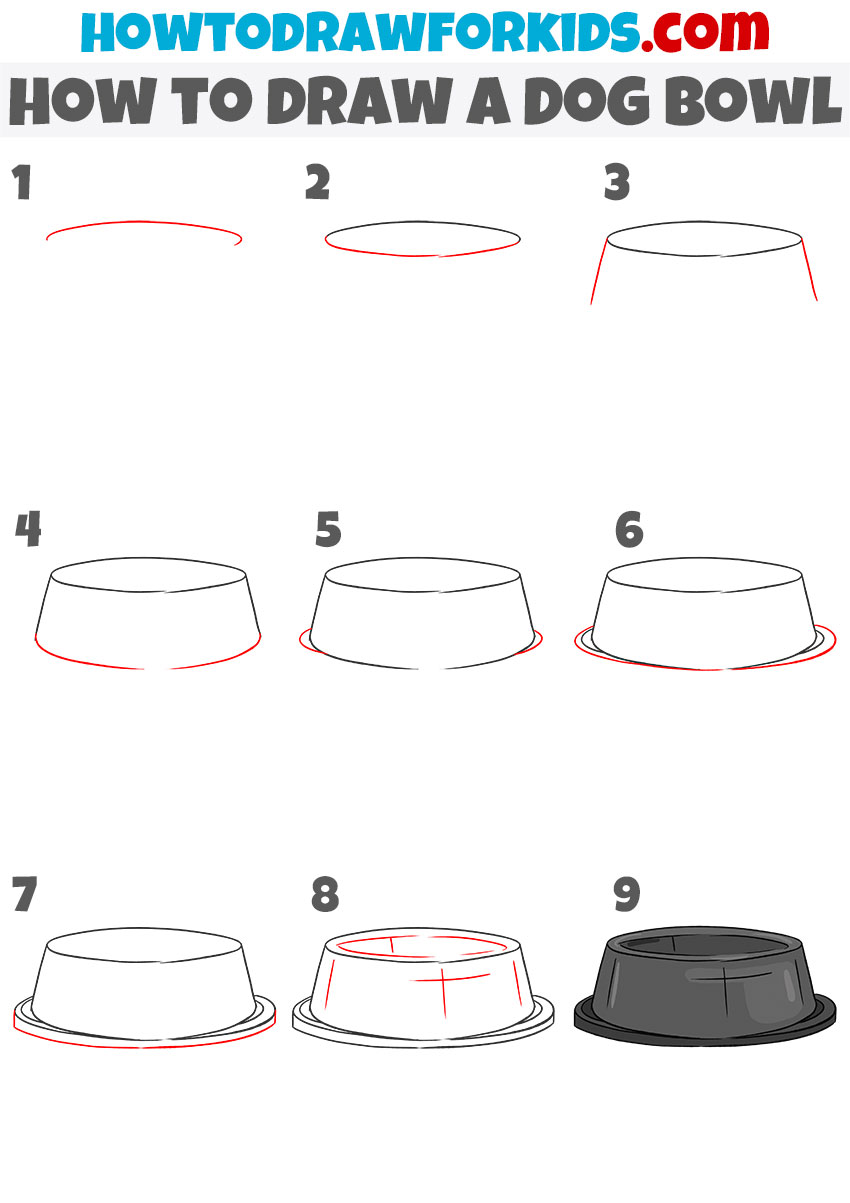 With this tutorial, you will learn how to draw a dog bowl. The dog bowl drawing tutorial will be very easy for you! I designed this tutorial especially for kids and aspiring artists.
A dog's bowl is usually made of iron, plastic, ceramic, or other materials. Dog bowls come in different sizes, depending on the breed and size of pets. A dog's bowl is a very convenient and necessary thing for a pet. These dishes should be beautiful and roomy.
This tutorial includes nine easy steps. You don't have to worry about not getting this job done! Follow this instruction, and then you will definitely be able to draw a very beautiful dog bowl.
Now let's get down to drawing!
Materials
Pencil
Paper
Eraser
Coloring supplies
Time needed: 16 minutes.
How to Draw a Dog Bowl
Sketch the top of the dog's bowl.

Draw this part of the picture using a curved line.

Add the bottom of the bowl's top outline.

To do this use a curved line as shown in the example.

Depict the sides of the dog's bowl.

Add two short, straight lines to complete this step.

Portray the bottom of the bowl.

Create this detail using broken, curved lines.

Draw part of the outline of the dog's bowl holder.

This detail of the drawing is very easy to depict by following an example.

Add the volume to the bottom of the bowl.

Portray curved lines as shown in the picture.

Create the outline of the bowl at the bottom.

Use a curved line to sketch this detail of the picture.

Portray the convex and concave locations.

You can depict these elements using straight and curved lines.

Color the drawing.

Use different shades of gray to color this drawing.
You have coped with this task and now you can draw a dog's bowl! Hope you were good at drawing a dog bowl and enjoyed this tutorial.
You can share the dog bowl drawing tutorial with your friends. Subscribe to us on social networks and do not forget to leave comments on the lessons.
As before, I have prepared the PDF version of this drawing tutorial for your convenience. Download this file and enjoy drawing any time you like!