How to Draw a Dog Step by Step
Very Simple Step-by-Step Dog Drawing Instruction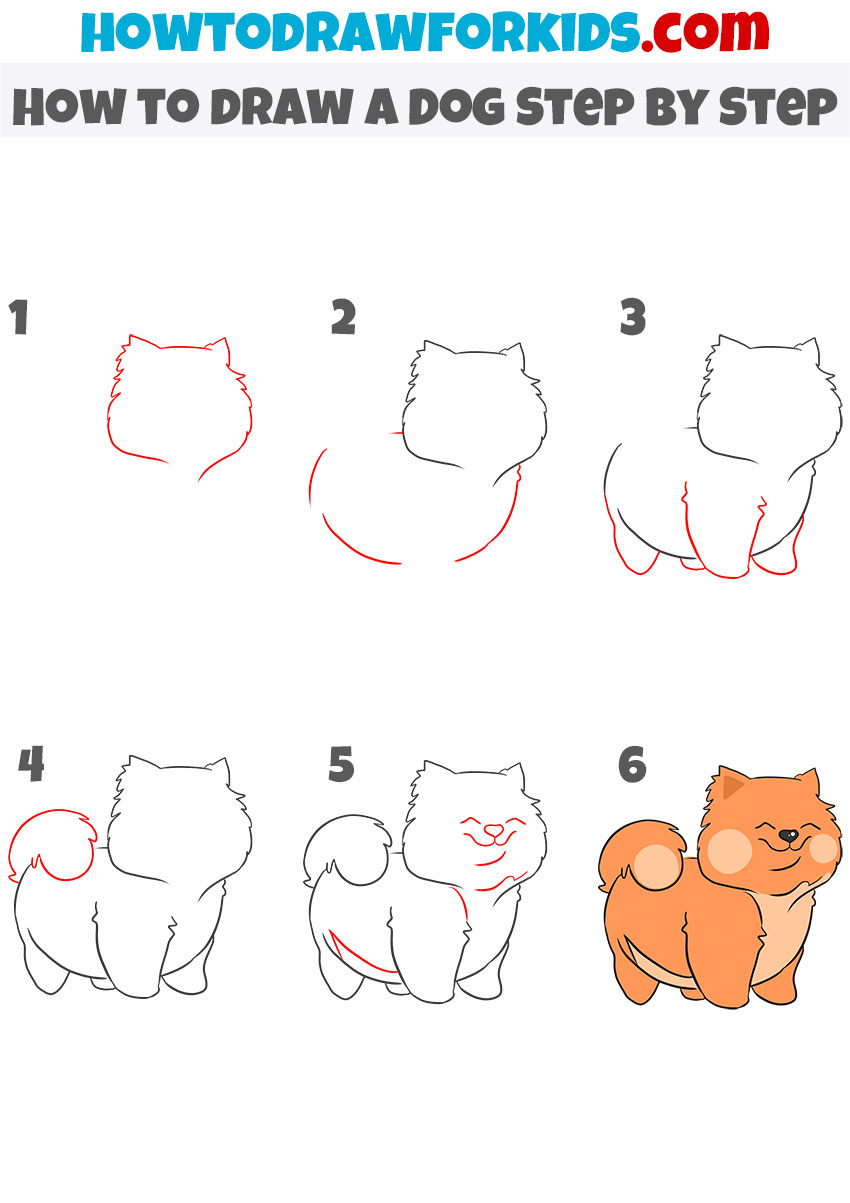 A new cartoon character awaits you in this tutorial. It will show you how to draw a dog step by step. This method is well suited for beginner artists and for children.
The picture shows a small dog. It is done in a cartoon style and looks very funny. Pay attention to the proportions of this animal. The dog has wide and short legs. The torso and head are round. The dog closed its eyes and on the face, we see a wide smile, Thus, the cartoon dog has a very contented and joyful look.
This dog drawing lesson will be as simple and accessible as all the previous guides. You can easily complete this task if you follow all the stages consistently and take into account my recommendations. I hope you enjoy this drawing instruction and you will have a pleasant time doing this.
Prepare the necessary supplies and begin the lesson.
Materials
Pencil
Paper
Eraser
Coloring supplies
Time needed: 13 minutes
How to Draw a Dog Step by Step
Draw the head.

Use jagged lines to create fur texture.

Sketch the torso.

The body is rounded. Leave small gaps for the legs and tail.

Add the paws.

Make some smooth lines and draw short, wide legs.

Create the tail.

Use jagged lines to show the texture of the fur.

Draw the muzzle and outline the outline of the chest and abdomen.

Add the eyes, nose, mouth, chin. Create the line from the neck to the hind leg.

Color the dog drawing.

Paint the tip of the tail, cheeks, chest with a lighter color, paint the rest of the dog's body brown.
Now you have mastered a new way of drawing a cartoon dog. Did you like this dog drawing tutorial? Did you complete this task easily or did you have difficulties? Share your impressions in the comments.
I hope you did a great job and you are happy with the result. Next time you can depict the same dog, just make some changes. For example, you can paint the dog with different colors or draw open eyes. Draw more often, practice and you will get better each time.
Finally, I suggest downloading a PDF file that contains a short version of the lesson. Download the file and improve your drawing skills at any convenient time.