Good day dear young artist and welcome to drawing tutorial on how to draw a door for beginners! The whole lesson will consist of straight lines and we tried to make it as simple as possible. We will draw the door from the front view since this is the most simple point of view to draw.
Step 1
First, draw an extended rectangle. What could be simpler than drawing a rectangle?
Step 2
Draw two vertical lines along the sides of the door. These lines essentially serve only as decorative details on the door.
Step 3
Now draw some horizontal lines like in our example. As you know, these are also just decorative lines.
Step 4
Now draw a few more vertical lines between the lines from the previous steps. By the way, you can apply any other combination of lines.
Step 5
Draw a few horizontal lines on the door that will cross with the lines from the previous step.
Step 6
Erase the unnecessary lines from the door picture to make it clearer. Erasing unwanted lines try to save the clarity of the necessary lines.
Step 7
At the corners of the joints draw short lines. Now we just have to paint our door.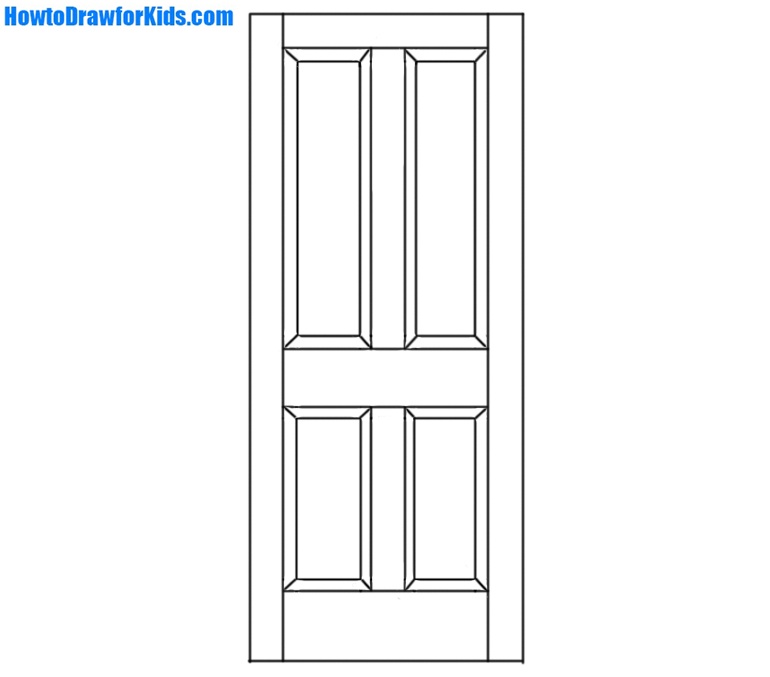 Step 8
What is your favorite color? Take your favorite crayon, felt-tip pen or paint and paint this door.
The lesson is over, but do not forget that the doors of our site are always open to you. Also, i'm waiting for you in social networks, do not forget to subscribe and share our lessons. Among other things, this lesson will be the very first among drawing lessons in one way or another relating to the home and interior. In the future, we will show how to draw windows, various interior objects and other cool things.
This lesson belongs to the category of the most simple drawing tutorials. The whole lesson is essentially composed of simple and straight lines that can be drawn with a ruler. By the way, the same drawing can be made not only on a sheet of paper with a pencil, but also in a computer with a photoshop or other drawing application.
SHARE THIS DRAWING TUTORIAL