Learn how to draw a train in just nine easy steps. Start this very simple tutorial and enjoy the drawing process!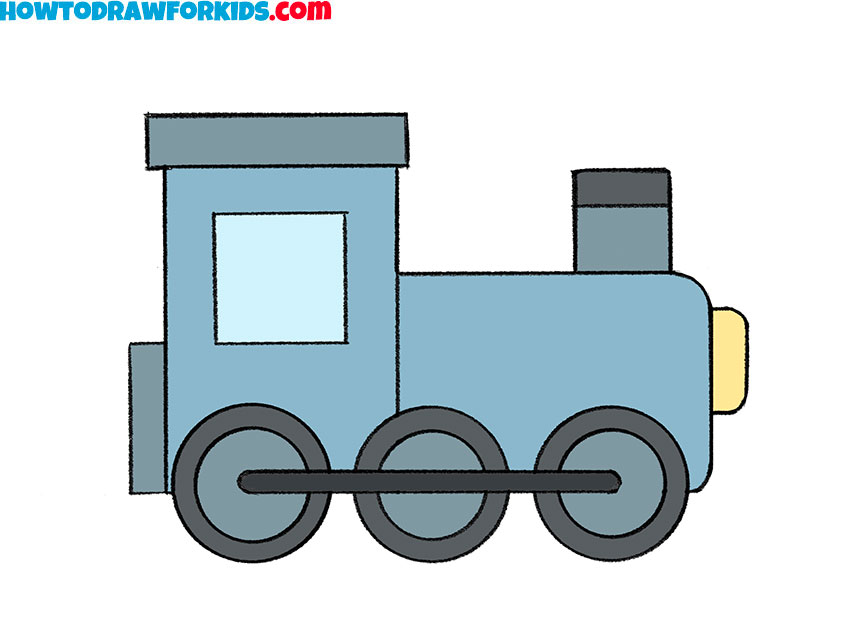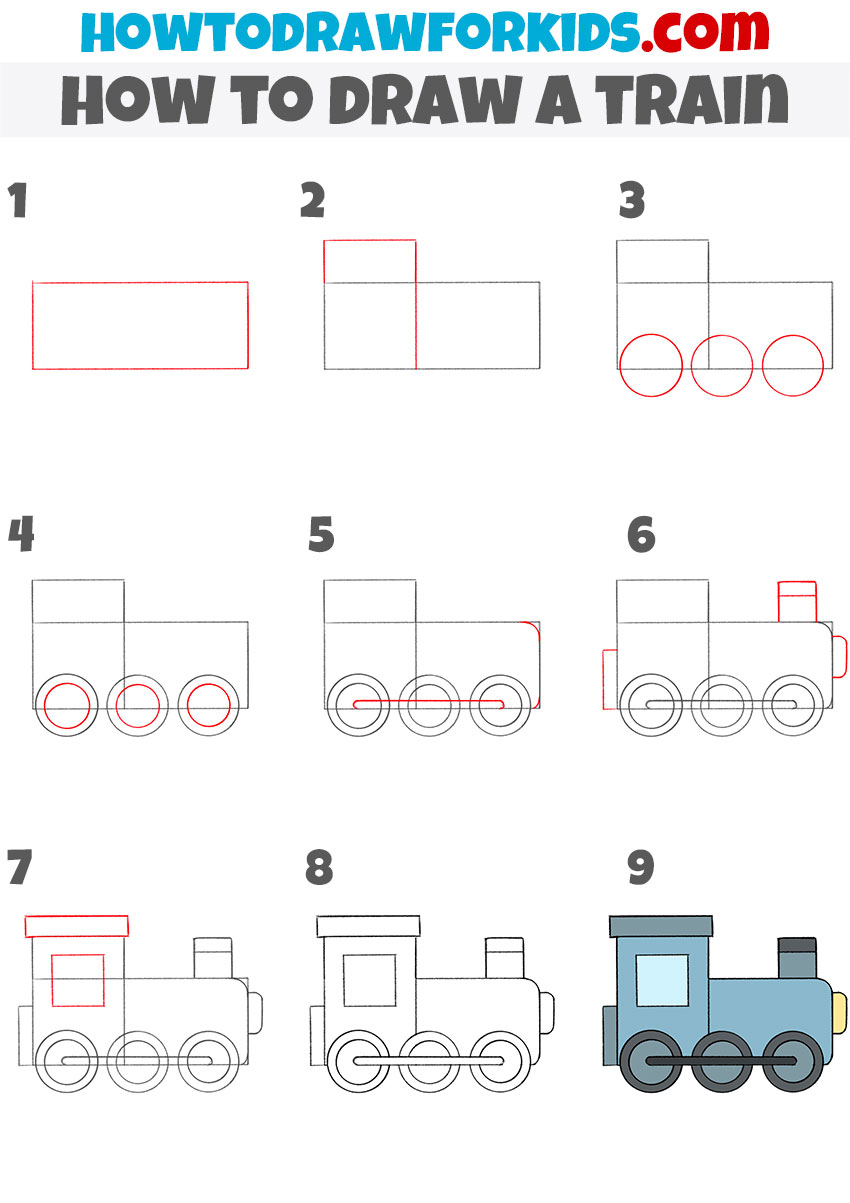 In this tutorial, you will learn how to draw a train step by step. This lesson will be very fun and useful for you.
A train is a series of connected vehicles that run along with a railway track and transport people or freight. Trains are typically pulled or pushed by locomotives, though some are self-propelled, such as multiple units. Passengers and cargo are carried in railroad cars, also known as wagons.
So now you can start drawing a train!
Materials
Pencil
Paper
Eraser
Coloring supplies
Time needed: 20 minutes
How to Draw a Train
Draw the main body of the train.

To do this, you need to draw a rectangle, as shown in the example. Use straight lines.

Sketch out the cab of the train.

Add straight lines to the previously drawn rectangle on the left side.

Outline the wheels of the train.

Draw three identical circles at the bottom part of the rectangle.

Add the inside of the wheels.

Inside each of the previously drawn circles, add a slightly smaller circle.

Add elements to the main part of the train.

Outline the detail connecting the wheels. Make the corners of the front of the train rounded.

Depict a few details.

Add a rectangle on the back of the train cab, and add a chimney flue and a headlamp.

Draw the window and roof of the train cab.

To complete this step, draw a square and a rectangle on the train cab.

Erase the auxiliary lines.

Use the eraser to remove unnecessary lines from the drawn train.

Color the drawing.

Use shades of blue, yellow and shades of grey to color this drawing.
I hope you had a great result and that you enjoyed this step-by-step train drawing lesson. If this lesson was useful for you, then you can share it with your friends so that they too will learn how to draw a train step by step. For your convenience, I have prepared a PDF that contains a short version of this tutorial. Download it and start drawing whenever you want, even if you will not be able to connect to the Internet.
Additional Method for Drawing a Train
This tutorial will require you to be able to draw geometric shapes. I recommend not using the tools at hand, but drawing on your own. This way, you will practice your drawing skills. To paint the train, you can use the colors that are suggested in this instruction, or you can use any other colors. In any case, I recommend that you choose the brightest shades.