How to Draw Mechagodzilla
I invite you to a new drawing lesson in which you will learn how to draw Mechagodzilla. The lesson includes nine easy steps.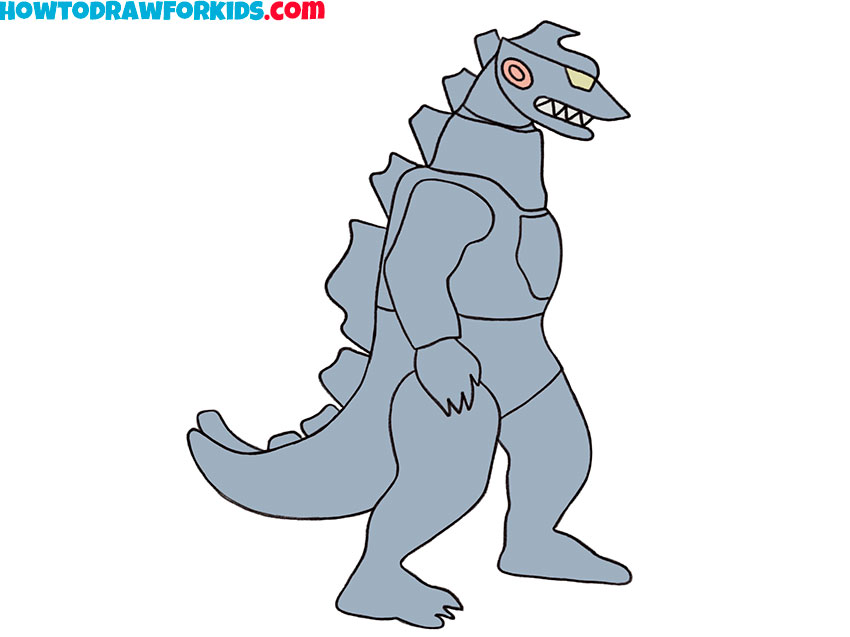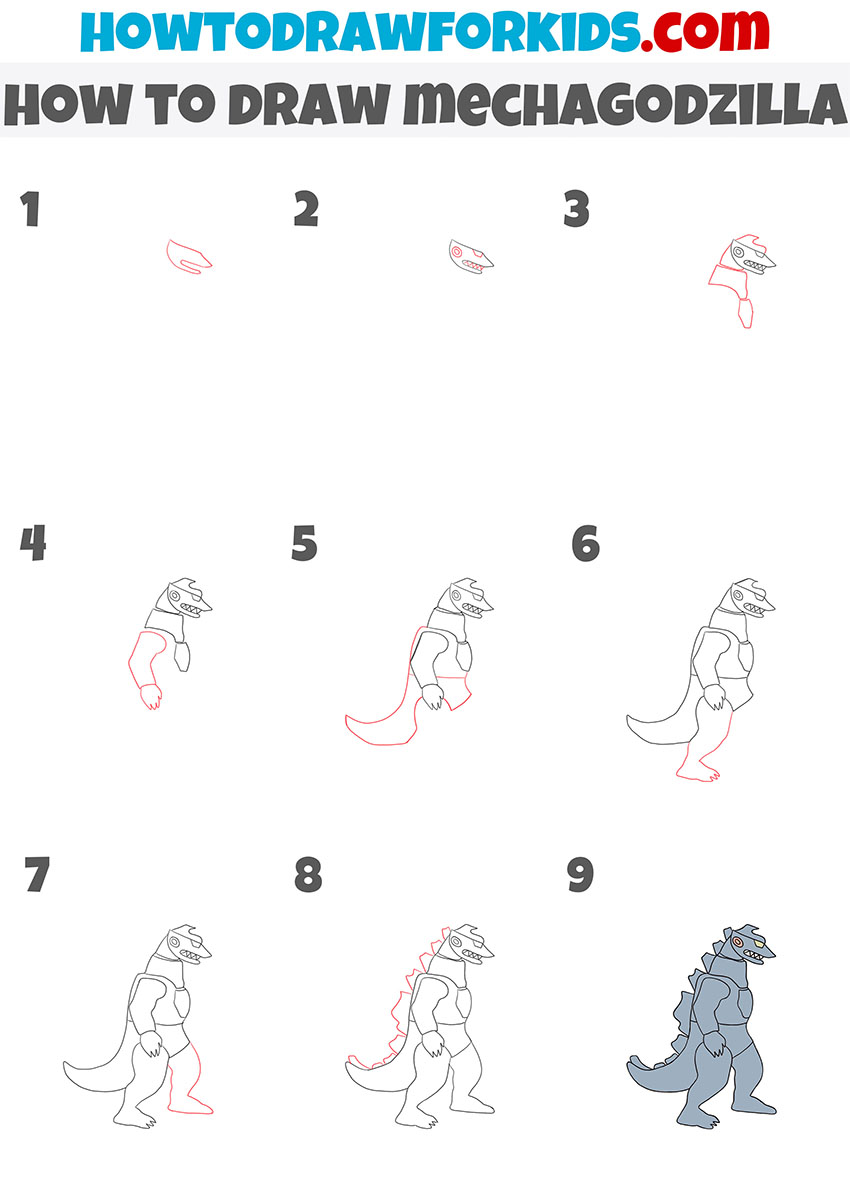 Especially for beginners, I have prepared a new lesson in which I will show you how to draw Mechagodzilla. This is an alien robot made of special space metal and has the appearance of Godzilla.
Mechagodzilla was sent to Earth for the purpose of attack and destruction, while he was controlled remotely. This huge creature has superpowers and terrifies all living beings. The iron monster has tremendous strength, endurance, and resistance to radiation, high temperatures, and electricity.
With the help of a simple instruction, you will learn how to draw Mechagodzilla step by step and gain useful skills. Consistently follow all the drawing steps, carefully draw all the lines that are marked in red in each step. Use small hints to help you correctly depict the next element.
Materials
Pencil
Paper
Eraser
Coloring supplies
Time needed: 30 minutes
How to Draw Mechagodzilla
Draw the head.

Depict the head of the monster using curved lines.

Add elements of the muzzle.

Sketch out the eye, the row of teeth and the ear.

Depict the top of the head, neck, and chest.

Add several elements of different shapes, as shown in the picture.

Sketch out the arm.

The arm is slightly bent at the elbow, there are pointed fingers below.

Draw the torso and tail.

With the help of curved lines, draw the torso, which blends smoothly into the tail.

Depict one leg.

The foot has a wide base and a narrow lower part. Draw the big foot with sharp toes.

Add the second leg.

With smooth curved lines, depict the second leg, which is located farther from us.

Draw the spikes.

Consistently draw spikes of different shapes on the head, back and tail.

Color the Mechagodzilla.

You will need gray, pink, and yellow.
Finally, I suggest you download a short version of the lesson in PDF format for free. In this file, you will find a brief instruction and additional materials necessary for the successful completion of the lesson.