How to Draw a Cartoon Boy
In this lesson I will show you how to draw a cartoon boy. This guide is very simple, and you can easily complete this creative task.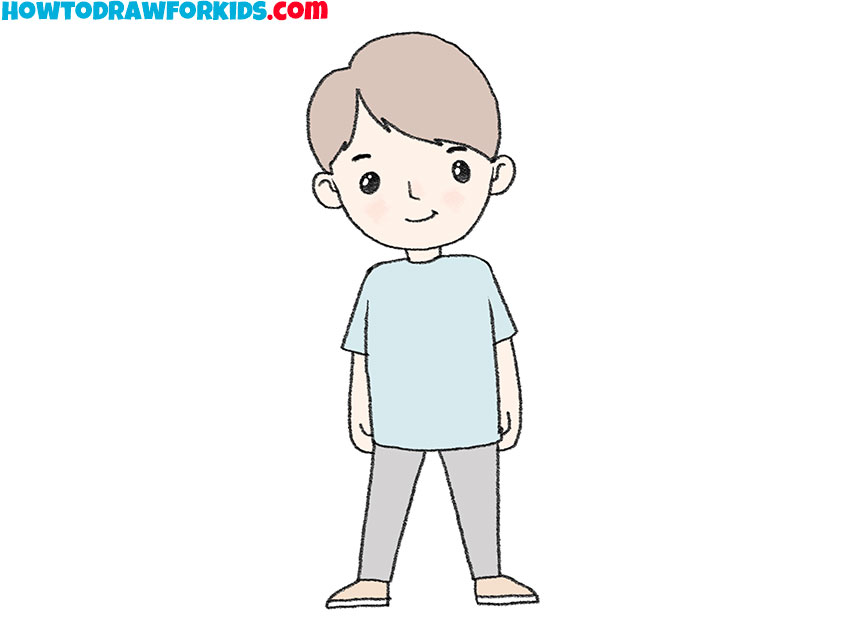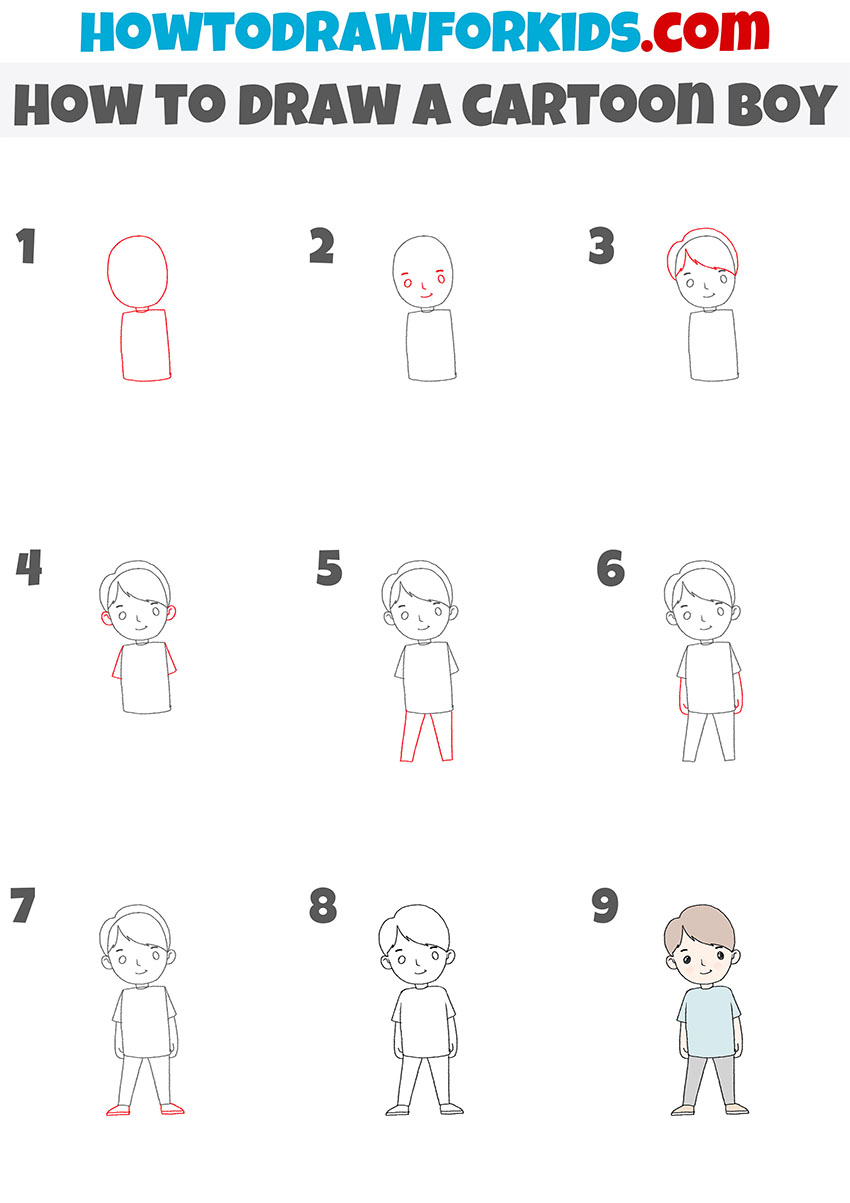 I decided to dedicate this lesson to drawing a human figure, and now you will learn how to draw a cartoon boy. In this lesson, you will acquire useful skills that you may need in the future to create new beautiful drawings.
You will use simple lines to draw the different parts of the boy's body. In this drawing, facial features and clothing are not detailed. Note that the boy has a large head and a relatively small torso. You only need to be attentive and careful.
Try to keep these proportions in your drawing. For coloring clothes, you can choose the same colors as in the instructions or any other colors of your choice. Now take your art supplies and start doing the lesson.
Materials
Pencil
Paper
Eraser
Coloring supplies
Time needed: 30 minutes
How to Draw a Cartoon Boy
Draw the head and torso.

Depict the head as a circle and add a rectangular torso. Draw the short neck.

Add elements of the face.

Sketch out the eyes, eyebrows, nose, and mouth.

Depict the hair.

Draw the hair on the head with smooth lines and select individual spiky strands.

Sketch out the ears and sleeves.

On the sides of the head draw oval-shaped ears. Draw the sleeves with straight lines.

Draw the legs.

Use straight lines to draw legs that have a wide base and taper towards the bottom.

Depict the arms.

With smooth lines, depict the arms that fit snugly against the body.

Add the shoes.

At the bottom, depict the shoes in which the feet are turned in opposite directions.

Correct inaccuracies.

Correct the mistakes if necessary and carefully remove any extra lines.

Color the drawing.

Color the skin and hair with natural shades. Use for clothes of any bright colors.
Now you have learned how to draw a cartoon boy. Show the drawing to your friends and invite them to complete this lesson together. It will be an interesting and useful pastime. Especially for your convenience, I have previously created a PDF file that contains a short version of the lesson. Download the file and draw at any convenient time.