I have prepared for you a new, interesting lesson in which I will show you how to draw a campfire. This lesson will be helpful for you.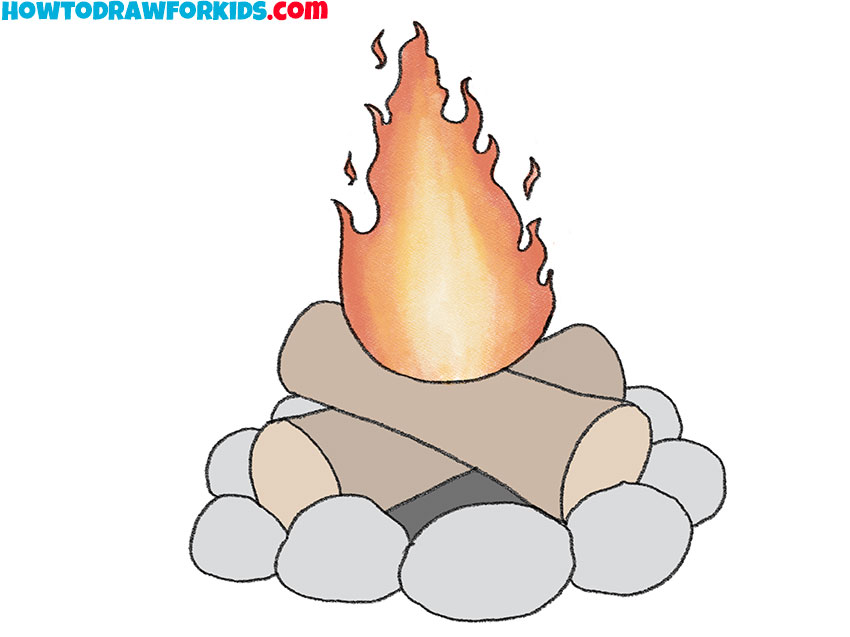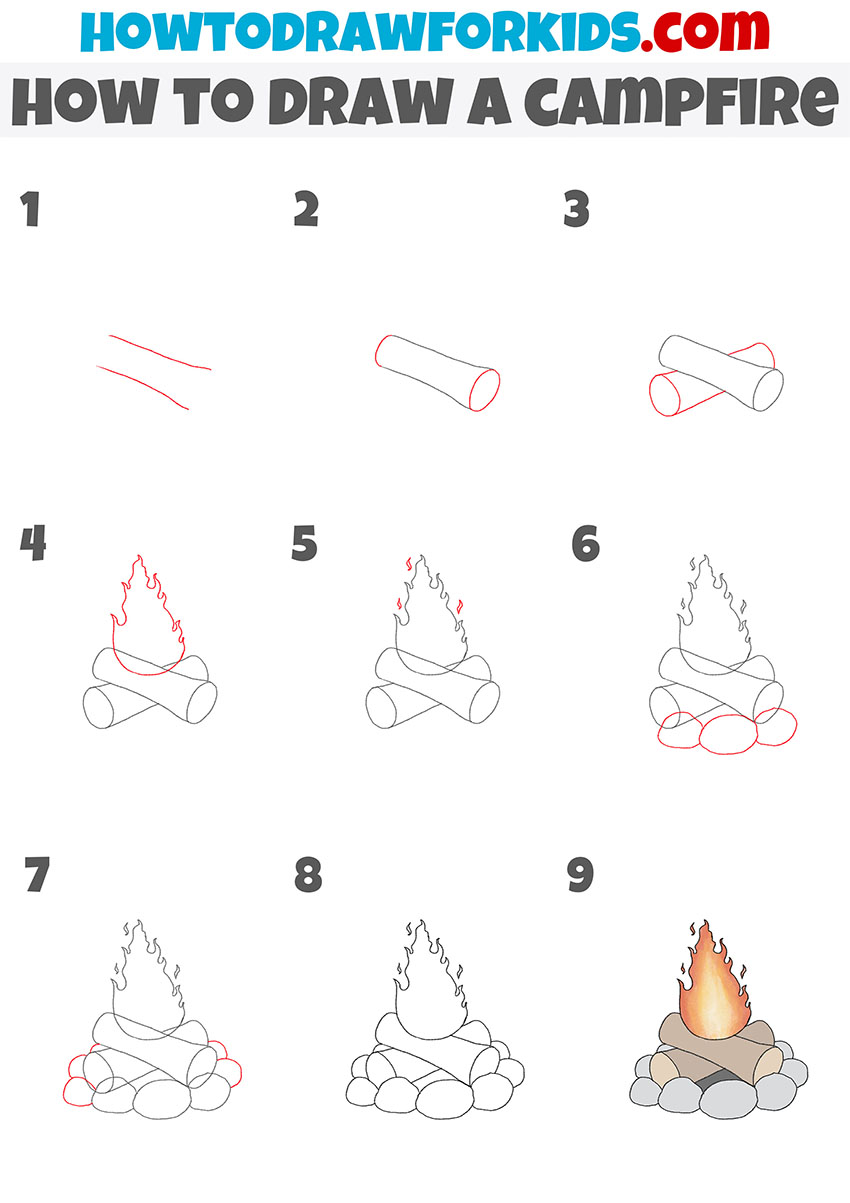 Now you will learn how to draw a campfire step by step. A fire is built outdoors to keep warm and cook food. Usually a bonfire is lit during a hiking trip, but sometimes a bonfire has a ritual significance.
Before making a fire, you need to choose a suitable place, put a row of stones around and put dry tree branches in the middle. When the fire gains strength, then you can enclose larger logs.
In the picture you see all the elements of the fire—these are large stones, two logs that are folded crosswise and the flame itself. With the help of a simple instruction, you can easily draw all the elements of a fire. Consistently follow all the drawing steps and carefully draw the lines that are marked in red.
Materials
Pencil
Paper
Eraser
Coloring supplies
Time needed: 30 minutes
How to Draw a Campfire
Draw the middle part of one log.

Sketch out two lines that are parallel.

Add the ends of the log.

Depict a smooth rounded line on one side of the log and draw an oval on the other side.

Depict the second log.

Add another log of the same shape, which is located crosswise.

Sketch out the flame.

The lower part of the flame has a rounded shape, the upper part consists of many curved lines.

Draw individual flames.

Above the flame, add some small curved elements.

Depict the stones.

At the bottom, add three large rounded stones.

Add the stones.

Draw some small stones on the sides.

Correct inaccuracies.

Use the eraser to remove all unnecessary lines.

Color the campfire.

You will need orange, yellow, gray, brown, and beige.
At the end of the lesson, I suggest you download the PDF file, which contains a brief instruction and other useful content. This will help you return to the lesson at any time, even if you don't have Internet access.
How to Draw a Campfire for Kindergarten
As you may have noticed, drawing a campfire is very easy. But even such a simple drawing lesson can be made even simpler. Check out my campfire drawing tutorial for kindergarten.