This time I want to tell you how to draw a braid. Start this very simple tutorial and enjoy the drawing process. I have no doubt you will enjoy this lesson!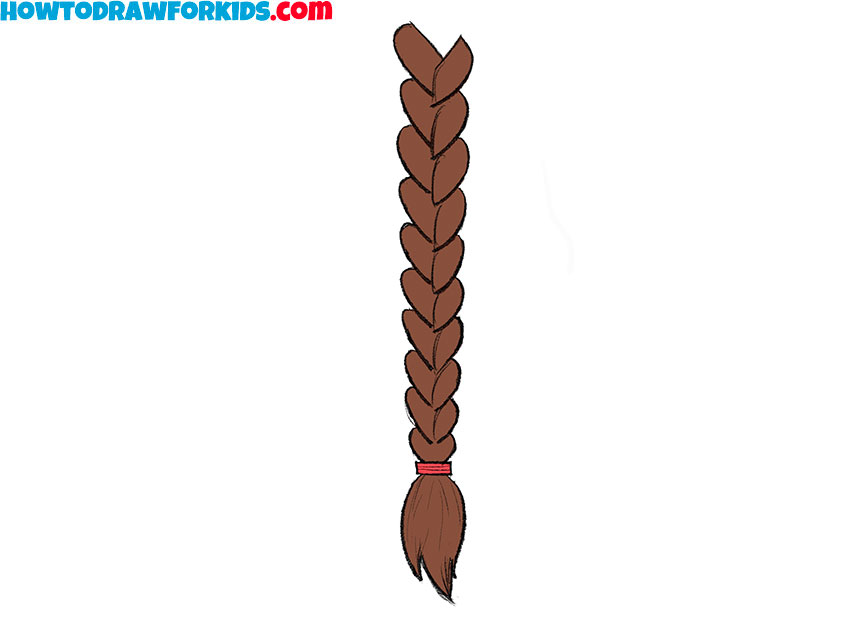 This lesson on how to draw a braid will not be difficult at all, so you can cope with it even if you do not have experience as an artist yet or you are a child.
A braid is a complex structure or pattern formed by interlacing two or more strands of flexible material such as textile yarns, wire, or hair. Braiding hair is a great way to keep your hair out of the way. You can create a variety of styles using simple braiding techniques, and there are lovely ways to make your braid look great.
I'm sure this lesson will be very interesting for you. This tutorial consists of seven simple steps. Now let's get down to drawing a braid!
Materials
Pencil
Paper
Eraser
Coloring supplies
Time needed: 20 minutes.
How to Draw a Braid
Draw a sketch of the outline of the braid.

Draw it using straight lines. Try to make straight lines without using a ruler.

Draw the braided strands of hair on the left-hand side.

Use curved lines as shown in the picture. It looks like small waves with smooth outlines.

Add the braided strands of hair on the right.

Draw the right side of the braid in the same way as the left.

Depict a rubber band for the hair.

You can choose the design of this accessory according to your taste.

Draw the rest of the hair.

To do this step, use curved lines. It looks like an inverted candle.

Erase the auxiliary lines.

Use an eraser to wipe off any unnecessary parts.

Color the drawing.

Paint the braid brown and the hairband red.
So you've drawn a great braid! I hope you enjoyed the drawing and that you are happy with the result. Comment on this lesson and don't forget to subscribe to us on social media. Traditionally, I have prepared a PDF file for you, which you can use whenever you feel like drawing. Download the file and enjoy a braid drawing lesson anytime.