Iguanas are peaceful calm reptiles that do not pose a particular danger. In this tutorial, I would like to show you how to draw an iguana.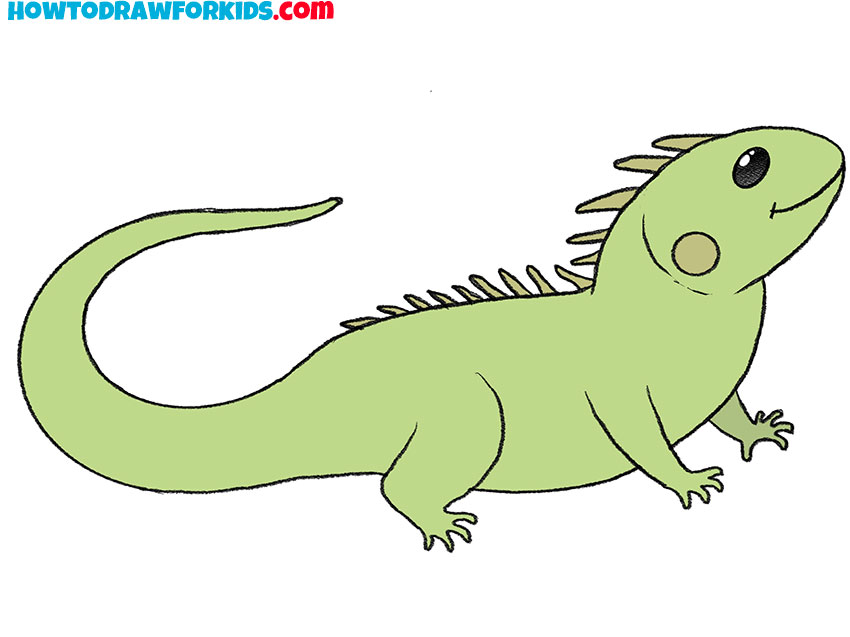 In this tutorial, you can learn how to draw an iguana. This work can easily be done by a novice artist or a child. The drawing will turn out to be very bright and beautiful!
An iguana is a large lizard. Iguanas feed on leaves, fruits, shoots, and flowers of many different plants. These animals live in South and Central America. The color of this funny animal depends on the area in which it lives. Some iguanas are even kept at home.
Hurry up to the iguana drawing tutorial!
Materials
Pencil
Paper
Eraser
Coloring supplies
Time needed: 30 minutes
How to Draw an Easy Iguana
Draw the head.

Depict a circle in which one side has an elongated shape.

Sketch out the torso.

From the head, draw smooth lines to depict the neck, belly and back.

Depict the tail.

With curved lines draw the tail, which has an elongated end.

Add the front paws.

The front paws are short and have several toes.

Draw the hind paw.

In the lower part of the torso, draw the hind leg of the same shape as shown in the example.

Sketch out the ridges.

On the head and on the back, draw pointed ridges in sequence.

Add the elements of the muzzle.

Sketch out the eye, cheek and mouth of the iguana.

Correct inaccuracies.

Erase extra lines and circle the outline.

Color the easy iguana.

You will need a light green color. Color the eye with black and add highlights.
Congratulations, you have completed the iguana drawing tutorial. Hope it was easy and very interesting for you. I have no doubt that you did a great job and that your iguana looks very cute and funny. Share this lesson with your friends and complete a drawing with them to compare your work later.
In the comments, I will wait for your questions if you have them during the execution of this lesson. Also, write your impressions and suggest your ideas for new lessons.
Don't forget to follow us on social media. Save the PDF file and start drawing whenever you want.
How to Draw an Iguana: Alternative Method
Now let's look at drawing an iguana from a slightly different angle. This lesson is somewhat similar to the previous one, but firstly, here I used a different set of steps, and secondly, the final result and the general style are also slightly changed.