How to Draw a Mermaid Girl
I am glad to offer you an interesting new lesson on how to draw a mermaid girl. I'm sure you'll be able to do this fascinating work easily.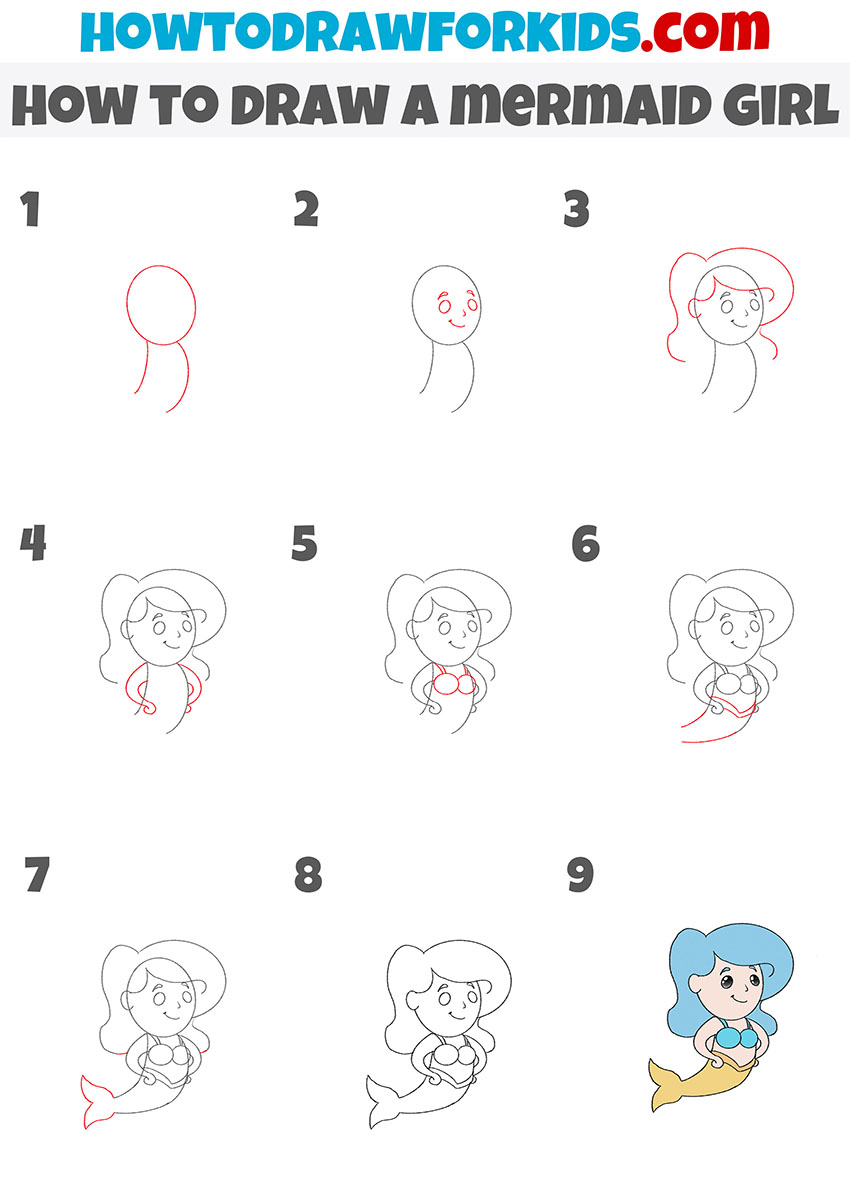 So, in this tutorial, I would like to tell and show you how to draw a mermaid girl step by step in just nine simple and easy steps. You don't have to be a professional artist to handle this work. I prepared this lesson especially for children and beginner artists, so it won't give you any difficulties!
I'm sure you know a lot about mermaids and have seen these characters many times. A mermaid girl is a mythical creature that looks half like a girl and half like a marine creature. That is, her head and upper body are human-like, while her lower body is represented by a tail similar to that of a fish or dolphin.
So, if you want to learn how to draw a mermaid girl, then prepare the materials you need to draw and start doing this work.
Materials
Pencil
Paper
Eraser
Coloring supplies
Time needed: 20 minutes
How to Draw a Mermaid Girl
Depict the outline of the head and torso.

To complete this step, draw the mermaid's head as an oval and the torso with curved lines.

Add the facial features.

Draw the eyes, eyebrows, nose, and mouth using two ovals of different sizes and curved lines.

Outline the mermaid's hair and ear.

Depict rounded and wavy lines at the top of the head and on the side of it.

Draw the hands of a mermaid girl.

Add hands near the torso, using curved lines. One hand is partially covered by the torso.

Add the top part of the costume.

At the top of the torso draw a circle, incomplete circle, and curved lines.

Start drawing the tail.

To do this, add curved lines at the waist and below the torso of the mermaid girl.

Draw the bottom of the tail and part of the hair.

Add two short lines, continue the hairlines, and add two pointed fins at the bottom of the tail.

Erase unnecessary lines.

Use an eraser to remove auxiliary lines that appeared during the drawing process.

Color the drawing.

Use blue, beige, and black for the costume, tail, and eyes, and any color to color the skin.
Great job! Now you know how to draw a mermaid girl step by step and can use these skills in the future. Below you can see and download the pdf file that I prepared for your convenience. It contains a short version of this tutorial and useful additions.