How to Draw a Ninja Turtle
In this tutorial, I will show you how to draw a Ninja Turtle. With this simple instruction, you will quickly learn how to draw this character.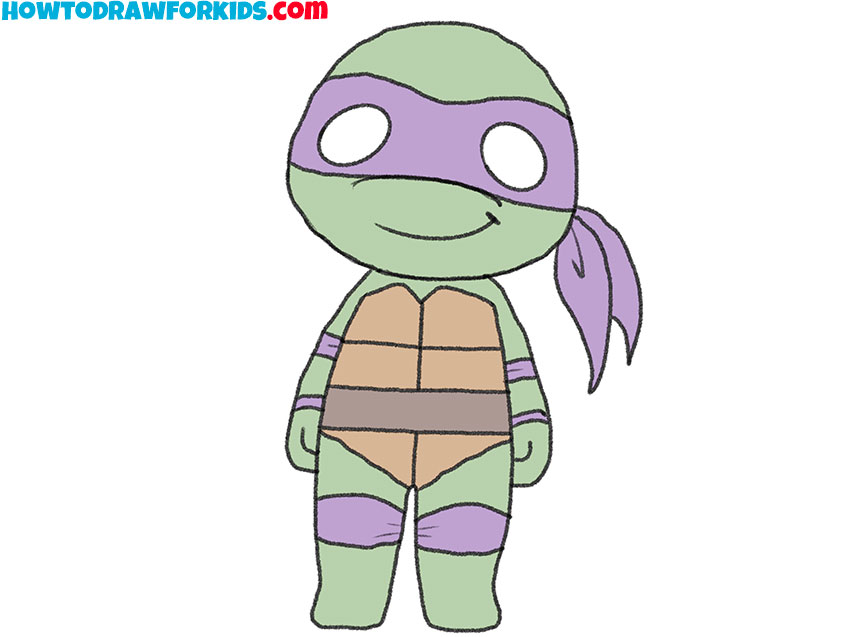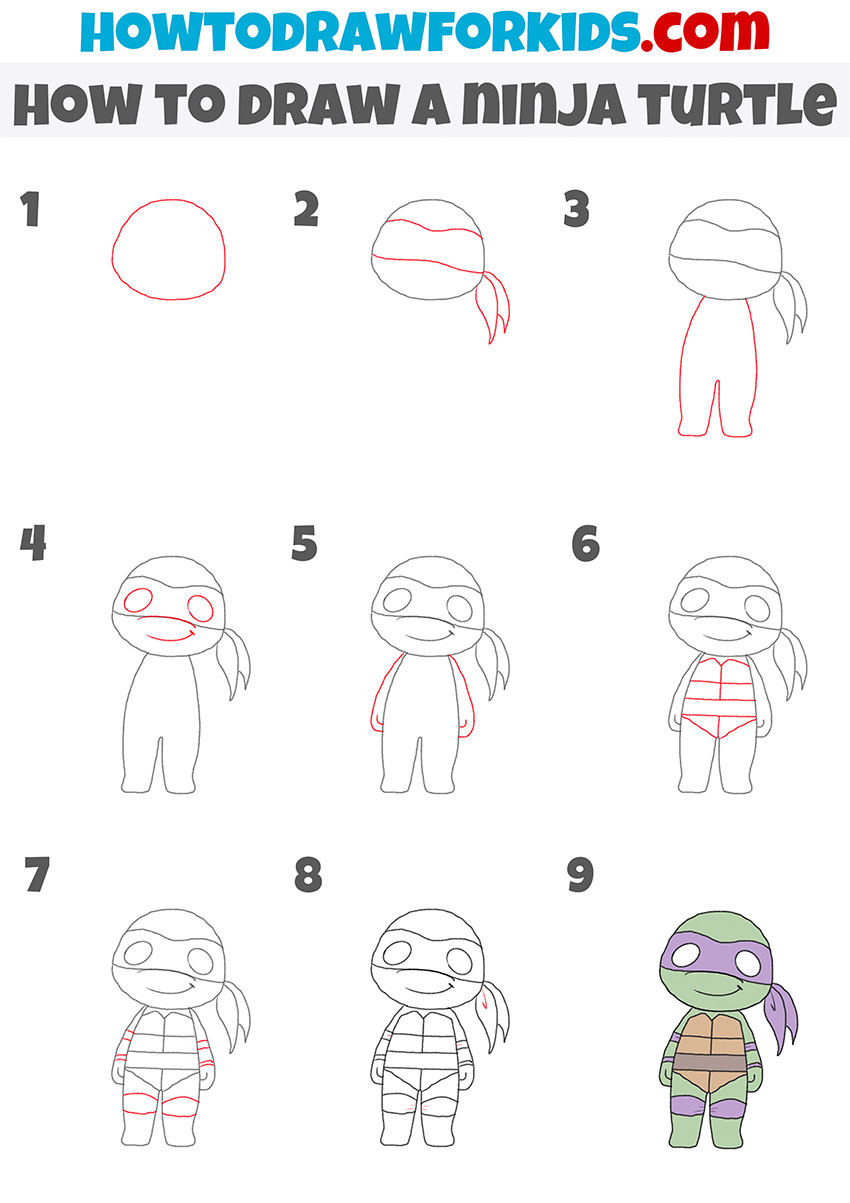 Following the instructions of this lesson, you will learn how to draw a Ninja Turtle step by step. All the steps in this lesson are quite simple and clear, so both an experienced artist and a beginner or a child can easily cope with this lesson.
Teenage Mutant Ninja Turtle is the hero of the animated series "Teenage Mutant Ninja Turtles", as well as the comic book of the same name, the main characters of which are four turtle brothers. This team of turtles, according to the plot, is engaged in martial arts.
Ninja Turtles are usually depicted standing upright on two legs. Their distinguishing feature is bandages on the eyes, arms and legs.
Materials
Pencil
Paper
Eraser
Coloring supplies
Time needed: 30 minutes
How to Draw a Ninja Turtle
Draw the head.

To depict this part of the character's torso, draw an arbitrary figure resembling a circle.

Add the headband to the turtle.

Draw two slightly wavy lines in the middle of the turtle's head, and add two strings on the right.

Depict the outlines of the torso.

Below the previously drawn head of the turtle, depict its torso and two legs using curved lines.

Sketch out facial features.

Between the two wavy lines, draw two identical ovals, and also add two curved lines.

Draw the arms.

On the right and left sides of the body, add two long and two short symmetrical lines.

Depict the details of the costume.

On the front of the ninja turtle's torso, add some straight and curved lines.

Add the rest of the costume elements.

Now you should add some straight and curved symmetrical lines on the arms and legs.

Draw the folds.

Sketch out thin short lines on the arms, legs and bandage.

Color the drawing.

To color the ninja turtle, you need to use green, purple and shades of brown.
If you liked this lesson, you can write your comment and share information about the lesson with your friends. Also save a PDF file with a short version of this tutorial, which I have prepared especially for your convenience.
How to Draw Leonardo From TMNT
All Ninja Turtles are essentially drawn the same way, but may have some differences. The main difference is the color of the headband and the weapon that each ninja turtle uses.