Very Simple but Realistic Lesson on How to Draw a Dog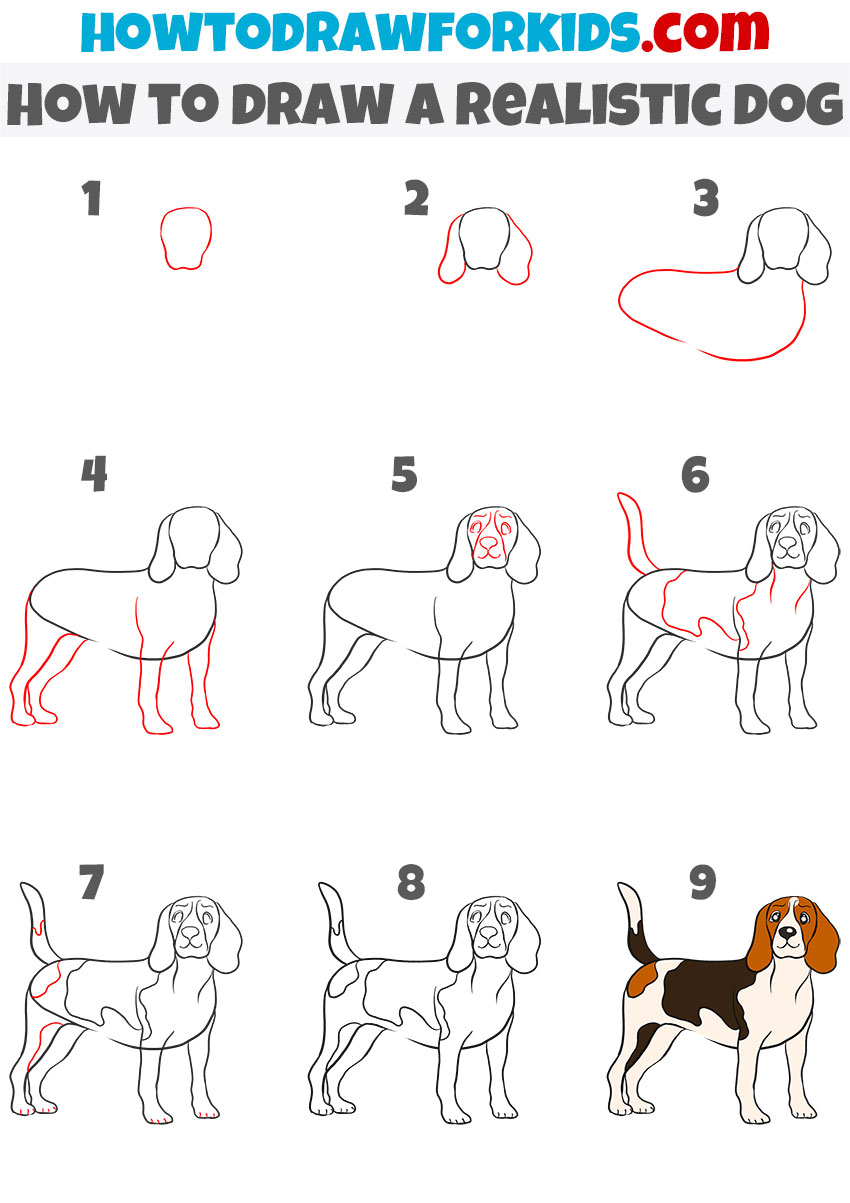 Now an exciting realistic dog drawing tutorial awaits you. In this tutorial, we will show you how to draw a realistic dog. You already have some drawing skills, but before you drew a cartoon dog, now you will learn how to draw an animal in a more natural and realistic way.
The picture shows the beagle dog. This breed of dog is very popular now. This dog is very active, intelligent, and has a well-developed sense of smell. This is great for hunting. Also, beagle dogs are in good health and can remain active for many years.
Follow all the steps carefully and use our tips, then you will get a good result.
Materials
Pencil
Paper
Eraser
Coloring supplies
Time needed: 22 minutes
How to Draw a Realistic Dog
Draw the head of the dog.

To do this, creat the oval that is narrowed downwards.

Draw the ears.

Use smooth lines and draw wide, rounded ears that hang down.

Depict the torso.

To do this, draw a smooth line, try to make it the same shape as in the picture.

Add the paws.

Be careful at this stage, try to create paws realistic.

Draw the muzzle.

In this step, make sure to get the correct proportions.

Draw spots on the body and tail.

The tail is of medium length. You can portray spots of any shape.

Add spots and outline the toes.

The main thing here is to place all the elements in the same way as on the sample.

Delete construction lines.

Use the eraser to erase unnecessary lines on the back and front paws.

Color the dog.

Color in the spots on the dog's body using two brown and orange colors.
When you are completely finished drawing a realistic dog, then appreciate your work. Are you happy with the result? We hope you had a pleasant time, and if something didn't work out the first time around, then don't despair. Spend more time drawing and you will have better results each time. We hope that our drawing lessons will help you create new realistic images. Gradually, you will improve your animal drawing skills.
You can download a PDF file that contains a short version of the realistic dog drawing tutorial. This is specially made for your convenience. Thus, you can complete drawing lessons at any time.