How to Draw a Realistic Shark
Now you will learn how to draw a realistic shark. I am sure that this lesson will not leave you indifferent.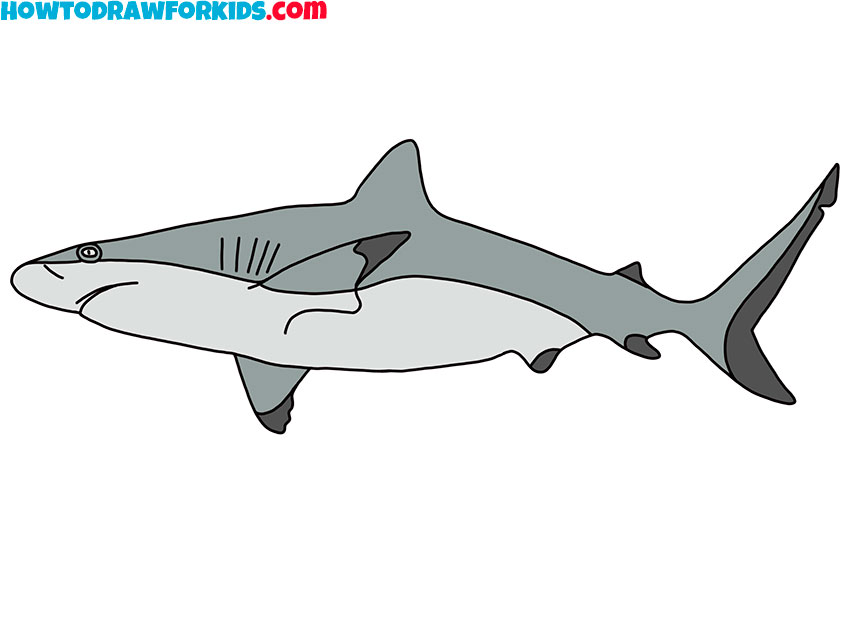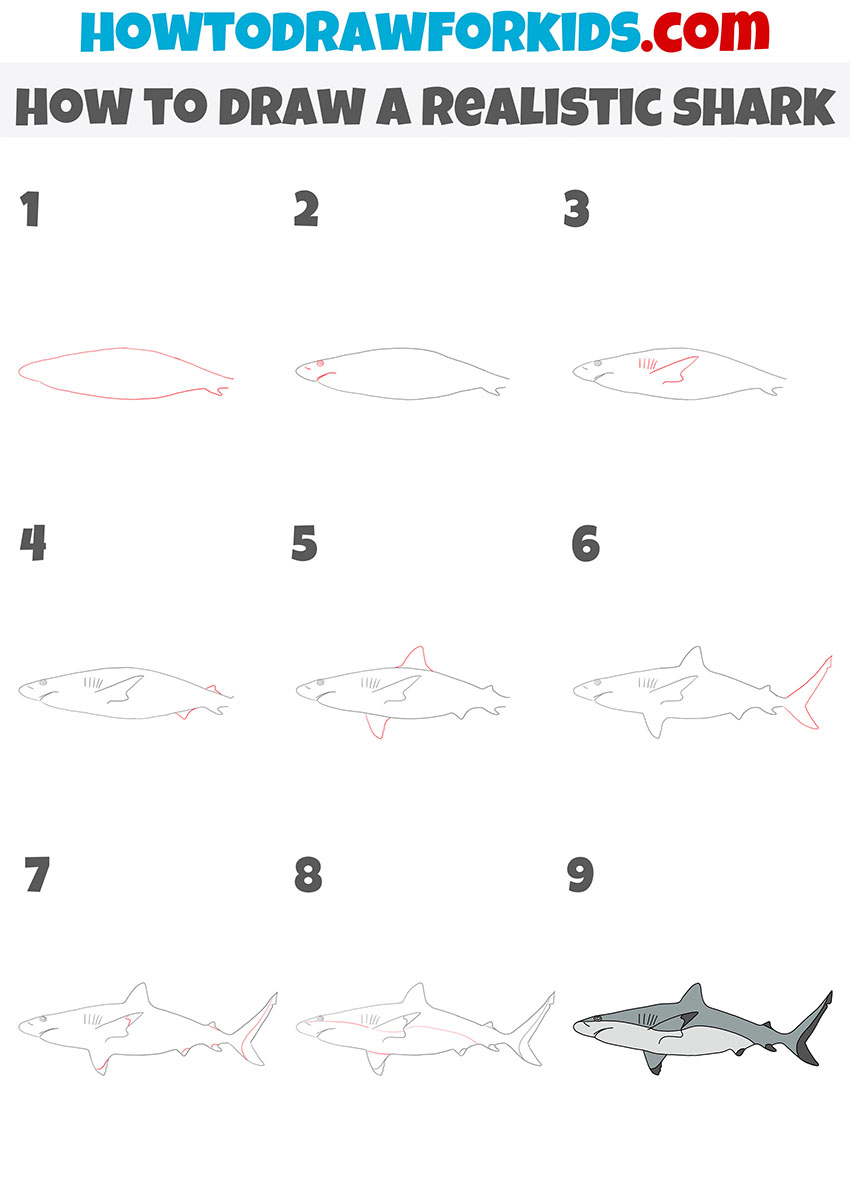 So, I have prepared for you step-by-step instructions with which you will learn how to draw a realistic shark step by step. This lesson will greatly help you to improve your artistic skills, since the ability to draw realistic inhabitants of the underwater world is very important for any artist. This instruction has nine simple steps with a detailed description, which any aspiring artist or child can easily follow.
The shark you draw with this tutorial will look realistic and very beautiful. With this image, you can complement the underwater world, seascape or other picture you have drawn, as well as portray it as the main subject of your drawing.
If you are itching to start this useful drawing lesson, then you can now prepare the art materials that you will need to draw a realistic shark, and then start drawing and enjoy the creative process. I wish you a great result of your work!
Materials
Pencil
Paper
Eraser
Coloring supplies
Time needed: 30 minutes
How to Draw a Realistic Shark
Draw the outline of the torso.

Depict curved lines as shown to draw the torso and fin of the shark.

Add the facial features.

On the left side of the body, draw the eyes, nose, and mouth using circles and curved lines.

Depict the fin and gills of the shark.

Draw five lines on the side of the shark's torso, and also draw the large fin using curved lines.

Add two fins at the back of the shark's torso.

Near the narrow part of the body, draw curved lines of different lengths, as shown in the figure.

Sketch out two fins in the central part of the body and remove the extra line.

Draw two fins on the top and bottom of the body using curved lines, and also see two lines.

Draw the realistic shark tail and remove extra lines.

On the right side of the body, draw the tail with sharp ends, and also erase the lines near the fins.

Add elements on the body, fins, and tail of the shark.

Now you need to add curved lines of different lengths on the parts of the body as shown.

Depict the outline of the shark's belly.

Sketch out thin, curved lines along the shark's body to complete the realistic shark.

Color the drawing.

To color the realistic shark, use different shades of gray.
If you liked this tutorial and found it useful, you can share it with your friends. I remind you that you can download the PDF file that I have prepared especially for your convenience. This file contains a short version of this lesson and has additional useful training materials. Download this file so as not to lose it and return to this lesson at any time convenient for you.