I prepared a simple lesson on how to draw Eeyore in just nine easy steps. I promise you will really like this interesting lesson!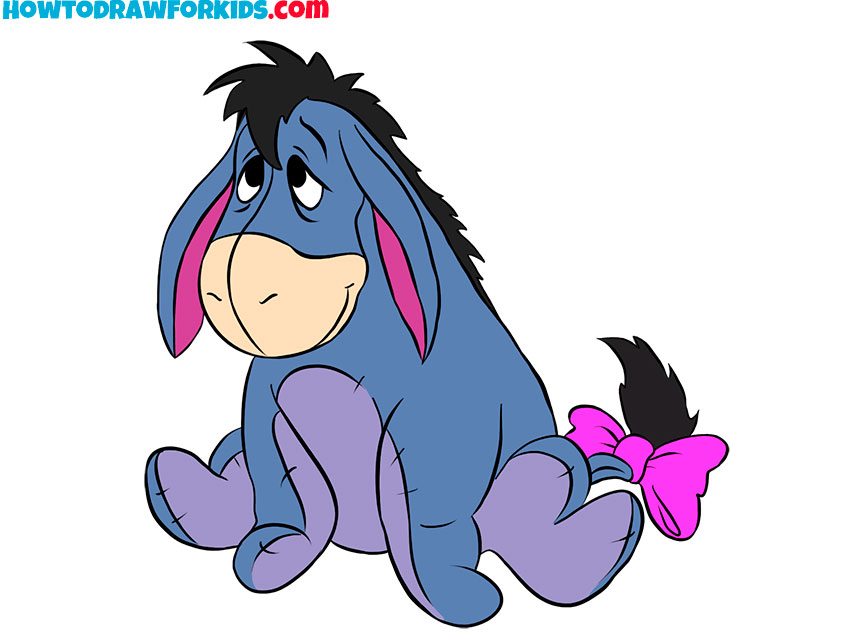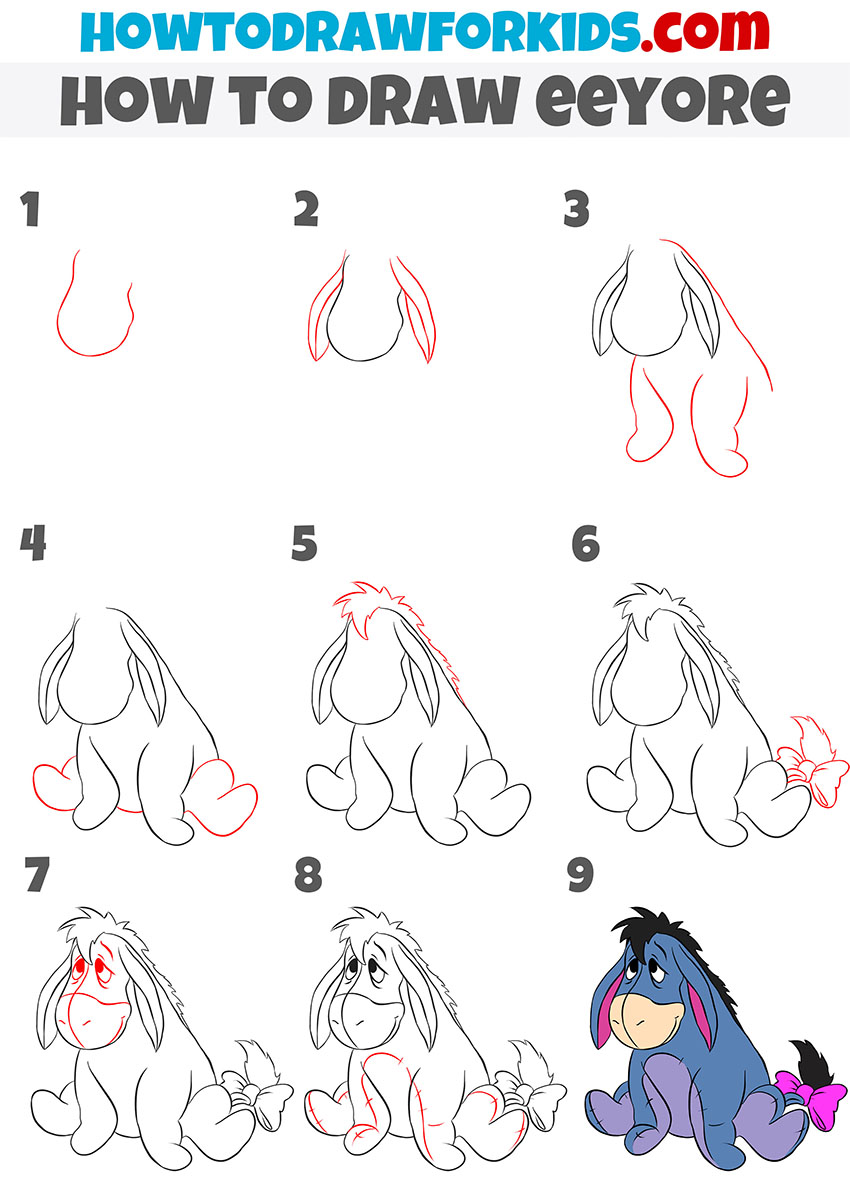 You will find an interesting lesson in which you will learn how to draw a Eeyore. This is a popular character in the Winnie the Pooh series of books and cartoons.
Donkey Eeyore was one of the friends of the bear Winnie the Pooh. One day the donkey lost his tail and was very upset because of this circumstance. But true friends helped the donkey Eeyore, they found the tail and returned it to the owner. You can see that now there is a beautiful bright bow on the donkey's tail.
Eeyore was not very optimistic and often sad. Even in this picture, the donkey has a sad, doomed look. Please note that the wide ears are lowered down, the eyebrows and eyes have a shape that conveys the internal state well.
Try to correctly depict the mood of the donkey in your drawing. Be careful at every step of drawing to draw this donkey as accurately as possible.
Materials
Pencil
Paper
Eraser
Coloring supplies
Time needed: 30 minutes
How to Draw Eeyore
Draw the outline of the muzzle.

Sketch out a smooth rounded line.

Depict the ears.

On both sides, draw long ears that hang down.

Add the front paws.

Draw the outline of the back. Add two paws that are directed in different directions.

Sketch out the hind legs.

On the sides, add the hind legs of the same shape as in the example.

Draw the hair on the head.

With the help of short lines draw the hair which has spiky strands.

Sketch out the tail.

Depict the bow and draw the tail in the form of the brush at the end.

Draw the elements of the muzzle.

Add the eyes, eyebrows, nostrils and mouth. Add a line that will separate the front of the muzzle.

Add more details.

Draw a contour on the chest and on the hind legs, where the color of the fur will differ.

Color the Eeyore.

Choose blue, purple, lilac, beige and black.
Write what other characters in this cartoon you like and suggest your ideas for the next lessons. Don't forget to download the PDF of this lesson for free access to additional resources.