Learn how to draw a circus baby with this tutorial. This instruction is helpful and contains nine simple steps.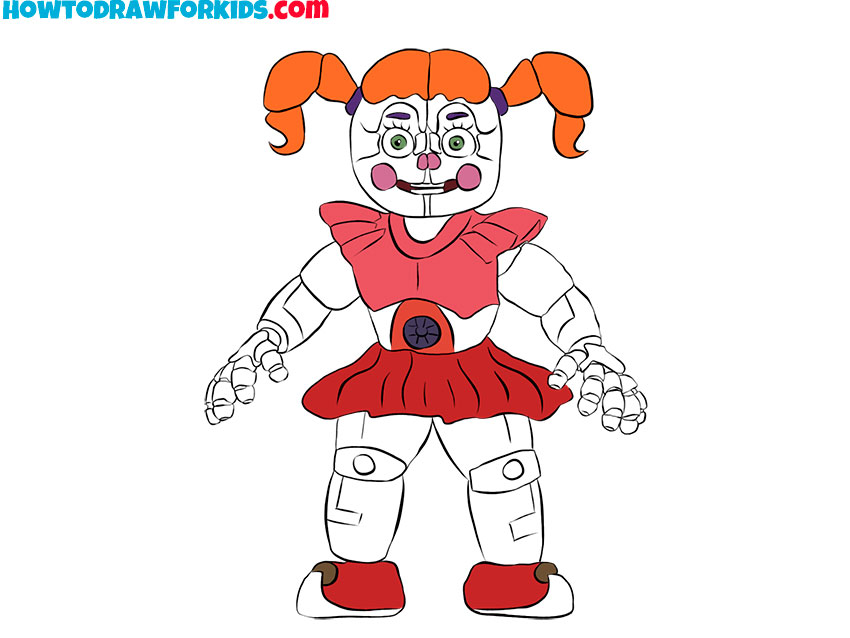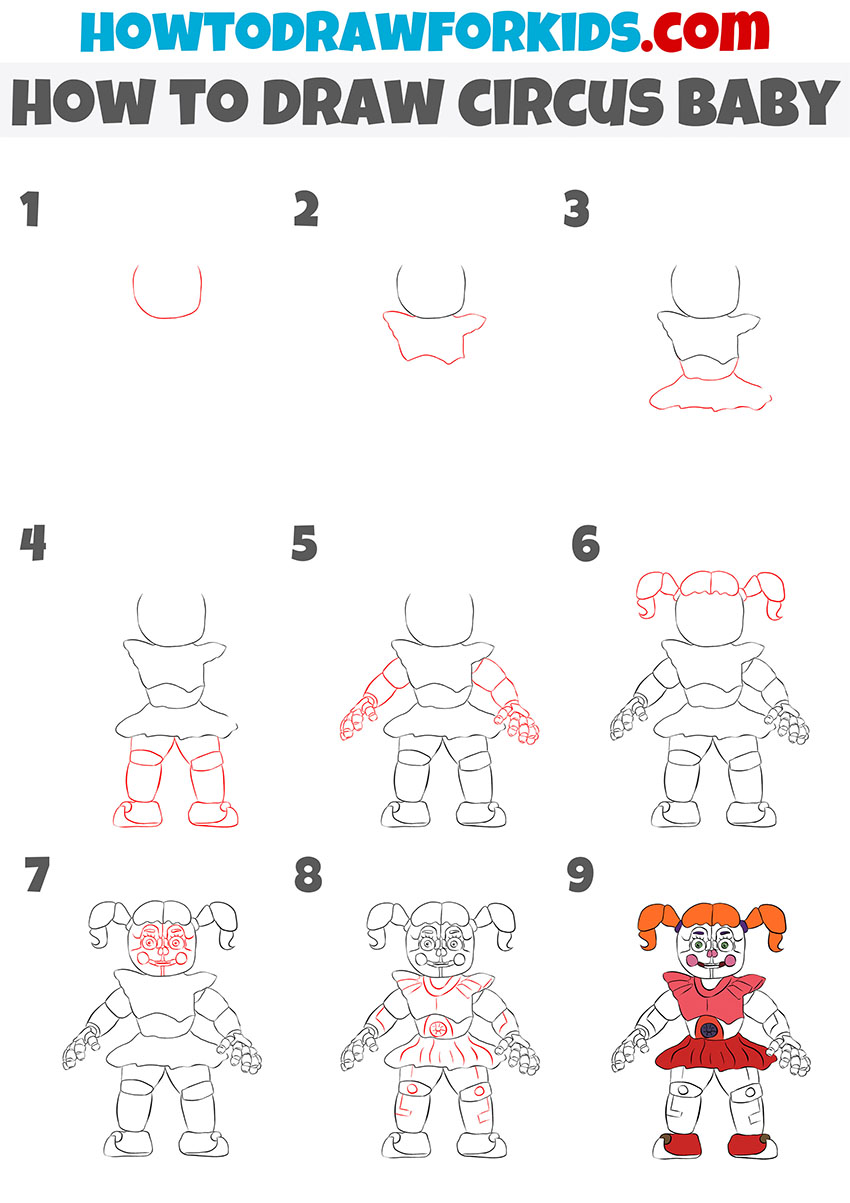 Now I will show you how to draw a Circus Baby. This is an animatronic doll in the form of a girl with clown makeup. This character is found in many games.
The circus baby is dressed in a skirt and top with ruffles on the shoulders, and there are shoes on her feet. The hair is styled. The arms and legs are large, the waist is small, there is no neck. In general, the animatronic has a very strong physique.
The body of the doll is made of shiny plastic. There are special flaps on the arms and legs that hide the internal mechanisms. There is a metal fan in the middle of the abdomen. You can see all these elements in the picture.
Thanks to this step-by-step tutorial, you will easily draw the Circus Baby, despite the fact that the doll has a complex structure. Be careful and careful, then you will get a great doll.
Materials
Pencil
Paper
Eraser
Coloring supplies
Time needed: 35 minutes
How to Draw Circus Baby
Draw an oval for the face.

Sketch out a smooth rounded line.

Depict the top.

Using smooth lines, draw the same figure as in the example.

Sketch out the skirt.

Draw the wide belt and the short fluffy skirt.

Add the legs.

The legs are very wide and consist of several separate elements. Add shoes.

Draw the arms.

The arms are also very wide and consist of separate elements. Carefully draw the fingers.

Depict the hair.

Hair is tied into two ponytails.

Draw the facial features.

Depict eyes, eyebrows, nose, mouth and cheeks. Add the lines that make up the face.

Add details.

Add folds on the clothes, small details on the belt, on the arms and legs.

Color the circus baby.

The doll has orange hair, pink top, red skirt and shoes, pink nose and cheeks, and green eyes.
For your convenience, I have prepared a PDF file that contains a short version of the lesson. Download the file and use these useful tools whenever you feel like drawing.