"I am Groot" I am sure that by this phrase many will recognize a character from the Marvel universe. Here I will show you how to draw Groot.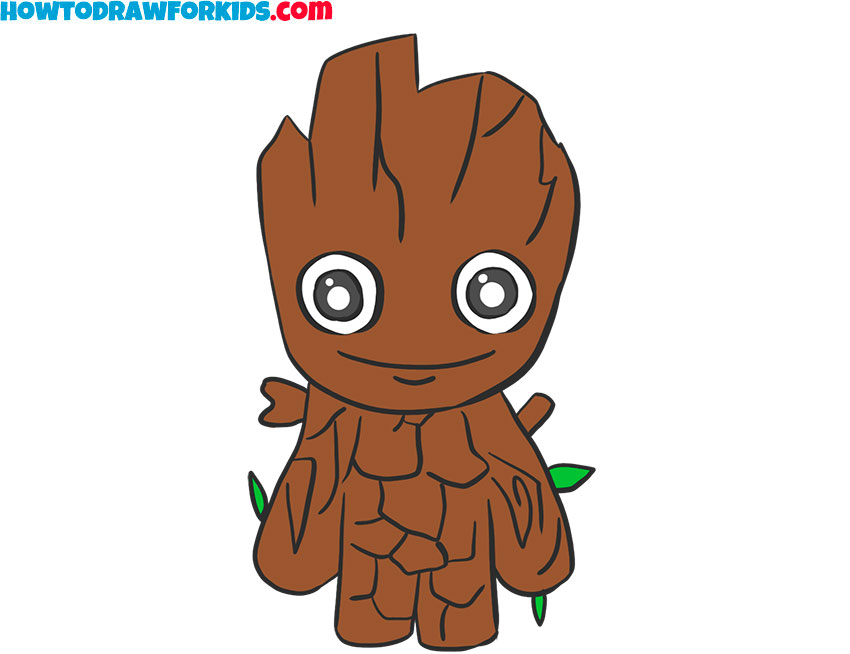 In today's tutorial, I will talk about how to draw Groot from Guardians of the Galaxy. I specially adapted this Groot drawing tutorial for children and aspiring artists. That is why it looks so cute and simple. You can find many more complex and detailed versions of Groot's appearance on the internet. If you want a more complex drawing lesson, be sure to write about it in the comments.
Many people know Groot as a fun member of the Guardians of the Galaxy. This is a powerful and very kind superhero who often found himself on the front lines in battles with supervillains. However, only true comic book fans know that Groot was originally intended to be an evil character. Back in 1960, Groot appeared on the pages of comics as an invader from another world who came to Earth to kidnap people.
Only after a long time did he appear before us as one of the members of the famous superhero team led by Star-Lord.
As you know, now is the heyday of the Marvel Cinematic Universe. Groot became incredibly popular after the release of several films about the Guardians of the Galaxy and the Avengers.
Materials
Pencil
Paper
Eraser
Coloring supplies
Time needed: 19 minutes
How to Draw Groot
Draw the outline of Groot's head.

It resembles a small but wide tree stump. Avoid overly straight lines.

Add the body.

Draw the arms and legs as well. Use only smooth lines like in my example.

Create some texture.

Draw several large cracks in the bark of the tree. Add the outlines of dry twigs and leaves.

Draw the facial features.

Add large round eyes, the mouth, and a few more lines-cracks in the bark.

Color the Groot drawing.

Brown and green are the perfect combination for Groot.
So, I hope you got a great result. If so, try drawing Groot from a different angle or add some more superheroes. By the way, do not forget to look at the special section where you will see many such drawing lessons.
If you do not have the opportunity to draw Groot right now, you can download this PDF file and get a portable version of the Groot drawing tutorial and a few more worksheets that will help you practice your skills anywhere, even in the absence of the Internet.