How beautiful are the flowers of the rose! It is impossible not to draw them. In this tutorial, I will show you how to draw a rose flower.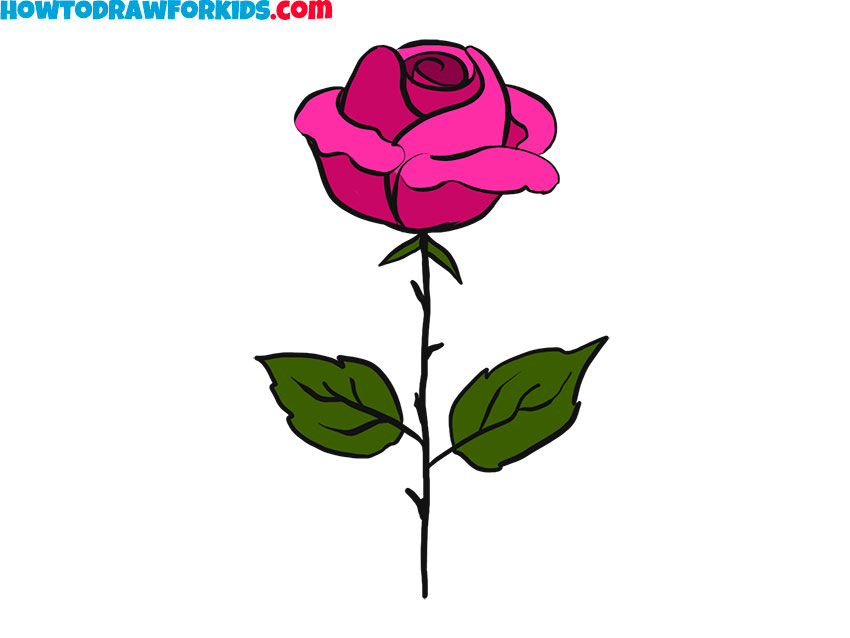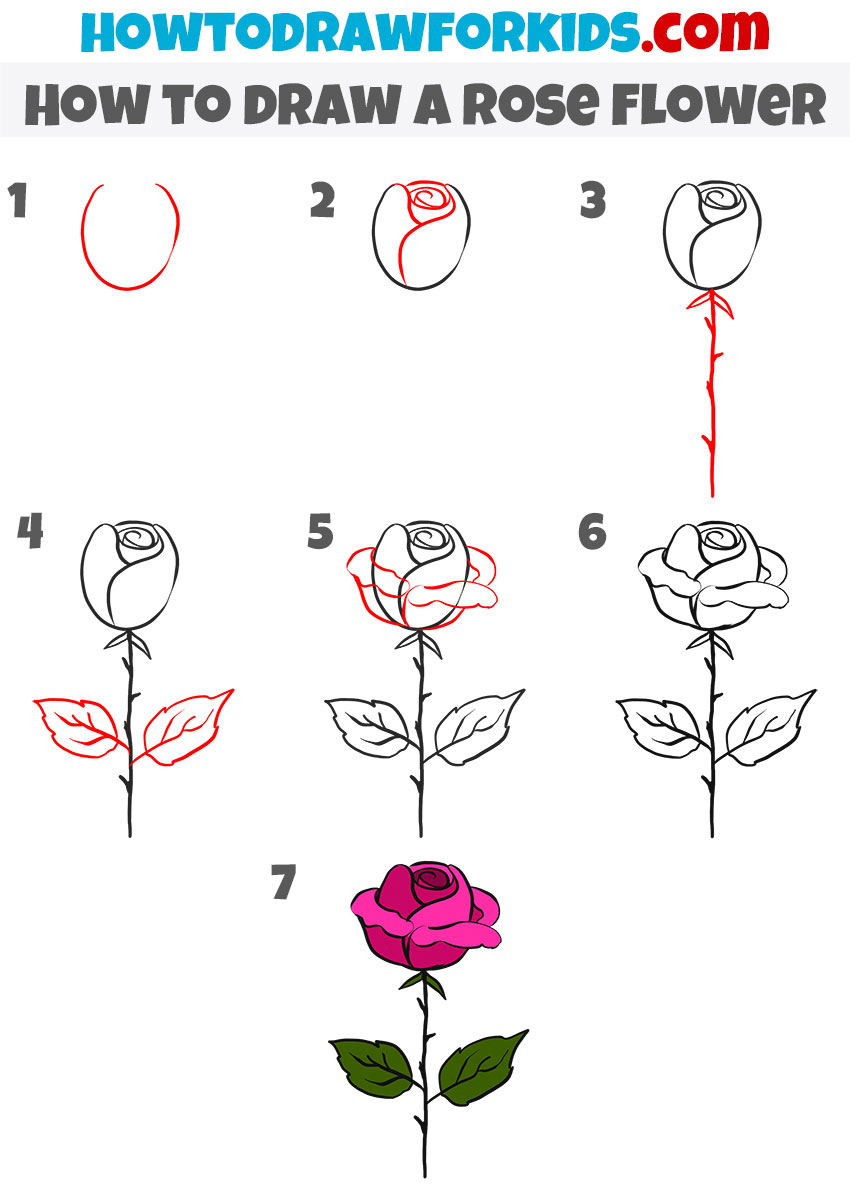 In the previous tutorials, we showed you how to draw a rose flower. This rose flower drawing tutorial is also about drawing this beautiful flower. In fact, there are many ways to draw a rose, and here is one of them. This lesson will be simple and easy for both the child and the novice artist, and now you will see this.
In this tutorial, you don't have to make exactly the same lines as in the sample. You can make more arbitrary lines when drawing different parts of the rose. Your task is to memorize the sequence of steps and be accurate, then you will achieve success in drawing a rose.
Materials
Pencil
Paper
Eraser
Coloring supplies
Time needed: 15 minutes.
How to Draw a Rose Flower
Draw the outline of the bud.

Determine the position and size of the rose and draw the oval.

Draw the middle of the bud and the outer petals.

Add two curved lines for the petals and the small spiral in the center of the bud.

Portray the stem.

Draw the vertical line and add thorns and sepals at the top.

Add the leaves.

Draw two branches on both sides of the stem and add the outline of the leaves.

Depict the outer petals.

Add some smooth, curved lines to the swatch.

Touch up the drawing.

Erase the auxiliary lines with an eraser and correct any inaccuracies.

Color the rose.

Color the leaves in green, and use several shades of lilac for the bud.
Now you have mastered another way to draw a rose flower. We hope this was interesting for you and you have a good time.
You can use the acquired skills in your next drawings. And we want to give some recommendations. Pay close attention to shadows and highlights when painting. Paint the lower parts of the bud and the middle in dark colors, and paint the upper surface of each petal in light shades. Thus, the rose will look more realistic. The more shades are used, the more natural the rose will look. Do not forget that the transition between different shades should be smooth.
A short version of the rose flower drawing tutorial is presented in a PDF file that we have prepared especially for you. Download this file and keep learning drawing lessons at any convenient time. Share the results with your friends. We wish you every success!