In this very easy step by step tutorial I will show and tell you how to draw a rose for beginners. This lesson will be useful for you!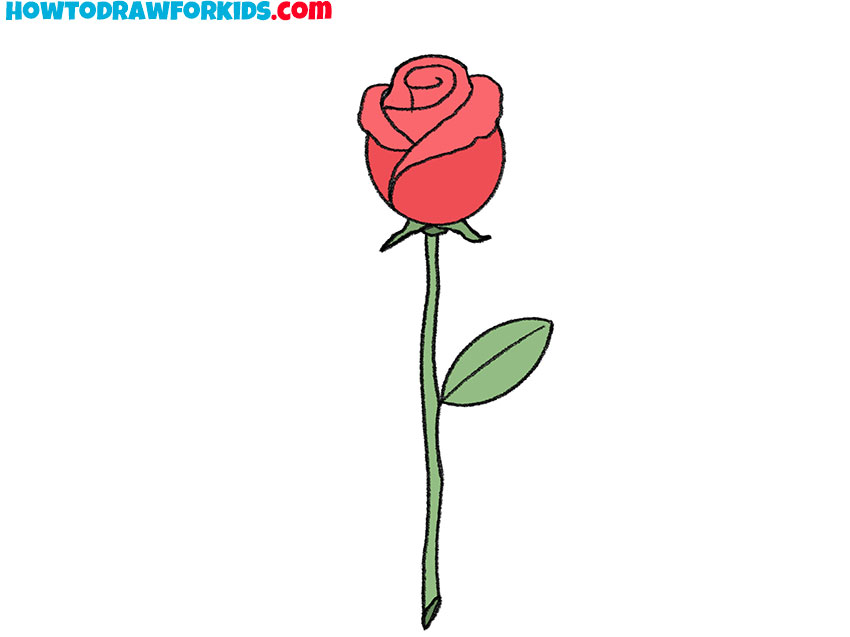 In this tutorial, I will show you how to draw a rose for beginners. The step-by-step guide is very simple, and any novice artist will quickly cope with this task.
I invite you to a new lesson in which you will learn how to draw a rose for beginners. Many people like roses because the rosebud smells good and looks great.
With the help of a simple instruction, you will be able to draw this beautiful flower in the shortest possible time. The lesson includes nine easy steps. Each step is one simple action. As a result, you will get a beautiful drawing, even if you have not had to draw a rose before.
The acquired skills you can use in the future. For example, you can draw beautiful still life paintings or paint a rose on a postcard for your family and friends.
Try to remember the sequence of steps, and the lines themselves can be arbitrary, because there are no two identical flowers in the world, each rose is beautiful and unique in its own way.
Materials
Pencil
Paper
Eraser
Coloring supplies
Time needed: 25 minutes.
How to Draw a Rose for Beginners
Draw the outline of the bud.

Depict an oval where the bottom is slightly wider than the top.

Add the edge of the bottom petal.

Depict smooth curved lines from the bottom edge to the top of the bud.

Depict the edge of the petal on the other side.

On the left, draw the edge of the petal, while using smooth curved lines.

Sketch out the top of the bud.

Draw a smooth line at the very top and draw the spiral line in the middle.

Draw the sepals.

Below the bud, draw the small receptacle and add two narrow sepals.

Depict the stem.

Use two parallel vertical lines. Draw the section of the stem below.

Sketch out the leaf.

Draw the small leaf on the right side.

Correct inaccuracies.

Check if you drew all the elements correctly and correct inaccuracies if necessary.

Color the rose.

Choose any colors for the drawing.
As always, you can download the short version PDF of the lesson so that you can return to the lesson at any time.