This lesson was created specifically for beginners and in it, I will show you how to draw a Shih Tzu in the easiest way.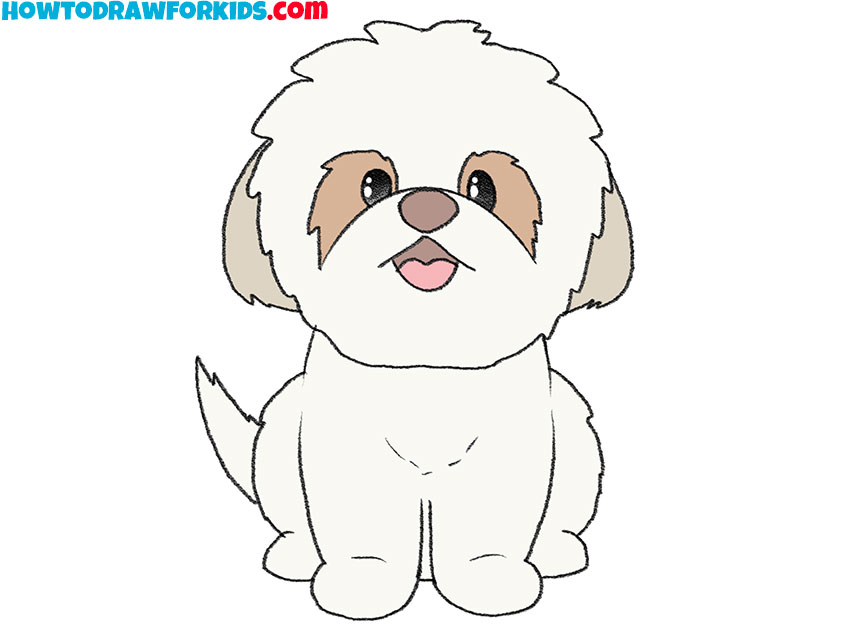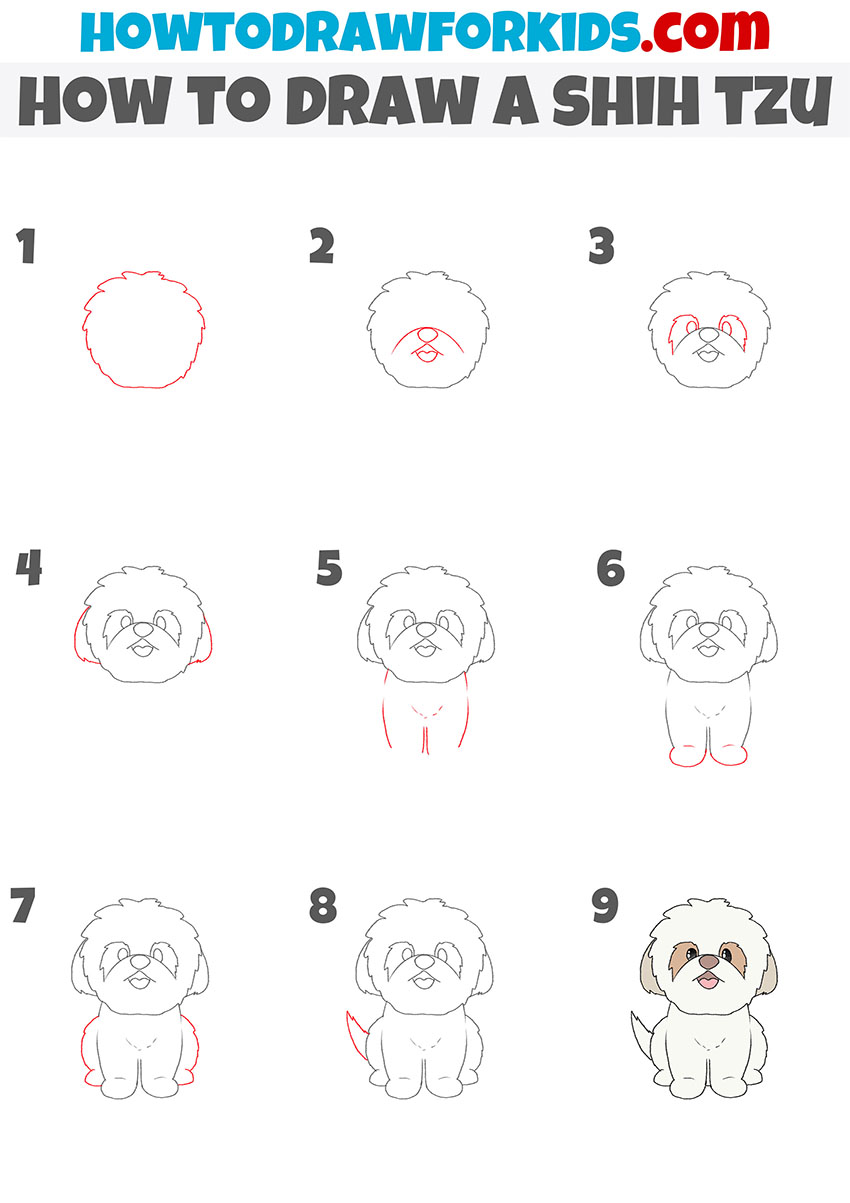 So, before you is a simple instruction on how to draw a Shih Tzu. This is an affectionate, playful and intelligent dog. This dog has a joyful temperament and friendliness, so it easily gets along with people and other pets.
Dogs of this breed have a strong body, round head, short muzzle and slightly bulging eyes. Shih Tzu is covered with thick hair. In this lesson, you will depict these main features of the breed. Be careful and try to keep all proportions.
Prepare all the necessary art tools, get to work and enjoy the exciting creative process. I believe that you will succeed.
Materials
Pencil
Paper
Eraser
Coloring supplies
Time needed: 30 minutes
How to Draw a Shih Tzu
Draw the head.

With the help of jagged zigzags draw the round head.

Add elements of the muzzle.

With a smooth rounded line, depict the front of the muzzle, draw the nose and mouth.

Depict the eyes.

Add the small eyes and use jagged lines to outline the fur around the eyes.

Sketch out the ears.

Draw two small, hanging ears that fit snugly against the head.

Draw the outline of the body.

Add the upper part of the body, depict the hair on the chest and add the bases of the front paws.

Depict the lower parts of the front paws.

With the help of smooth lines, carefully depict the rounded lower parts of the front paws.

Sketch out the hind legs.

Add the contour of the hind legs in a sitting position, as shown in the example.

Add the tail.

Depict the small pointed tail on the side of the body.

Color the drawing.

You will need different shades of gray, as well as brown and pink.
Now you know how to draw a Shih Tzu dog step by step. I would be interested to know what emotions you experienced in the process of work. Write about it in the comments and offer your ideas for the next drawing lessons. Now you can download a short version of the lesson in PDF format for free, so that this lesson is available to you at any convenient time, regardless of the presence of an Internet connection.